Claire Smith
April 1, 2023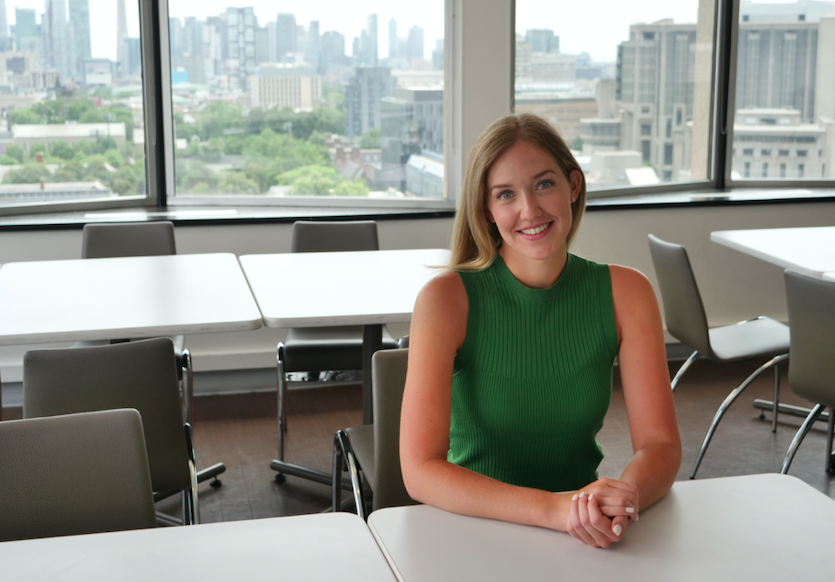 Program: Master of Education in Developmental Psychology and Education
Expected year of graduation: 2024
---
What led you to apply to APHD at OISE?
I am a lifelong learner who's passionate about education, and I am also very satisfied by working towards a long-term goal, so an M.Ed seemed like a natural next step in academic journey. I was eager to experience the University of Toronto's prestigious post-secondary environment and to learn about things adjacent to my career in teaching but not repetitive of my previous classroom experiences. The psychology focus of the DPE program was appealing to me because it differed from other M.Ed ones I saw. 
What was your past experience like?
This September, it'll be the beginning of my fourth year of professional teaching. I have done multiple practicums within the Toronto District School Board from Kindergarten to Grade 6 but, for the majority of my career, have been teaching in independent schools in central Toronto. I now teach a mix of English and Drama from Grades 7 to 12. It's very busy but extremely fulfilling work.
Are there any past accomplishments that you would like to highlight?
I am really proud of an article I wrote for The Toronto Star in November 2020 about pandemic teaching: it was a hard time for a lot of us (especially in education) but it was my hope at the time that some positive discoveries about the industry (regarding educational technology, for instance) were silver linings.
What is one thing you like most about your experience so far at OISE?
I've really enjoyed my proximity to research, because it's something I didn't get a lot of exposure to in my undergraduate degree. For example, I attended a research gala event in the Fall and got to see some amazing projects related to executive functioning and learning exceptionalities, among other topics I'm interested in. Furthermore, I have enjoyed all of the descriptive feedback I've received from my professors and am in awe of their ability to connect to all students (even in asynchronous courses).
What is your favourite thing about Toronto?
I am always so proud of our city's multiculturalism. From an abundance of delicious food varieties to cultural boroughs I am still exploring (and I've lived here for 26 years), I'm really grateful to live here. Our access to arts and culture is also wonderful: I was fortunate enough to take my senior drama students to a Mirvish production this year, actually!
What does your "weekend" typically look like?
Despite waking up early as a teacher, I am notorious for sleeping in! After a lazy morning, you can probably find me catching up on a show on CRAVE, or going for a hike in the Brickworks, then grabbing drinks with friends in the evening. It also seems that I've given myself the ongoing project of redecorating my apartment, so I exercise my creativity in that way when I have extra time (and money). I do my best to avoid schoolwork (both the type I pay for and am paid for) on weekends to get a proper recharge and maintain balance.
What are some of your hobbies & interests?
I love travelling and have been taking advantage of this year's school holidays to fulfill this passion: my boyfriend and I travelled to Portugal over the March break and I recently got back from a trip to Italy with two of my best friends. Learning about the history of a place I've never been always excites me, as does trying local foods and enjoying warmer weather.
What is your favourite type of cuisine?
At any given moment, I'm likely craving ramen; luckily for me, UberEats makes accessing this cuisine pretty simple, because I definitely have yet to master the cooking aspect.
Where do you see yourself after you achieve your degree from APHD?
Once I achieve my degree from APHD, I see myself using it better my interactions with students via my understanding of their cognition. In the long-term, I see myself using my developmental psychology and education knowledge in an entrepreneurial venture, perhaps in an educational consulting or learning specialist context.