Janani Selvachandran
January 5, 2020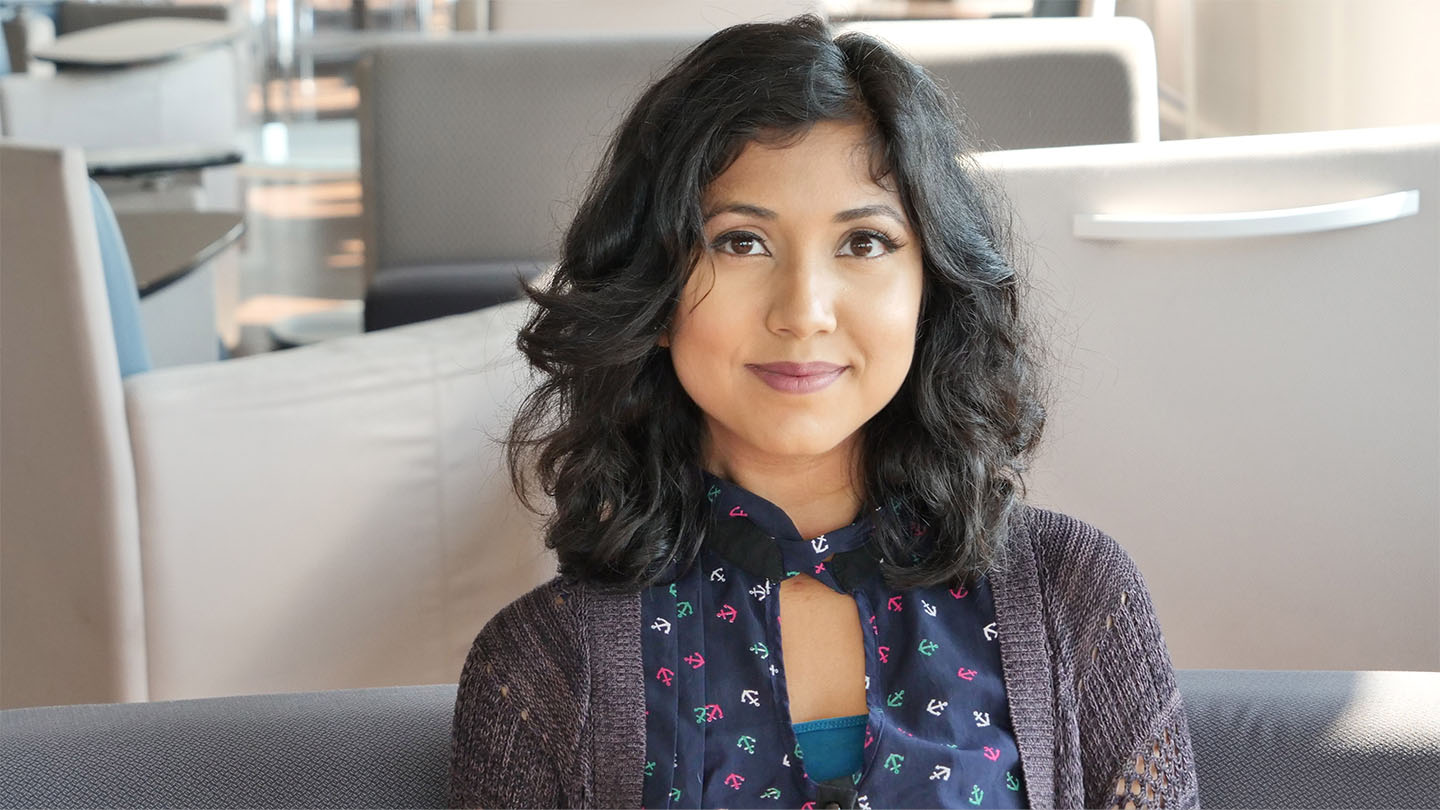 Program: Doctor of Philosophy in Developmental Psychology in Education (DPE)
Expected year of graduation: 2020
---
What lead you to apply to APHD at OISE (and the specific program)?
It would be neat for me to say the study of language has always been of interest to me, but the truth is, I only began to acquire an appreciation for it in my early 20s. During my undergraduate years in university, I took a few psycholinguistics courses and was able to gain a newfound appreciation for the study of language development. There were so many skills being used in the acquisition of a language, and the nuanced interaction of these skills was intriguing to learn about. I found psycholinguistics to be such an intricate area of human development. My appreciation was furthered still as I engaged in research opportunities, working with several professors in the field to collect and analyze language data. Particularly, as a bilingual speaker and a child of parents who immigrated to Canada, I was eager to learn more about how children acquire multiple languages. For these reasons, I pursued my MA degree in the CSE program at OISE and subsequently my PhD degree in the DPE program. When I started out as an undergraduate student, I had no idea that I would someday be accepted into a PhD program at OISE. Now that I'm here, I'm doing the best I can to make meaningful contributions in research to aid the many, many children who are growing up with multilingual backgrounds. Today, my dissertation focuses on comparatively investigating the role of oral narrative skills on reading comprehension among English Language Learners and native English speakers enrolled in French Immersion programs.
What was your past work experience like?
During my undergraduate degree, I worked as a research assistant in several different labs. I enjoyed being a part of so many interesting projects in psycholinguistics. Following the completion of my undergraduate degree, I strayed from academia and dedicated a year to work in the finance sector; the more I worked, the less I enjoyed my line of work. I subsequently made the decision to return to school and pursue a postgraduate education in applied psychology and human development.
Are there any past accomplishments that you would like to highlight (ie. awards, promotions or failures that taught you a lesson/helped you get to where you are now?)
I want to highlight my failures because I think it's important to acknowledge that we are all human. My first couple of years in university as an undergraduate student were riddled with unimpressive grades, a lack of motivation, and low self confidence in my own intellect. It wasn't until third year that I started to find my passion in psycholinguistics and was motivated to do well in school. Near the end of my degree, I decided to apply for my Masters in Speech Language Pathology. I was rejected. I got a job in finance and, realizing that I still wanted to try and pursue something meaningful, took more courses to strengthen my graduate school application before attempting to apply again. I did more volunteer work with hospitals, speech therapy clinics, and research labs. When I felt ready, I applied to the Child Study and Education program at OISE and, much to my surprise, was accepted. I worked hard in this program to complete not only my teaching placements but also my Qualifying Research Paper while I worked in two labs to gain more experience in the field. With some encouragement from one of my professors, Dr. Angela Pyle, I took a leap of faith and applied for my PhD. I got in.
Everyone goes through their own journey to make it to grad school (and make it through grad school). I think it's important to show current and future students what failure looks like, and that it shouldn't stop anyone from pursuing a higher education if that's truly something they are passionate about. It can be done with motivation, time, and effort. We put so much pressure on ourselves that sometimes we forget that we all come with our own imperfections.
What is the one thing you like about your experience so far at OISE?
OISE has given me the opportunity to collaborate with some amazing scholars in the field of language development. I have been able to participate in some interesting projects with professors, psychologists, speech-language pathologists, educators and more. Every experience has diversified my own palette in developmental research. I can now classify myself as a mixed methods researcher capable of conducting both quantitative and qualitative research and I owe many of my accolades as a researcher to OISE.
What is your favourite thing about Toronto?
I love the diversity in Toronto. No one ever has to feel out of place. It's a beautiful mash-up of different languages, ethnicities, and cultures. We celebrate different cultures, enjoy a wide variety of music genres, watch foreign movies, and eat foods that are native to all parts of the world.
What does your "weekend" typically look like?
Spending quality time with my daughter and my three dogs. They are my whole world.
What are some of your hobbies & interests (cooking, sports, travelling, etc?)
I'm really big on animal rights, so I'm always looking for new ways that I can contribute to eliminating animal cruelty. I love seeking out new products to try that are either cruelty-free or vegan, whether it be make-up, hair products, clothing, etc. I'm also trying to be more conscious with my environmental footprint, so I'm trying to find ways to cut down on unnecessary waste.
My schedule is pretty crazy these days, but some other things I absolutely love to do whenever I get a chance is to try a new escape room or bubble tea spot (fun fact: often times, both of these are combined in the same place so it cuts my work in half!)
What is your favorite type of cuisine?
I'm not much of a foodie, but I love trying new vegetarian or vegan foods! It doesn't even have to be an entire meal. The other day I tried an avocado fruit blend smoothie from a new spot and I fell in love. Veggie sushi has my heart. Any type of meal from a Sri Lankan, Caribbean, Hakka, or Ethiopian spot that's vegetarian is usually a win.
Where do you see yourself after you achieve your degree from APHD?
I craved to work in a field where I could do work that was both meaningful to me and could give me the opportunity to contribute to society on a higher level. In an ideal world, I'd love to be a teaching stream Professor, but that's more of an end goal. For now, I'm going to focus on finishing my dissertation successfully and taking it one step at a time after that. I'm going to take my time and dabble in a few other projects before going after the whale. Social justice and animal rights have always been of interest to me, so I'm going to be pro-active in seeking out research opportunities where I can contribute in these respective fields. I trust that either of these fields would help me grow as a human being and I know I would be happy doing meaningful work of this nature.