Call for Proposals: The OISE GSRC is back!
November 2, 2023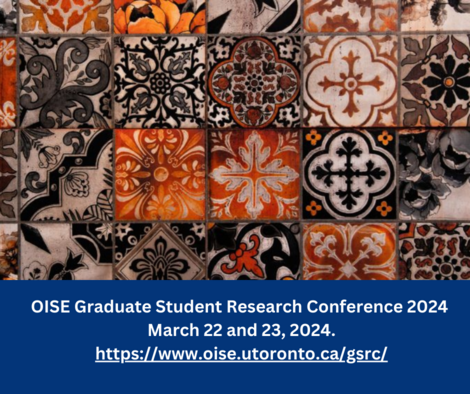 Since 2001, graduate students at the Ontario Institute for Studies in Education (OISE) have come together through the Graduate Student Research Conference to share their research with peers and test their ideas in a supportive and encouraging environment. This year, the 2024 OISE GSRC will continue in this tradition with a conference titled "Despite and Because of Difference": Cultivating Critical Conversations for the Future of Education. This conference will take place Friday, March 22 and Saturday, March 23, 2024, at the OISE building located at 252 Bloor Street West, Toronto. This student-led event will include keynote speakers, faculty and student research sharing sessions, visual art presentations, and other alternative presentations of knowledge. This carefully cultivated program will also include planned networking activities, as well as student-led wellness sessions.
Our vision for the 2024 GSRC is to foster productive dialogues and create space for knowledge exchanges through the development of potential political solidarities among participants that inspire the creation of a more equitable world. Through panels and moderated discussions that increase our understanding of differences and diverging perspectives, we hope to inspire scholarly conversations that challenge the misguided attempts at homogeneity which hinder the potential of education to address structural and cultural violence. In this attempt to complicate presumed homogeneity, we hope to foster a space that can contribute to a more robust understanding of our individual work in relation to other academic peers, as well as a space that highlights the potential of education to be a disruptor of the status quo. 
Therefore, this year's proposed themes for GSRC invite researchers, graduate students at all stages of their research, practitioners, and artists alike to disrupt the presumed legitimacy of dominant educational narratives by identifying the ways in which overlapping oppressions affect each of our educational disciplines, highlighting existing modes of resistance, and imagining new ways of moving forward.
All are encouraged to review the conference theme and thematic questions in the attached Call for Proposals. Students are invited to participate in the conference by submitting proposals for the following: poster sessions, individual papers and panels, roundtable presentations, workshops, and artistic or alternative presentations. Interested students are invited to review the attached Submission Rules and apply here. 
 
Deadline for submission: December 14, 2023, at 23:59.
All conference information can be found on our website.  We also welcome your questions by email at oise.gsrc@utoronto.ca.
Sincerely, 
Your GSRC Conference 2024 Co-Chairs, Abarna Selvarajah, Nana Gulic, and Sarah Ázeline
oise.gsrc@utoronto.ca | Website | Twitter: @OISE_GSRC