African Elders & Eldership with George J. Sefa Dei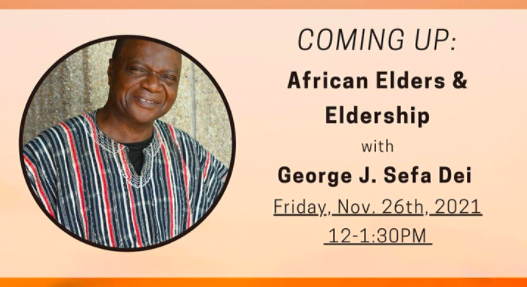 Using findings from an on-going SSHRC Insight Grant study examining Elders' teachings relating to community, social responsibility, environment, Land, social justice, equity, youth leadership, respect, and mutual interdependence, Dei engages African Elders and the concept of 'Eldership' through an anti-colonial lens. The session will focus on a discursive engagement of Elders' cultural knowledge pointing to critical understandings of the relationships of knowledge, identity, subjectivity, history, culture and politics. In particular, the analysis is attentive to Land-based epistemologies and ontologies and critical place inquiry for anti-colonial praxis.
---
About the Speaker
George J. Sefa Dei
Ghanaian-born George Sefa Dei is a renowned educator, researcher and writer who is considered by many as one of Canada's foremost scholars on race and anti-racism studies. He is a widely sought after academic, researcher and community worker whose professional and academic work has led to many Canadian and international speaking invitations in US, Europe and Africa. Currently, he is Professor of Social Justice Education & Director of the Centre for Integrative Anti-Racism Studies at the Ontario Institute for Studies in Education of the University of Toronto (OISE/UT). He is the 2015, 2016, 2018-19 Carnegie African Diasporan Fellow. In August of 2012, Professor Dei also received the honorary title of 'Professor Extraordinarire' from the Department of Inclusive Education, University of South Africa, [UNISA]. In 2017, he was elected as Fellow of Royal Society of Canada, the most prestigious award for an academic scholar. He also received the '2016 Whitworth Award for Educational Research' from the Canadian Education Association (CEA) awarded to the Canadian scholar whose research and scholarship have helped shaped Canadian national educational policy and practice. He is the 2019 Paulo Freire Democratic Project, Chapman University, US - 'Social Justice Award' winner. This April 2021, Professor Dei received the 2021 Lifetime Achievement Award from the Ontario Alliance of Black School Educators [ONABSE] for how long-standing work promoting Black and minority youth education. He also has forty (40) books and over seventy (70) refereed journal articles to his credit. Finally, in June of 2007, Professor Dei was installed as a traditional chief in Ghana, specifically, as the Gyaasehene of the town of Asokore, Koforidua in the New Juaben Traditional Area of Ghana. His stool name is Nana Adusei Sefa Tweneboah.