CIARS in Conversation Series
Dismantling Anti-Black Racism in Schooling and Education: Fighting the Global Racial and Health Pandemics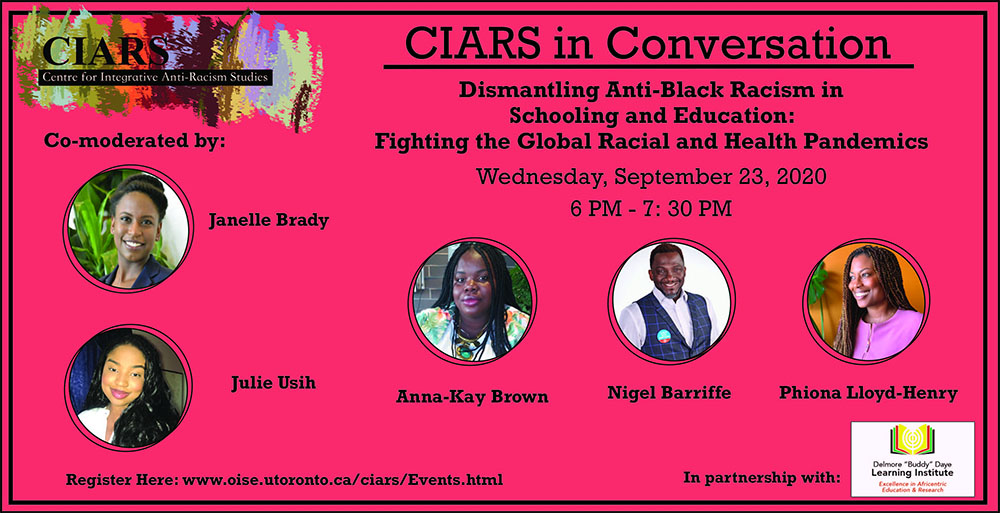 Join the Centre for Integrative Anti-Racism Studies (CIARS) for the inaugural launch of our CIARS in Conversation Series.
The inaugural CIARS in Conversation is a follow up to the CIARS Summer Virtual Town Hall series and features panelists who actively resist unjust educational outcomes as racial, labour, educational and parent leaders in their respective communities. 
COVID-19 has exacerbated longstanding systemic injustices as highlighted by Black and racialized communities being further exposed and disproportionately impacted by the pandemic. With the return to school, neighbourhoods more highly impacted by COVID-19 tend to be the ones with more frontline workers who are not left with many 'choices' regarding their children's educational options. 
Moreover, the brutal murder of George Floyd and Breonna Taylor marked a resurgence of global uprisings. Canada is not immune to police brutality, and folks resisted systemic anti-Black racism with calls to defund and abolish police after the death of Regis Korchinski-Paquet and countless others. Anti-Black racism and white supremacy are at the core of the system of policing. Further to policing, educational activists, scholars and leaders have also long called for the dismantling of Anti-Black racism from the education system which leads to the school-to-prison pipeline and disproportionate schooling outcomes for Black, Indigenous, and racialized students. 
---
Event Recording
---
About the Speakers
Phiona Lloyd-Henry
Educator and Vice Principal, Peel District School Board; Former Instructional Coordinator for Equity and Inclusion Education and Coordinator, We Rise Together Action Plan 
Nigel Barriffe
Executive Officer, Elementary Teachers of Toronto; President of Urban Alliance on Race Relations; Board Member, Canadian Anti-Hate Network and Organizer, Ontario Education Workers United
Anna-Kay Brown
Co-Chair, Jane Finch Education Action Group, Mother and Community Organizer
Janelle Brady
Co-Moderator
Anti-Racist Educator, Activist Researcher and Community Organizer, OISE U of T PhD Student and CIARS Senior Coordinator 
Julie Usih
Co-Moderator
Social Justice Education, OISE U of T MA Student