CIARS in Conversation Series
Haitian Migration and the Necropolitics of Exclusion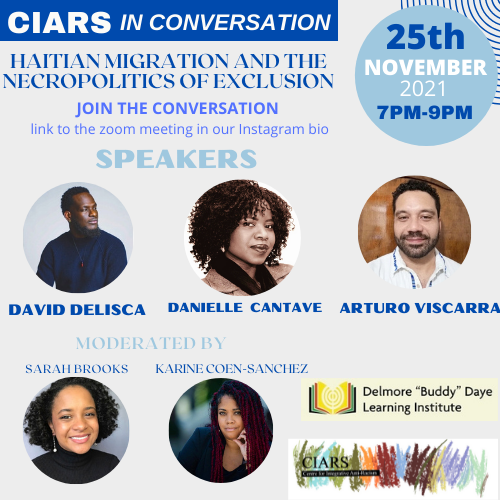 Immigration is a Black issue. Black immigrants worldwide are subjected to disproportionate violence and mistreatment. U.S. border officials and the Mexican National Guard continue to abuse, ostracize, and chastise Haitian migrants. The Haitian migrant crisis pushes us to re-examine the longstanding immigration policies, practices, and laws in Canada and the U.S. These policies and practices have worked in the service of White supremacy, impacting Black migrants the most. While acknowledging the ways that the Haitian migrant crisis is used as a political means to continue Haitian dehumanization, we explore how communities can adopt a stance of refusal to assert collective autonomy.
This month's CIARS In Conversation will open a gateway to discuss and address:
The resistance toward dominant global perceptions of Haitian culture, politics, and socioeconomic conditions.

Western complicity in creating the political and socio-economic conditions in Haiti that lead to mass migration.

Agency and resistance of Haitian people.
---
Event Recording
---
About the Speakers
David Delisca
Writer | Performer | Actor | Humorist | Versatile Artist | Featured in Toronto Star, CBC, Netflix
Arturo J. Viscarra
Studied Law and International relations | International Programs Manager for CHIRLA | Located in Mexico | Activist | Anti-Imperialist
Danielle Cantave MEd
Haitian born African Canadian | Educator| Community Organizer | Community Service | Multiple Award recipient
Sarah Brooks
Co-Moderator 
MA Candidate | Department of SJE| CIARS Graduate Coordinator| Director of Education for TRAD
Karine Coen-Sanchez
Co-Moderator 
Doctoral Candidate, Faculty of Social Sciences, University of Ottawa | Multiple Award recipient