Resistance, Healing and Recovery: Reclaiming Hope and New Futures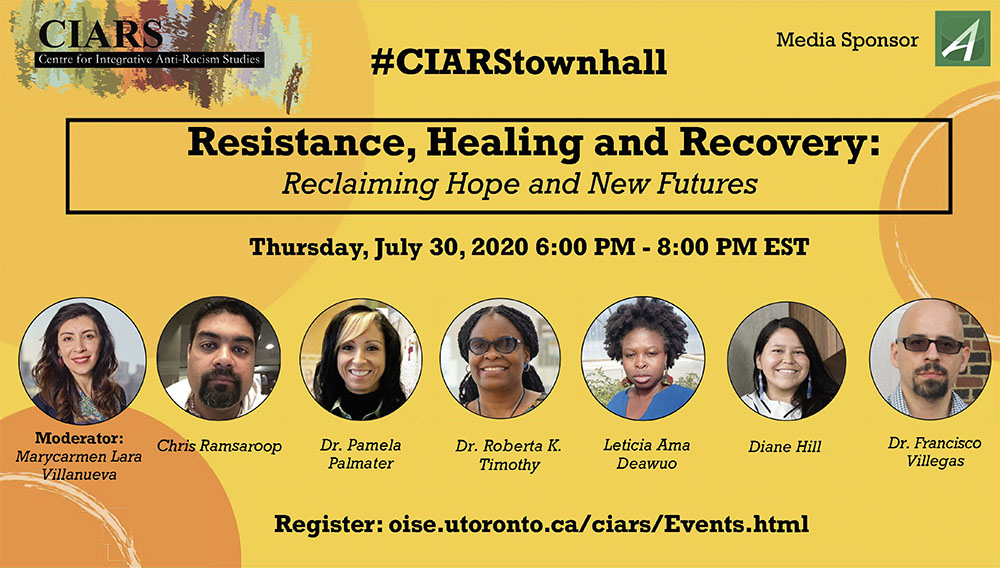 These are difficult times and we mustn't lose hope, especially in light of the organized push back intended to silence courage. Let us continue our dialogues in hopes of moving into action. In the first Town Hall, we had conversation that only breached the surface of how this pandemic has brought to light the many inequalities in the world. Now, we must continue the conversation and think about healing and recovery through critical friendship, and radical solidarity. Thus, I welcome you join us for the second Town Hall. Once again, we have an esteemed group of panelists helping shed light on these important matters. We must continue to speak and act for as long as we can breathe. We must work together to ensure that this is a moment of change. We do this for ourselves, the younger generation, and the generations to come. 
Please Join the Centre for Integrative Anti-Racism Studies for a second Zoom Town Hall "Resistance, Healing and Recovery: Reclaiming Hope and New Futures" on Thursday, July 30, for a discussion that will contribute to an ongoing collective conversation on the hopeful possibilities brought up by the convergence of crises, from COVID-19 to the most recent anti-racist uprisings. We believe this can be the beginning of a monumental change. The dialogue and ongoing mobilization must continue, particularly around the convergences around anti-Indigenous and anti-Black racism and critical solidarity. This will be the second Town Hall in a series following the first on anti-Black racism, Solidarity and Health held on July 15, 2020. 
Media Sponsor: Advocate Papers 
---
Event Recording
---
About the Speakers
Leticia Ama Deawuo
Director, Black Creek Community Farm and Instructor, George Brown College
Diane Hill
Social Justice Education, OISE U of T MA Student 
Dr. Pamela Palmater
Mi'kmaw Lawyer, Professor at Ryerson University, Author and Social Justice Activist
Chris Ramsaroop
Justice for Migrant Workers Organizer and Social Justice Education OISE U of T PhD Candidate
Dr. Roberta Timothy
Assistant Professor and Director of Health Promotion at Dalla Lana School of Public Health, University of Toronto
Dr. Francisco Villegas
Assistant Professor of Sociology, Kalamazoo College 
Marycarmen Lara Villanueva
Moderator
Social Justice Education, OISE U of T PhD Student and CIARS Coordinator