National Aboriginal Capital Corporations Association: Towards Indigenous Sustainability
NACCA, the National Aboriginal Capital Corporations Association, is a network of over 50 Aboriginal Financial Institutions (AFIs) dedicated to stimulating economic growth for Aboriginal people in Canada. The AFI network has provided over 42,000 loans totalling over $2.3 billion to businesses owned by First Nations, Métis, and Inuit people.
---
About the Speaker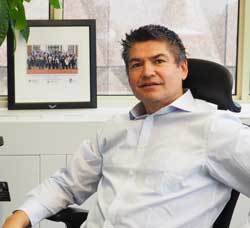 Shannin Metatawabin, CEO
Shannin is Cree/Inninow from Fort Albany First Nation of the Mushkegowuk Nation. He holds a Bachelor of Arts in political science from Carleton University and an Aboriginal Economic Development certificate from the University of Waterloo. He previously served as the Executive Director of the Ontario First Nations Technical Services Corporation and the Manager of Aboriginal Affairs and Sustainability with De Beers Canada. Shannin and his wife , of the White Bear/Sakimay First Nations in Saskatchewan, reside in Ottawa with their four children.