Read more about the people who made an impact at the Multilingualism & Literacy Lab.
Dr. Redab Al-Janaideh
PhD, Developmental Psychology & Education
Redab's research focuses on language and literacy development in bilingual children. Her focus is on the development of narrative skills in bilingual Arabic-speaking children, and their contributions to reading comprehension. Her dissertation focuses on the oral language, literacy and well-being of refugee children, as well as explores the effects of cognitive, social-emotional factors, and interrupted education on refugee children's literacy performance. Redab believes that mental wellness and high cognitive skills are key to a successful language learning process for refugee children and youth.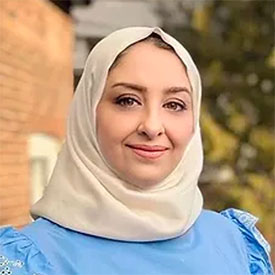 Dr. Juwairia Sohail
PhD, School & Clinical Child Psychology
Juwairia Sohail has a PhD in School & Clinical Child Psychology from the Ontario Institute for Studies in Education. Her PhD dissertation examines the role of metalinguistic skills in the literacy acquisition of multilingual children. Specifically, she is researching how syntactic and morphological awareness influence within- and cross-language reading comprehension in French immersion students. Her research hopes to inform educational practices and policies geared towards the language and literacy development of students from diverse linguistic backgrounds. As a clinical student, Juwairia also received extensive training in providing evidence-based assessments and treatment. She is passionate about supporting children, adolescents, and families heal, grow, and live meaningful lives.