Resources for Staff & Faculty
The Employee & Family Assistance Program (EFAP) is available to employees of the University of Toronto and their dependents: spouses, partners and dependent children. This program is provided at no cost to you. 
To access EFAP services, call toll-free 1-855-597-2110. Available 24 hours per day, 365 days a year.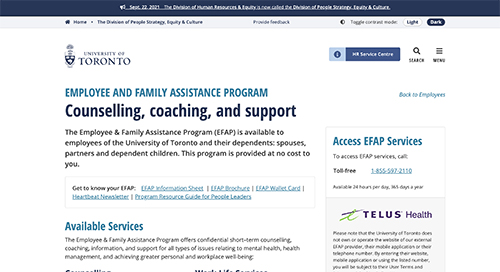 Employee well-being is comprised of mental, physical, social, and financial health. This is your single source for all wellness services, supports, and resources available to employees across the three campuses and by a range of providers.
Be sure to sign up for their e-newsletter with loads of great information. Subscribe by emailing Wellness Listserv and put "Subscribe" in the subject line.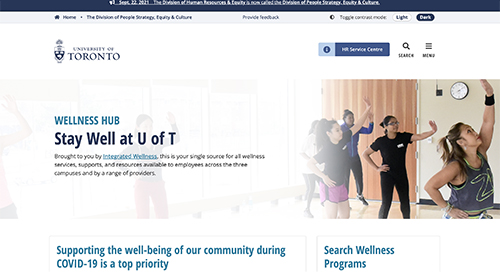 Created to strengthen the University of Toronto's systems of support for student mental health and informed by the University of Toronto Student Mental Health Strategy and Framework.
The "Identify, Assist, Refer" approach provides you with the basic skills and information needed to support people experiencing mental health challenges, whether or not they live with a mental illness.