Daniel Hamlin receives 2017 Leithwood Award for Outstanding Thesis of the Year
April 25, 2018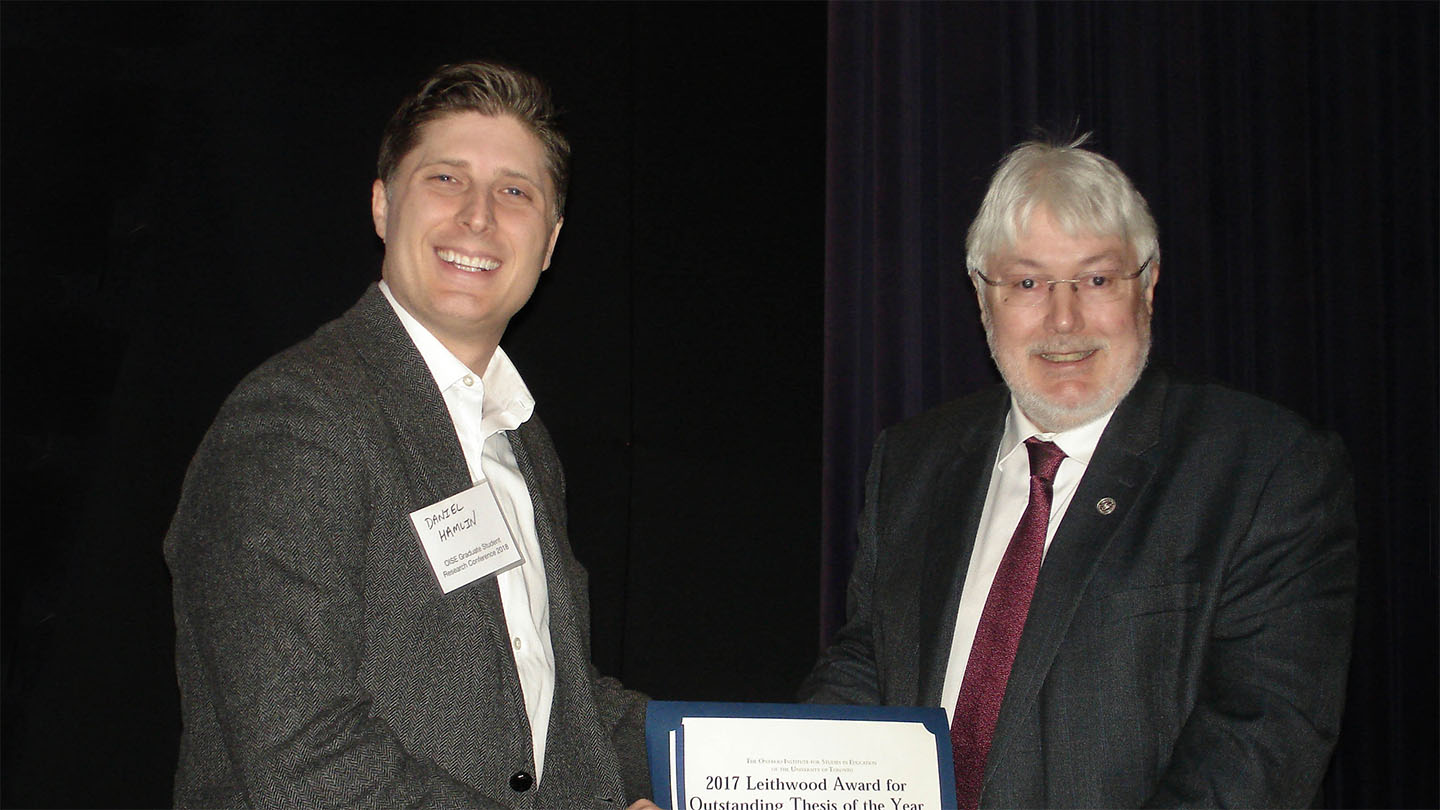 Congratulations to Dr. Daniel Hamlin for receiving the 2017 Leithwood Award for the Outstanding Thesis of the Year. 
Established in 2003, this award is granted to one graduating doctoral student annually whose work demonstrates research excellence and advances knowledge in the field of education in an impactful way. 
In his thesis, Dr. Hamlin focuses on the previously unaddressed question of whether urban charter schools are safer than public schools and turns to Detroit, Michigan as a case study. "Most studies of charter schools over the past 25 years focus on test scores," Dr. Hamlin said, noting there's a great deal of work on this topic. 
"But little work has been done looking at other factors which determine why families opt for these schools such as school safety," he continued. "This is the case in spite of the charter school sector's marked and rapid expansion in cities with high rates of crime, urban blight, and concentrated poverty." 
Dr. Hamlin's findings suggest that, with the exception of neighbourhood charter schools, the difference between the perceived safety in public and charter schools diminishes once other factors such as parental involvement and commuting distance are taken into account. 
---
About Dr. Hamlin
Dr. Hamlin is a postdoctoral fellow in the Program on Education Policy and Governance at Harvard University. Next fall, he joins the University of Oklahoma as a tenure track faculty member in the Department of Educational Leadership and Policy Studies.  
Dr. Hamlin's work appears in a number of journal publications, including American Educational Research Journal, Urban Education, Educational Policy, and Journal of School Choice. His research has been the subject of podcasts and has also been taken up by think tanks. He has presented at numerous conferences and was invited to speak to the Committee on Education at the University of Chicago.