Guidelines on privacy and security for mobile apps
March 15, 2023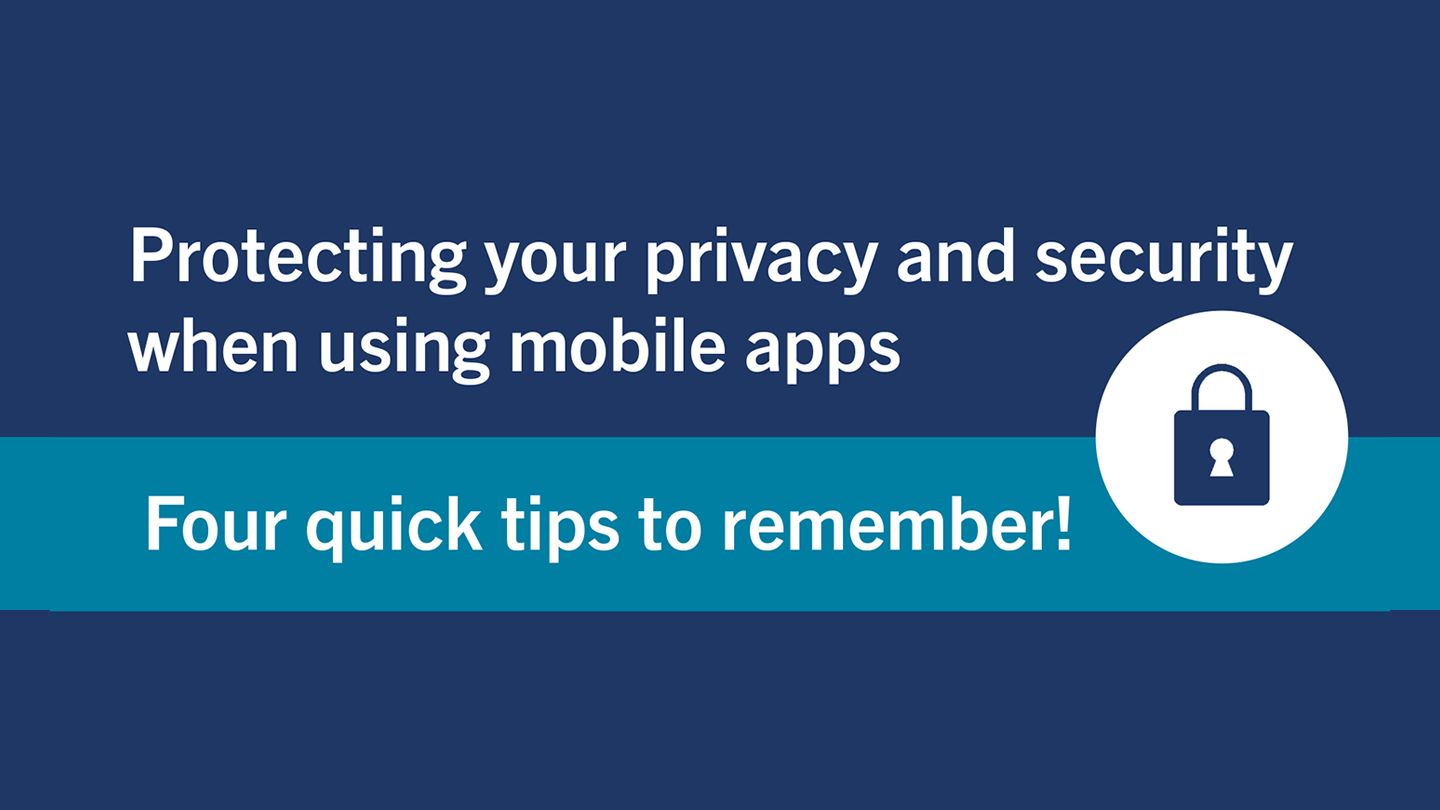 The University of Toronto's Information Security group has issued helpful guidelines to protect our privacy and security when using social media and mobile apps.
This article will:
Access visual aids summarizing the guidelines' tips
Education Commons has created an infographic outlining the four major tips detailed in the guidelines (shown below).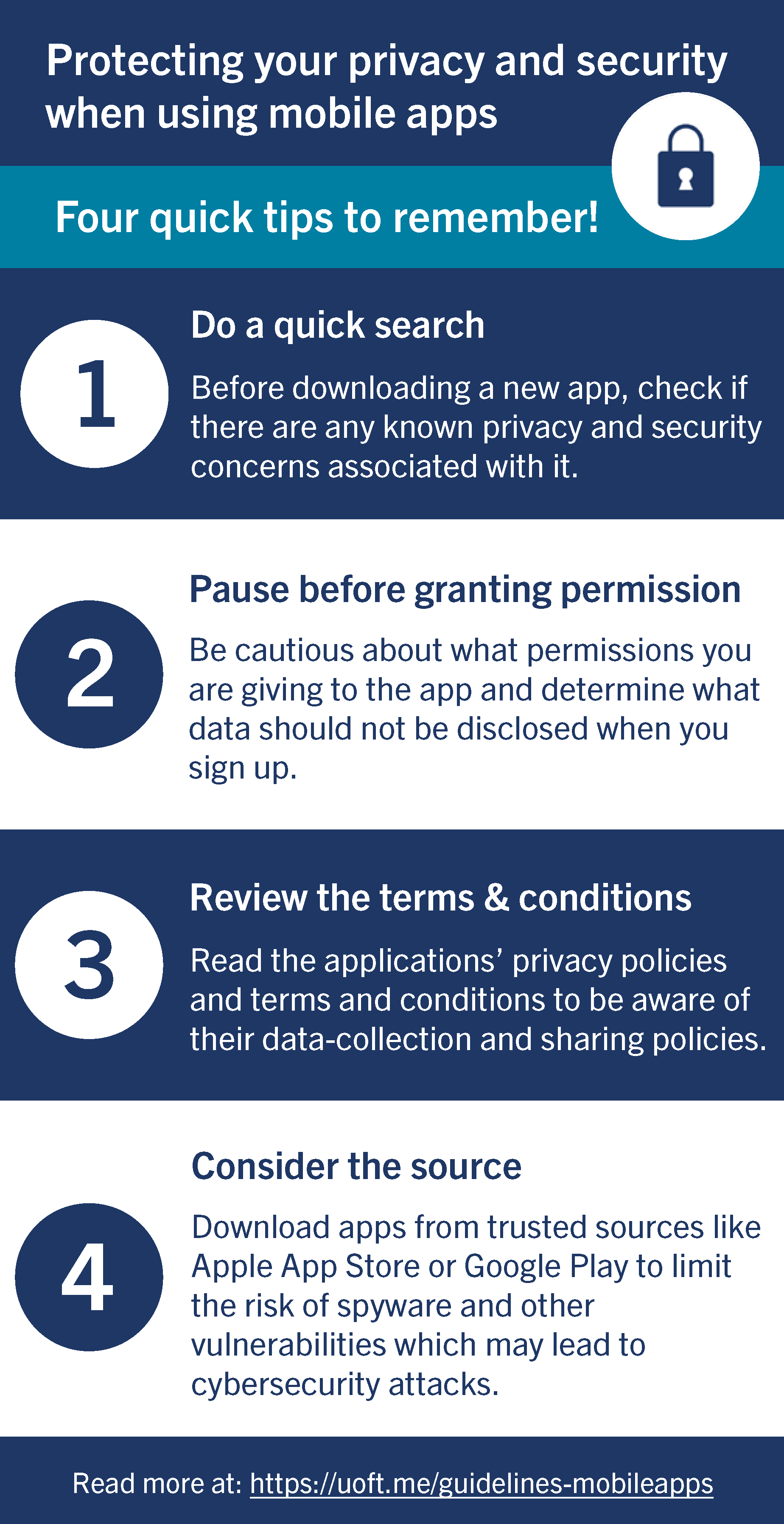 Infographic text
Protecting your privacy and security when using mobile apps
Four quick tips to remember
Do a quick search - Before downloading a new app, check if there are any known privacy and security concerns associated with it.
Pause before granting permission - Be cautious about what permissions you are giving to the app and determine what data should not be disclosed when you sign up.
Review the terms & conditions - Read the applications' privacy policies and terms and conditions to be aware of their data-collection and sharing policies.
Consider the source - Download apps from trusted sources like Apple App Store or Google Play to limit the risk of spyware and other vulnerabilities which may lead to cybersecurity attacks.
Read more at: https://uoft.me/guidelines-mobileapps
Other ways to access this infographic
This infographic is available in other versions, based on your preferred use:
Download a version of this infographic with a hyperlink to the full guidelines
Recommended for viewing on your computer or smartphone device.
Download a version of this infographic with a QR code to the full guidelines
These versions are more ideal if you would like to print this infographic out. Please feel free to post this on your wall, in a common room or any accessible space where a person may find the tips useful!
Where to find the full guidelines
Please visit the Information Security's webpage: Guidelines on privacy and security for mobile apps.
The guidelines may also be found by visiting the Information Security homepage – see screenshot of the homepage below for reference as to where the guidelines are located.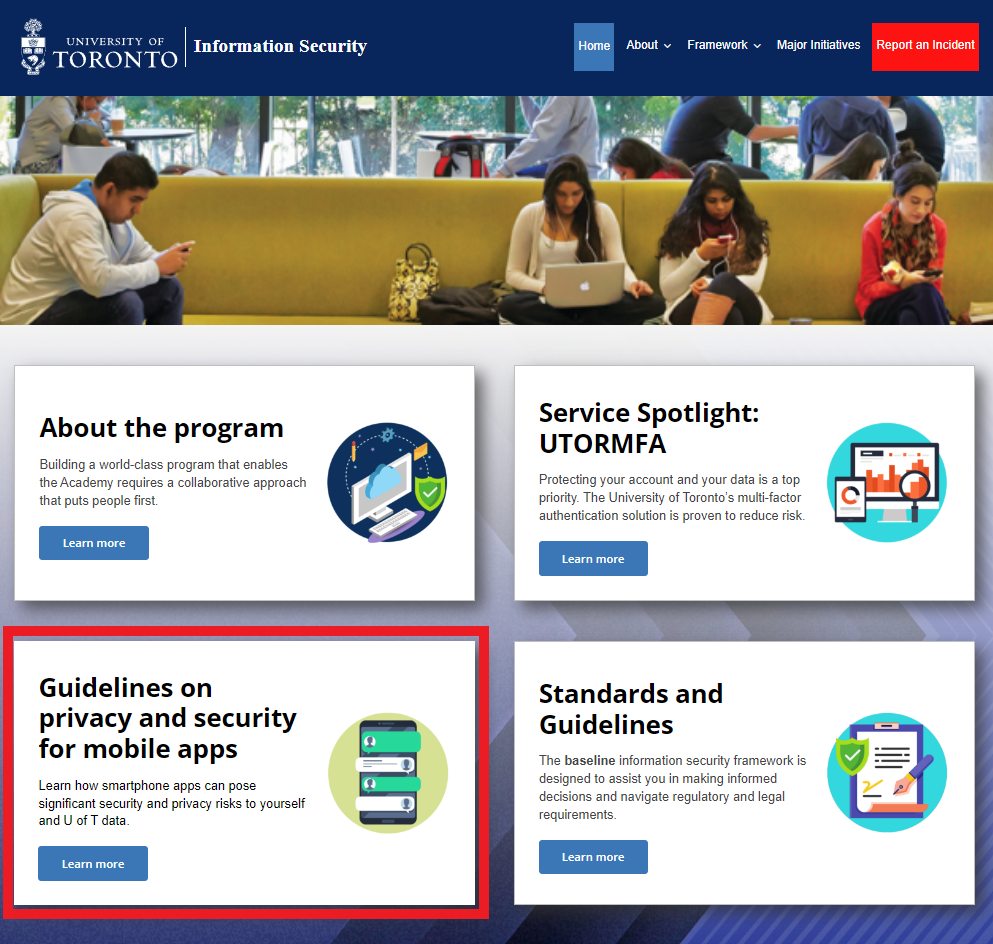 More useful resources about cybersecurity from Education Commons
It's always a good time to shore up your knowledge in keeping your digital info & identity secure! Here are some more resources you may find useful: