The technology behind OISE's first hybrid Orientation Week
September 27, 2022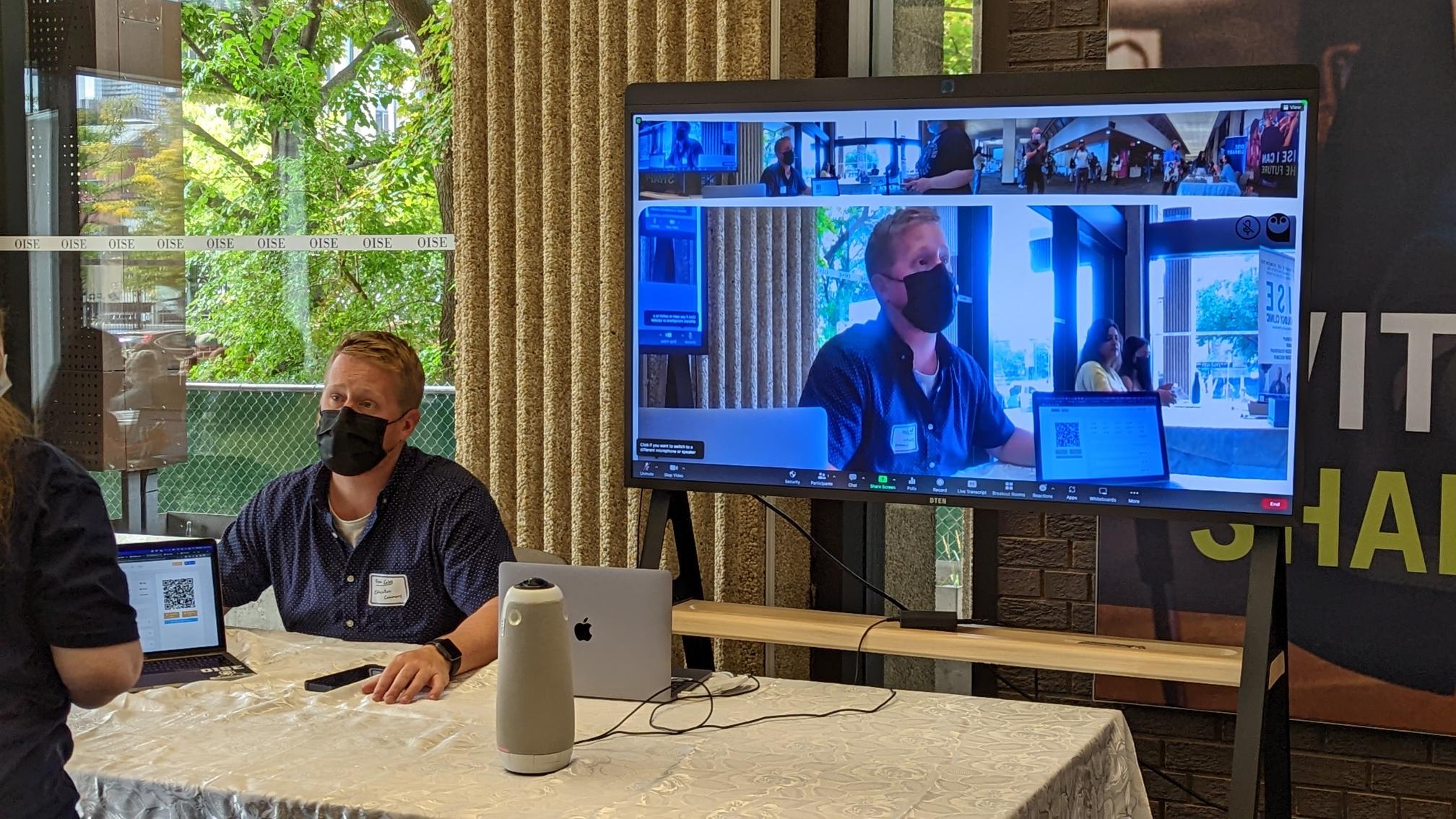 The Education Common's (EC) team was hard at work behind the scenes of OISE's successful hybrid Orientation events this September, providing technical and audio-visual support throughout the week. 
"Each event had unique needs and we worked with each member of the community to make sure their event was successful," says Azeem Khan, audio visual and business solution architect at Education Commons. 
EC was involved with the orientation planning group a month in advance, gathering information from the community, and assessing the requirements of each department for their events and sessions. We spoke with Azeem about the process of preparing for and operating the technology for OISE's hybrid orientation.  
"The biggest challenge was adapting the auditorium for a hybrid broadcast," noted Azeem. "After assessing the needs of the community, we devised a plan to integrate our broadcasting system into the auditorium's existing technology to turn it into a hybrid event space. It took three-to-four days to set up and test, ensuring each scenario was accounted for." 
Scenarios included stationary presenters, moving presenters, and remote presenters, all of whom needed to be broadcast within the space for the in-person audience, and simultaneously to online viewers, ensuring visual and audio clarity for both. 
Video 
"We used three cameras. One to capture the podium, a moving camera to capture speakers that moved around the stage, and a third camera to capture the audience and members of the community in the first row," says Azeem. 
"The speaker was projected onto a larger screen in the room, so everyone in-person or remote could share the same view. We wanted to make sure everyone could feel like they were having the same experience." 
Sound 
Given the large size of the auditorium, all speakers were equipped with a microphone. "Part of the challenge was ensuring the audio was integrated to be heard simultaneously in-person and remotely, but also monitoring and adjusting the volume for each space," says Azeem. When a presenter was remote, audio would also need to be adjusted to accommodate the difference in the presenter's remote set-up.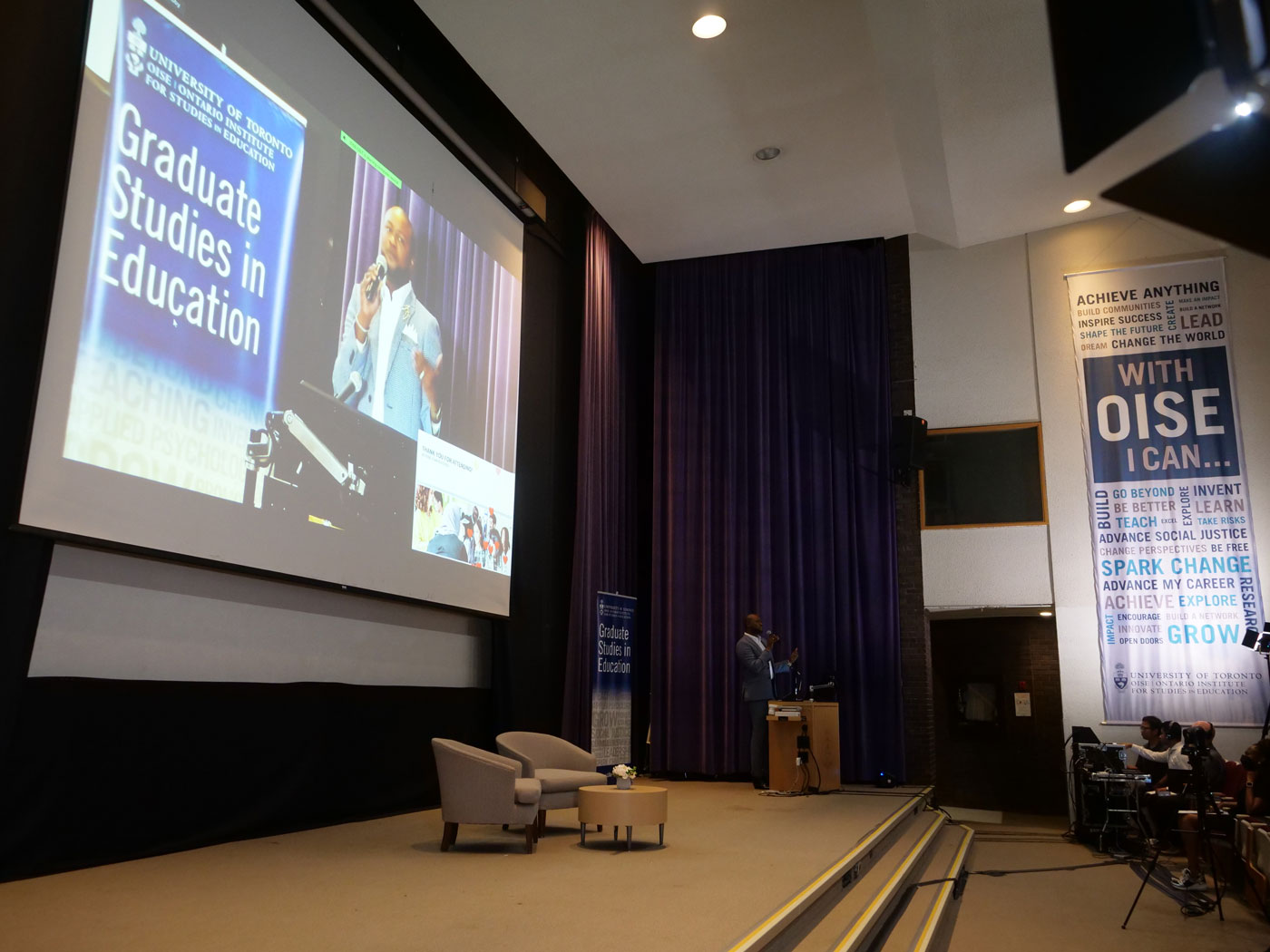 Expecting the unexpected 
EC was provided an agenda for each event and tried to plan for all scenarios, but surprises were bound to happen. Our team was quick to pivot when the unexpected occurred. 
"Occasionally there was an unexpected presenter or speaker. If the speaker was remote, we had to move quickly to spotlight that person for all viewers to see," remarks Azeem.   
"During one session there was a performer, and when we realized they would be playing a hand drum, we quickly added a microphone to the bottom of the drum in order to amplify the audio to all participants equally."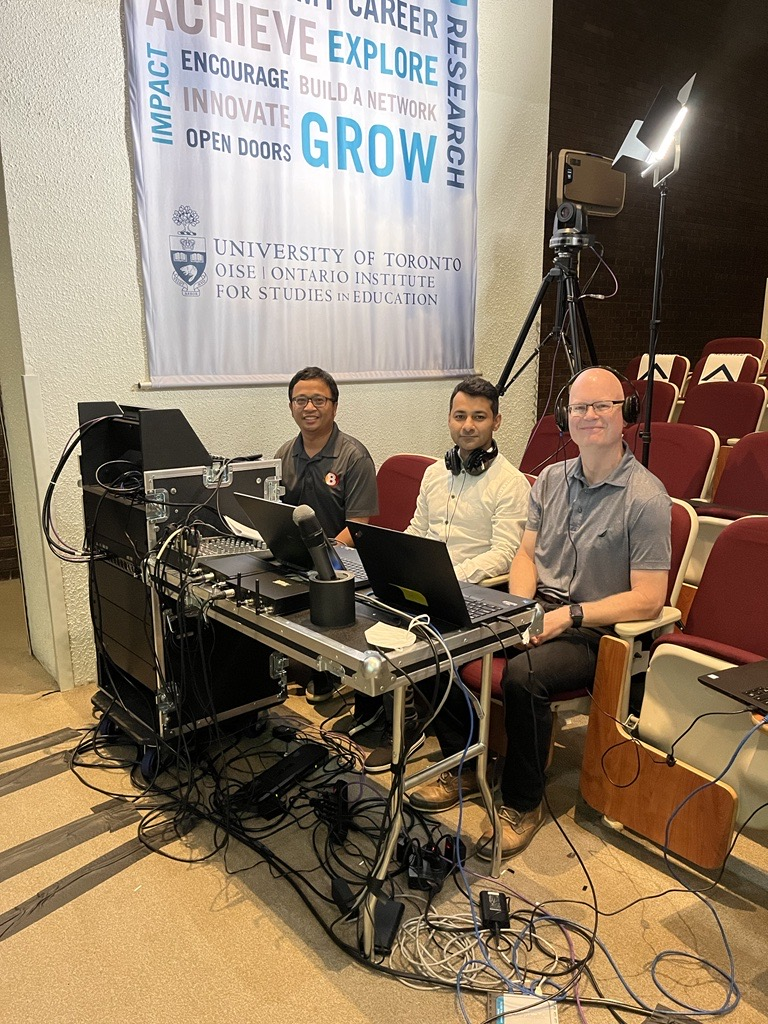 ---
More hybrid events 
As well as the main event in the auditorium, the OISE hybrid orientation included multiple simultaneous events happening on the Zoom Events and Zoom Webinar platforms, as well as in-person events.  
"Our team supported eleven hybrid events during orientation week, with more than 1000 viewers joining remotely and hundreds on-site," says Azeem.  
"We had more than 200 incoming students and faculty participate in-person, while our two Education Leadership and Policy cohorts joined online simultaneously," remarks Vesna Bajic, communications & special projects at the department of Leadership, Higher and Adult Education. "This was our first hybrid orientation and a huge success." 
Education Commons has provided support for a dozen more hybrid events or meetings since Orientation, and the demand is growing. "Consultation requests are coming to us consistently," notes Azeem, "and we are working on designing two hybrid rooms to assist with the growing need for this technology." 
For smaller events and meetings up to 14 people, Education Commons recommends using the Meeting Owl, which turns any small meeting room into a hybrid meeting room. 
 
For larger hybrid meetings or events, book an online consultation to discuss your specific needs, or drop in to our weekly online training session Hybrid Meetings & Event Technology, Thursdays at 10:00 AM.