Knowledge, Innovation, and Collaboration – the new KIC Stand 2.0
May 6, 2022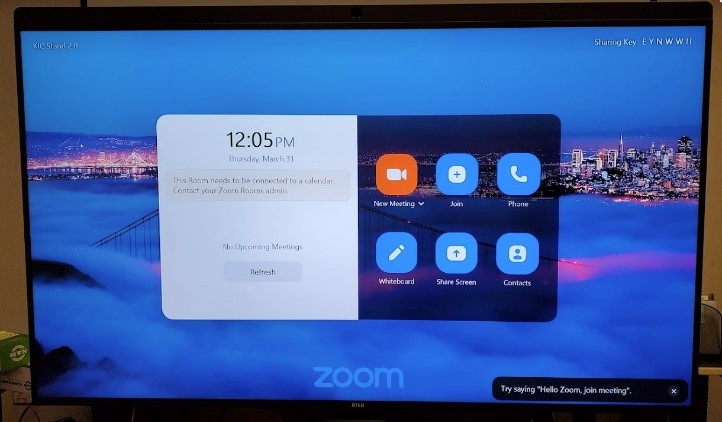 The original KIC stand was developed about six years ago when Education Commons was approached by members of our community to solve a problem. Video conferencing and presentations were limited to fixed point projectors in classrooms that were difficult to connect to and had low quality displays. The community needed a portable, high quality, presentation and video conferencing solution that was easy to use.
The first KIC Stand was custom-built by Education Commons in 2016. Now in 2022 technology has evolved and a new all-in-one, purpose-built, presentation and video solution has become available that serves the same need in a lighter, faster and simpler solution. It's branded the DTEN, but we call it the Zoom KIC Stand 2.0.
What's new in the Zoom KIC Stand 2.0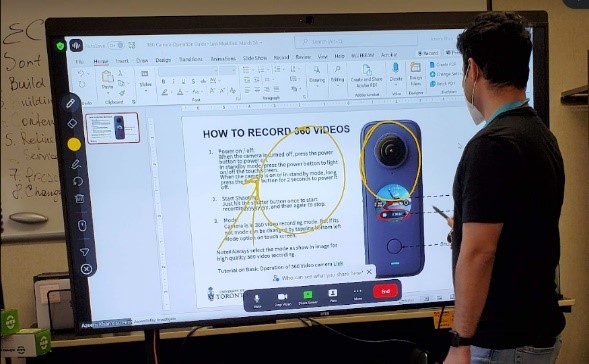 Available in three sizes, the 25", 55" or 75" units are touch screens that combine the power of groundbreaking interactive hardware technology, with Zoom Rooms video conferencing software. The built-in computer is preconfigured with Zoom to allow easy collaboration, screen sharing and digital whiteboarding at the touch of a button, with integrated high-quality audio and video.
The larger 55" and 75" screens are mounted on wheels to allow portable, interactive video collaboration in any meeting space at OISE. With a touch of the screen, you can simply start or join a meeting, invite attendees, start the whiteboard, or share your presentation. A digital sharing key at the top right of the screen can be used to share the presentation to any device.
The 25" screen is a desktop or mountable device that is being tested as the virtual reception screen for both Education Commons and the Registrar's Office and Student Experience. With the touch of a button, guests can initiate a Zoom call to a pre-determined 'reception contact.
Although ROSE hasn't implemented the product yet, "I think the virtual reception screen offers a functional way to connect with visitors on campus when we are in our home offices," says Jessica Lovett, director, recruitment and admissions.
---
The evolution of the KIC stand
Education Commons developed the original KIC stand from scratch, building the one-touch-start solution using the best technology available at the time. Early adopters of the KIC Stand used the units in their departments, and soon only rooms with KIC stands were being booked for presentations.
Since the use of Zoom has become increasingly ubiquitous in how we work and communicate, the need for high quality, mobile, and easy to use video conferencing tools has grown.
While the original KIC stand was an extremely high-tech and useful tool when it was developed, the new all-in-one option offers a plug-and-play integrated experience which is leaps beyond our original homegrown solution, and we're pleased to offer the advancement to the OISE community.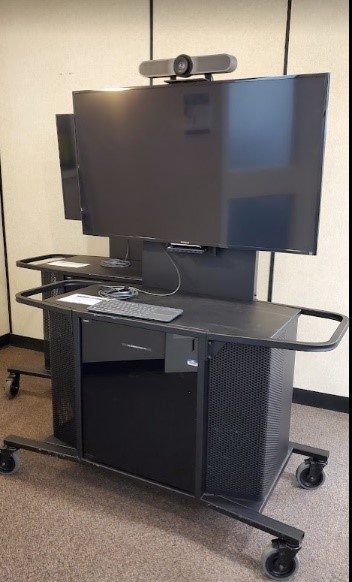 Recently the Centre for Teaching and Learning used the 75" KIC Stand 2.0 (demonstrated by Azeem above) as one the technology solutions for a hybrid conference at OISE.
Alanna McKnight, CTL's research, partnerships and communications officer, found the technology beneficial as CTL works "toward finding a hybrid model of engagement that will welcome people to attend events and lectures without having to be in Toronto. The Zoom KIC Stand 2.0 offers an easy way to manage the Zoom meeting and seamlessly collaborate with participants both in-person and online."
To book a demonstration or discuss how your team could use the KIC Stand 2.0 please reach out to Azeem Khan or Daniel Marinos at Education Commons. Or submit a request on our Online Service Hub.