Running Websites and Marathons! Spotlight on Jed Dela Cruz, Drupal Developer at Education Commons
May 23, 2023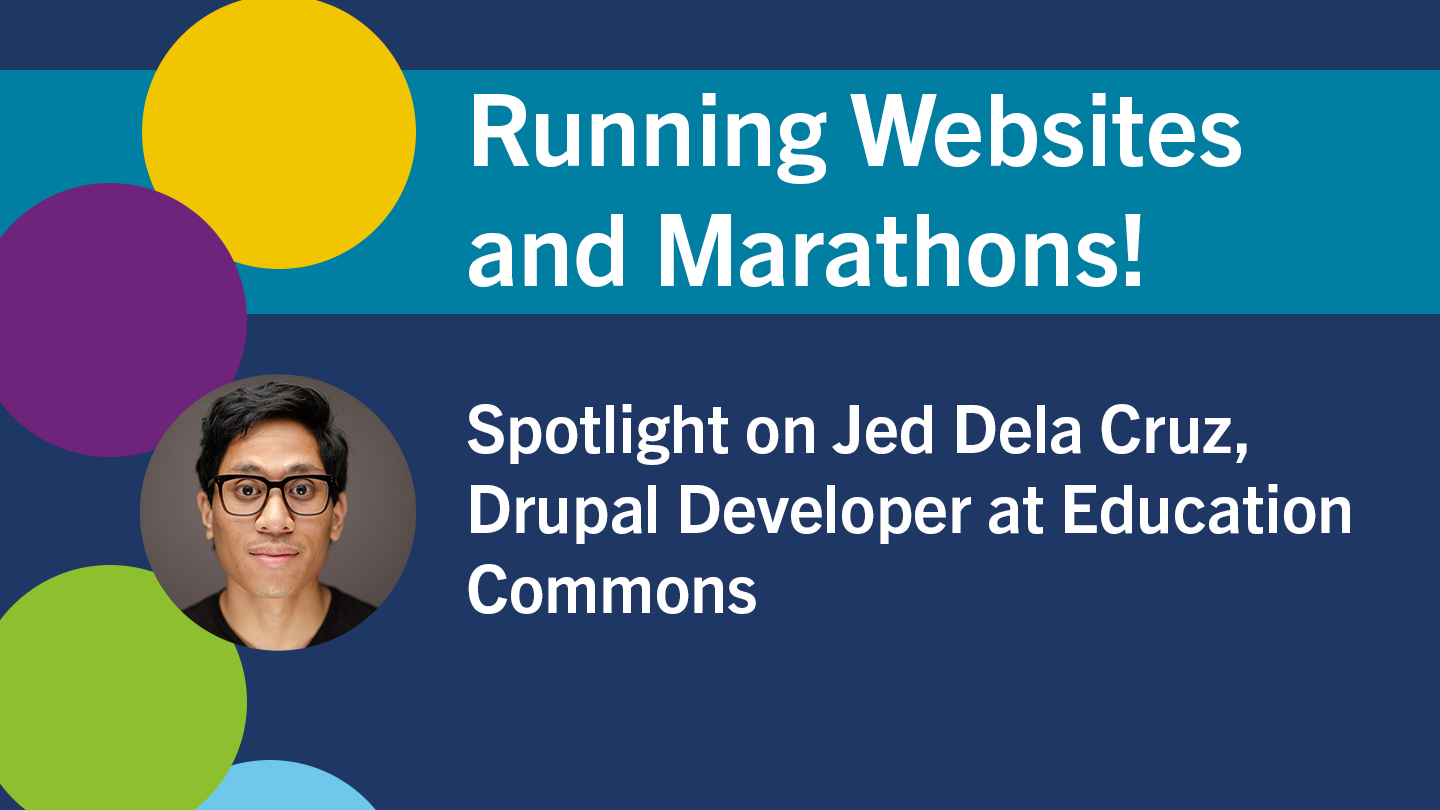 Have you had your OISE-hosted website migrated to Drupal, making your site more accessible, engaging, and environmentally friendly? 
Chances are you have gotten to know Jed Dela Cruz. Jed has been hard at work bringing more than a dozen OISE websites to the Drupal Content Management System (CMS), a sustainability-focused digital platform for our websites. It's all part of his work as a Drupal Developer for Education Commons. 
"I work on the informational sites that departments use to communicate with potential and current students," says Jed, who started with OISE in November 2021. "Anything from tech support to helping the OISE community migrate, that's my day-to-day." 
Supporting the OISE community by modernizing its web presence 
Last month, Jed was recognized for his work at the 2023 OISE Staff Excellence Awards, being part of the Drupal Migration & Early Adopters Team that won the Innovation Award in the Team category. 
"I have thoroughly enjoyed working with Jed throughout the migration process," says Shamelle Sutton, Student Recruitment Communications Specialist at the Registrar's Office & Student Experience (ROSE) and fellow team member with Jed on the Drupal Migration & Early Adopters Team. "As a colleague, I can always count on him to provide timely solutions to any issues we may encounter." 
Are you looking to get your OISE website onto Drupal? Jed and the Drupal Migration workgroup are here to help – please get in touch with Education Commons to start the process. 
Working with a team to find solutions and make an impact 
For Jed, having the opportunity to collaborate with his colleagues makes a huge difference. He points to his team members at Education Commons, whom he can trust for collaboration and support.  
He states, "Even though the work I do is contained to three or four members, every time I get to work with a larger team, it feels like a welcoming environment. I can ask any question." 
Jed's fellow Drupal Developer, Hentry Mathias, agrees with the sentiment.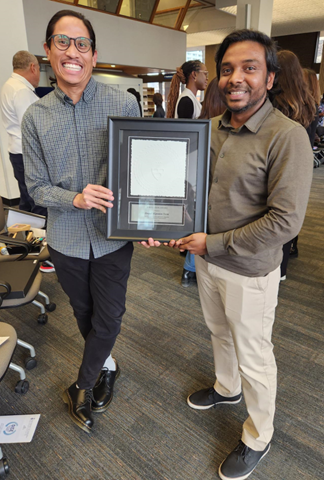 "Jed is cool and laidback. He is accommodating – even if the ask is pretty high, he can meet that," says Hentry. "When I work with Jed, we understand each other, and whenever we bring up an idea, we hear and accept what each other is saying." 
Andrea Zdzylowski, Technology Adoption Consultant and fellow member of the Drupal Migration workgroup, adds, "Jed is genuinely a remarkable workgroup member. He develops the best solutions for the OISE community and is one of my all-time favourite people to collaborate with. He can take an idea, create a potential mock-up, and find a way to make the content more engaging and immersive than ever imagined."
Finding wellness and inspiration 
What does Jed do when his workday is done? It turns out that Jed loves to train – for marathons! He completed the Toronto Marathon earlier this month, getting a personal best! A significant achievement, and one that he credits partly to working at Education Commons.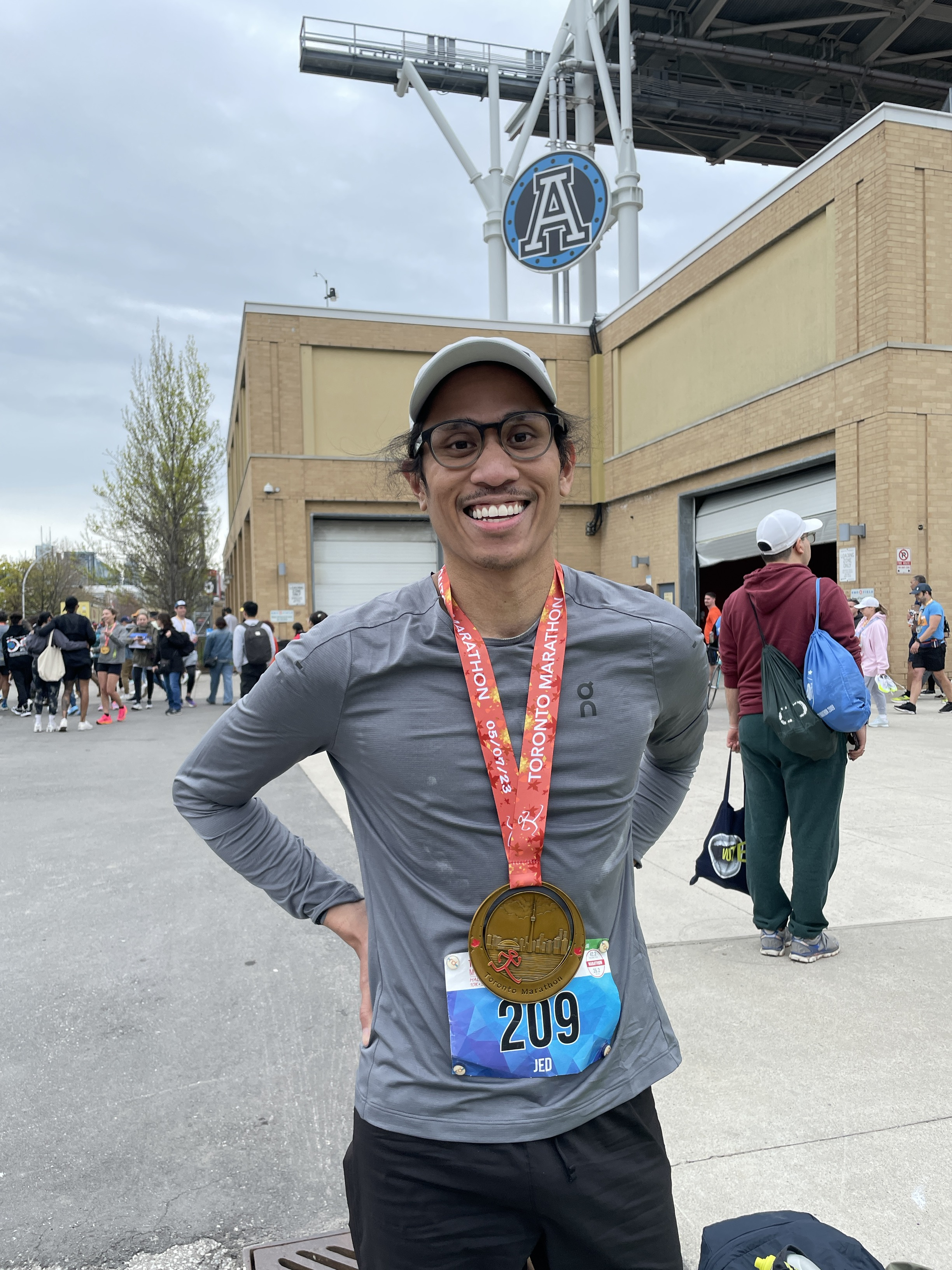 "This was my sixth marathon and first since 2019. The pandemic removed any motivation I had to run," says Jed. "But one of the Education Commons' Wellness Initiatives, the Step Tracking Challenge, got me back to running again." 
One of the biggest challenges Jed faced while training was finding consistency – not only in finding time to run, but being motivated to run four to five times a week. So, how did he overcome this? 
"A combination of different things contributed to helping me overcome this, but the biggest one was sharing with my social circles, both personally and at work, that I signed up for a marathon," says Jed. "It created an environment of support from people around me, and instilled a sense of personal accountability that if I skipped out on a morning run before work, that there was always time to go out and do it right at 5 p.m." 
What's next for Jed? In a few weeks, he's going to start training for the Toronto Waterfront Marathon in the fall, where he'll aim for a new personal record.  
Congrats Jed on your success! We look forward to hearing more about your future endeavours, both at OISE and across the finish line!