Reading Recommendations for Kids
New Collections
Check out the new collection in our library, including many indigenous titles and featuring grandparents.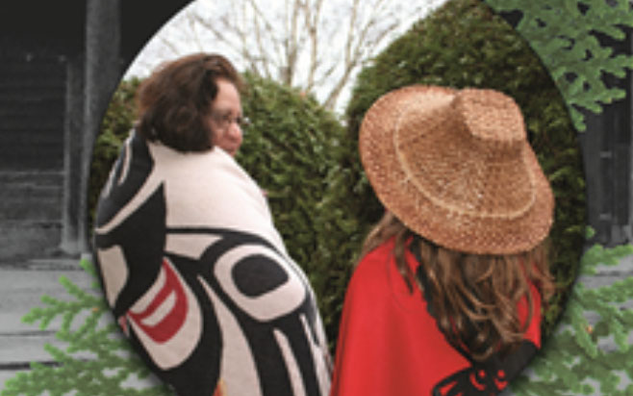 Granny and I Get Traditional Names
Author: Celestine Aleck
Reading Age: 7 - 10 years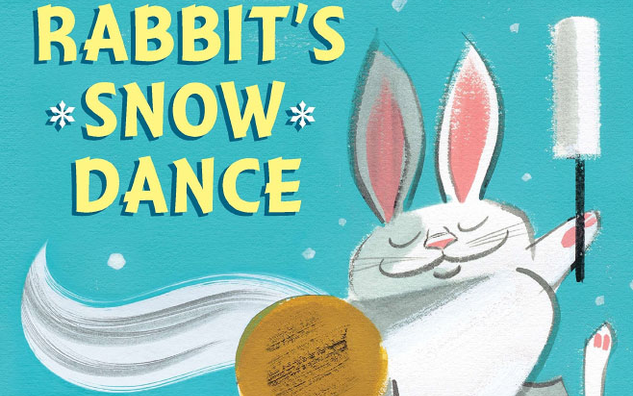 Rabbit's Snow Dance
Author: Joseph Bruchac
Reading Age: 3 - 5 years
Trip to the Moon
Author: Vera Evic
Reading Age: 6 - 8 years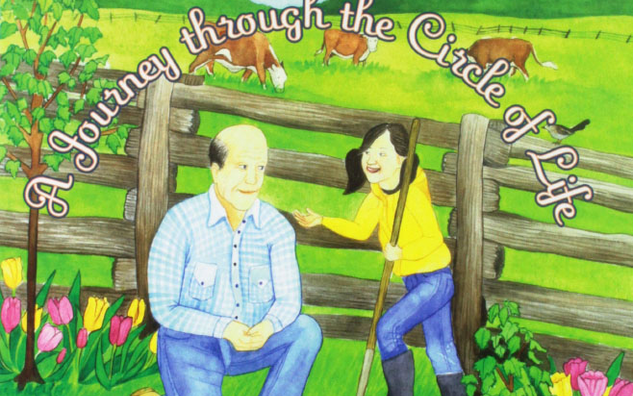 A Journey Through the Circle of Life
Author: Desiree Gillespie
Reading Age: 4 - 7 years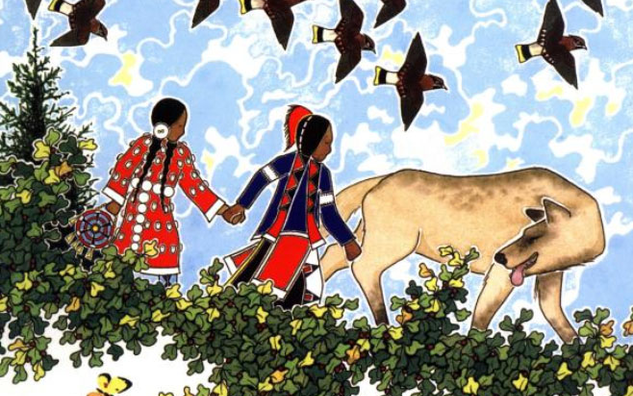 Dream Wolf
Author: Paul Goble
Reading Age: 4 - 8 years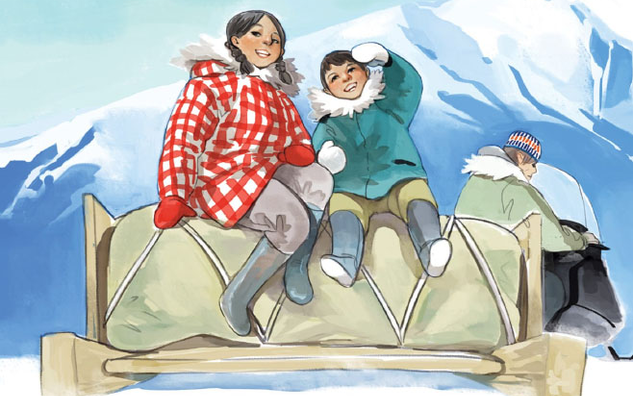 Our First Caribou Hunt
Author: Jennifer Noah and Chris Giroux
Reading Age: 6 - 8 years
---
Additional Books Part of the New Collections
Reading Age: 8 - 12 years
This series of adventure novels were written by a collaboration of authors Rick Riordan, Gordon Korman, Peter Lerangis, Jude Watson, Patrick Carmen, Linda Sue Park, Margaret Peterson Haddix, Roland Smith, David Baldacci, Jeff Hirsch, Natalie Standirod, C. Alexander London, Sarwat Chadda and Jenny Goebel. These novels consist of five series, chronicling the adventures of two siblings Amy and Dan Cahill, who have discovered that their family, the Cahills, have been the most influential family in history.
Author: Elana K. Arnold
Reading Age: 6 - 10 years
For Bixby Alexander Tam (nicknamed Bat), life tends to be full of surprises – some good, some not so good. Today, though, is a good-surprise day. Bat's mom, a veterinarian, has brought home a baby skunk, which she needs to take care of until she can hand him to a wild-animal shelter.
But the minute Bat meets the kit, he knows they belong together. And he's got one month to show his mom that a baby skunk might make a pretty terrific pet.
Author: R. Harding and R. Symes
Reading Age: 8 - 12 years
Discover the fascinating world of crystals and gems – their beauty, uses, structures and fantastic variety. Here is a spectacular and informative guide to the amazing world of crystals and gems. Superb colour photographs of crystals, jewels and gemstones of every colour, shape, and size offer a unique eyewitness insight into their extraordinary beauty and variety.
Author: Leah Marie Dorion
Reading Age: 5 - 10 years
Bilingual story by Métis storyteller and author Leah Marie Dorion. The story explores a Métis Elder's remembrances of traditional generosity teachings that his grandparents taught him during childhood. 
Author: Ferguson Plain
Reading Age: 6 - 9 years
In this story about a young boy and his Mishomis (grandfather), the author presents the reader with a moving story explaining the eagle feather's significance in Ojibwe culture. The young boy grows up listening to his grandfather's teaching and stories.
Author: Laurie Wallmark
Reading Age: 6 - 10 years
Who was Grace Hopper? A software tester, workplace jester, cherished mentor, ace inventor, avid reader, naval leader – and rule breaker, chance taker, and troublemaker. Acclaimed author Laurie Wallmark once again tells the riveting story of a trailblazing woman. Grace Hopper coined the term "computer bug" and taught computers to "speak English". Throughout her life, Hopper succeeded in doing what no one had done before. Delighting in difficult ideas and defying expectations, insatiably curious, Hopper was truly amazing as a role model for science and math minded boys and girls. This book brings Hopper's incredible accomplishments to life through witty quotes, and richly detailed illustrations.
Author: Donna Jo Napoli and David Wiesner
Reading Age: 10 - 12 years
A young mermaid, Fish Girl, in a boardwalk aquarium has a chance encounter with an ordinary girl. Their growing friendship inspires Fish Girl's longing for freedom, independence and a life beyond the aquarium tank. Sparkling with humour and brilliantly visualized, Fish Girl's story will resonate with every young person facing the rewards and challenges of growing up.
Author: Shezza Ansloos
Reading Age: 5 - 8 years
I Loved Her is a young Métis girl's tender recollection of her wise and loving grandmother. Their friendship grows more profound and prosperous, from singing songs together at the piano to playing indoor games on rainy days. 
Author: Deborah L. Delaronde
Reading Age: 6 - 12 years
Little Metis is bored and only wishes to help his family with their daily chores in the bush. When a mischievous spirit tries to make trouble, Little Metis finds he helps them much more than he knows.
Author: Ben Clanton
Reading Age: 6 - 9 years
Narwhal is a happy-go-lucky narwhal. Jelly is a no-nonsense jellyfish. The two might not have much in common, but they love waffles, parties and adventures. Join Narwhal and Jelly as they discover the whole wide ocean together.
Author: Ferguson Plain
Reading Age: 4 - 7 years
Nokomis and I is the 2013 children's book from Ojibwe artist, author and storyteller Ferguson Plain. In this offering the author explores the meaning of Ojibwe identity and culture through the role of a grandmother or Nokomis engaging her grandchild with teachings about the circle of life, the role of all living beings, and the Seven Grandfather Teachings. 
Author: James Mishibinijima
Reading Age: 5 - 10 years
Each Ojibwe clan is explained with a brief paragraph about the clan's nature and its role in society.
Author: Laurel Snyder
Reading Age: 8 - 12 years
On the island, everything is perfect and only one thing ever changes: on that day each year, when a boat appears from the mist upon the ocean carrying one young child to join them – and taking the eldest one away, never to be seen again.
Today's changing is no different. The boat arrives, taking away Jinny's best friend, Deen, replacing him with a new little girl named Ess, and leaving Jinny as the new Elder. Jinny knows her responsibility now – to teach Ess everything she needs to know about the island, to keep things as they've always been. But will she be ready for the new inevitable day when the boat will return – and take her away forever from the only home she's known?
Author: S. D. Nelson
Reading Age: 8 - 12 years
Author: Celestine Aleck
Reading Age: 7 - 10 years
In this Coast Salish story, to help make their children happy, the sun and the moon make the difficult choice to part from each other. The Creator allows them to visit only at the time of an eclipse and at sunrise and sunset. The great love between the sun and the moon can be seen in the beauty of those times.
Author: Charis Cotter
Reading Age: 9 - 12 years
Two young girls, Polly and Rose, retreat to their attics to escape their loneliness and isolation. Polly lives in a house bursting at the seams with people, while Rose is often left alone by her busy parents. Polly is a down-to-earth dreamer with a wild imagination and an obsession with ghosts; Rose is a quiet ethereal waif with a sharp tongue. Despite their differences, both girls spend their days feeling invisible and seek solace in books and the cozy confines of the wall. they develop an unlikely friendship, and Polly is ecstatic to learn that Rose can actually see and talk to ghosts. But is there more to Rose than it seems? Why does no one talk to her? Why does she look so ghostly? When the girls find a tombstone with Rose's name on it in the cemetery and encounter an angry spirit in her house who seems intent on hurting Polly, they have to unravel the mystery of Rose and her strange family…before it's too late.
Author: Allen Sockabasin
Reading Age: 4 - 9 years
Drawing on his own personal history Sockabasin tells the simple story of a Passamaquoddy family in Maine around 1900.
Author: Michelle Corneau
Reading Age: 6 - 10 years
The Kanyen'kehà:ka (Gan-yeh-ga-ha-ga) open all important meetings and gatherings with the Thanksgiving Address. This speech is about being thankful to everything around us for giving us the gifts we need to live and the importance of peace.
Author: Simon Adams
Reading Age: 8 - 12 years
The story of the Titanic's tragic maiden voyage still tugs at the heartstrings and sparks universal curiosity – Eyewitness Titanic discovers the story behind the story. From a Belfast shipyard to the ship's death in the icy Atlantic, the story comes alive though 30D renderings, photographs, and deck plans. Eyewitness Titanic is a compelling narrative of courage, cowardice, sacrifice, and survival. See the wreck on the ocean floor, the ship's gigantic propeller, and the ship's luxurious interior. Learn how survivors were rescued from the icy waters and the shipwreck's location. Discover what caused the "unsinkable" Titanic to sink, the preservation techniques of underwater archaeology, and much, much more.
Author: Jann A. Johnson
Reading Age: 4 - 8 years
Wisdom Weaver Bina'nitin Bidziilgo Atl'ohi is a bilingual English and Navajo picture book published by Salina Bookshelf that tells a simple story about the importance of weaving.