Introducing the new Education Commons website
September 8, 2022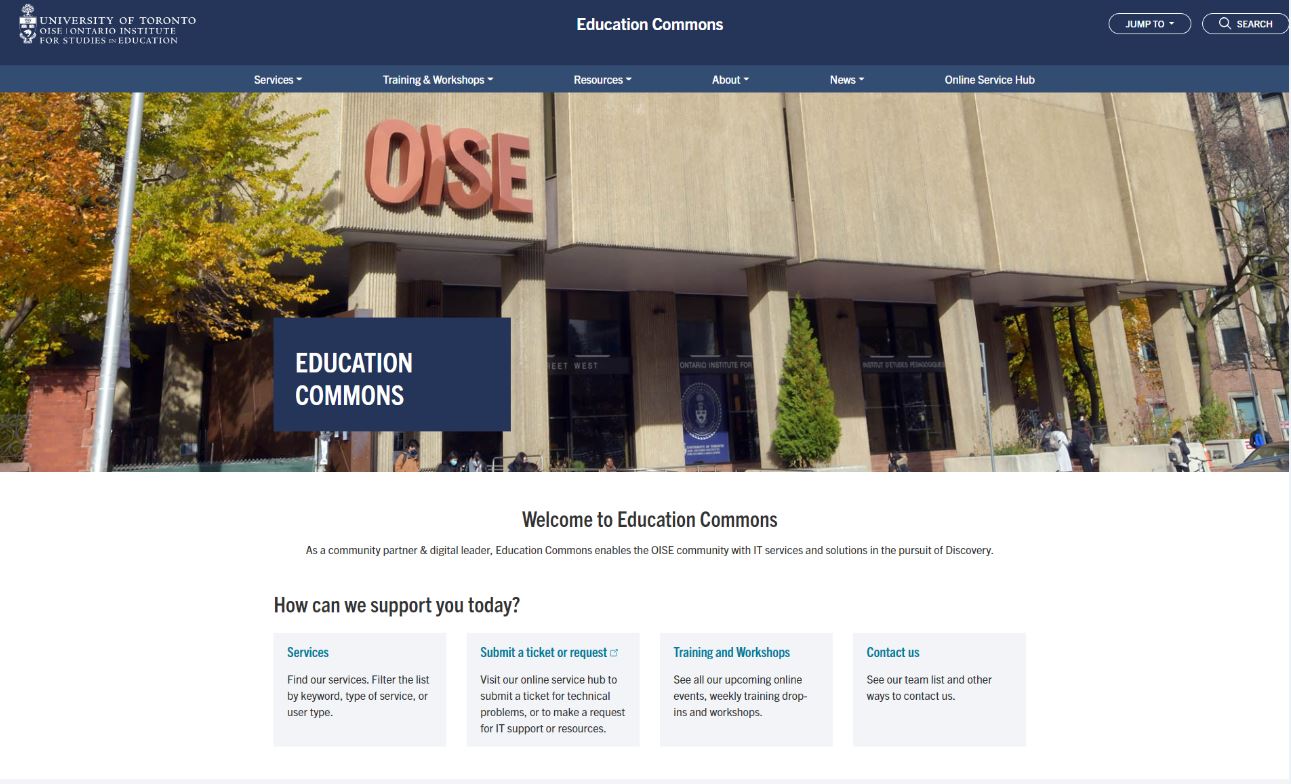 We've been busy this summer migrating OISE websites to our new Drupal system. After launching the new OISE homepage, we've migrated the departments of Social Justice Education and Applied Psychology & Human Development to Drupal, and are in the process of migrating the department of Curriculum, Teaching & Learning.
While we've been working to bring more OISE content to Drupal, we've also been working on redeveloping our own website, so that we can better provide you with the information and resources you need for a smooth transition into the new academic year. We're pleased to launch the new Education Commons website. 
---
What's New
Our homepage
When you visit our homepage you'll see all the ways you can contact us for support, as well as featured news and events. The System Status will be viewable at the top of this page to bring your attention to any updates or alerts regarding OISE technical systems.
Updates to the navigation
Updates have been made to our menu and navigation to make it easier to find and access our services, training, resources, and support.
Services - New lists and filter
Under the menu item Services, you'll find a link to our Online Service Hub, as well as several ways to access our Services list. This list is still under development, and will continue to grow as existing and new services are defined.
We've organized our Services by category and user type, as well as making it possible to search by keyword. Use the filter to find what you're looking for. If you're looking for information on Zoom, just type Zoom into the search bar, and all services related to the keyword will appear.

Resources
Under the resources menu you'll find a growing list of pages that provide information on frequently requested topics.
Training and Workshops 
Easily find our weekly online drop-ins and upcoming workshops. Here you'll also find information about our Research Design and Analysis workshops.
About
A familiar menu, here you'll find information about our team, what we do, and our strategic plan.
News
The Discovery Newsletter has a new look! We'll be posting our news to our website using the News feature we've built into the new Drupal template. Recent articles will appear on our homepage, and we'll share our recent news monthly with the community through a newsletter to your email inbox.
Online Service Hub
You'll find the link to our online service hub in several locations across our website, and in our services and news. It's also at the top right of our menu for easy access.
Continual improvement
At Education Commons we foster an environment of continual improvement and innovation in everything we do, including our new website. We will continue to add content, services and resources to our website, and look forward to your feedback or requests for additional information.