Visit the Office of Convocation's website for important information about convocation ceremonies. The Office of Convocation's website information supersedes the information located on this webpage.
---
Graduation/Conferral of Degrees at the University of Toronto takes place in November, March, and June.  There is no ceremony in March; degrees are awarded in absentia.
All Master's students at OISE preparing to graduate are required to submit an Application to Graduate form to the OISE Registrar's Office & Student Experience (ROSE) by the following dates: 
June 15 - July 15 (If completing in the Summer session - November graduation)
September 15 - October 15 (If completing in the Fall session - March or June graduation)
February 15 - March 15 (If completing in the Winter session - June graduation)
Receipt of the Application to Graduate form is the trigger for the graduation assessment process. When the graduation request is added to your record, your registration sessions, in the same session as the graduation, are cancelled.
If you are a Master of Education (MEd) student, approximately four weeks after the application to graduate form submission deadline:
ROSE will review for required courses, and that all completed courses have grades.
We will calculate your degree fee to see if you will owe a balance upon graduation.
If you are currently enrolled in a Collaborative Specialization, we will check for a letter of completion in your file.
We will email a letter to you with our assessment.
About Convocation
Convocation Ceremony
Convocation ceremony information about time, location, and obtaining tickets is available from the Office of Convocation. 
Information is also emailed to student's utoronto.ca email addresses approximately three weeks before convocation. Please ensure your address is correct on ACORN. Further information about deadlines is available at Important Dates.  
Delay of Convocation
Delay of graduation is not permitted. Students must graduate at the ceremony immediately following completion of their degree requirements, except in the case of students who complete their degree requirements by the end of the Fall session.
Those students may choose to graduate in March (in absentia, no ceremony) or in June if they wish to attend a ceremony.
Professional Graduation Portrait Photos
Graduating at OISE?
The School of Graduate Studies (SGS) schedules dates to have portraits taken at the St. George campus with CanGrad. Students can book a seating directly via email at mail@cangrad.com.

Alternatively, students may choose from photos taken by GradImages Canada, the official photographer at the convocation ceremonies.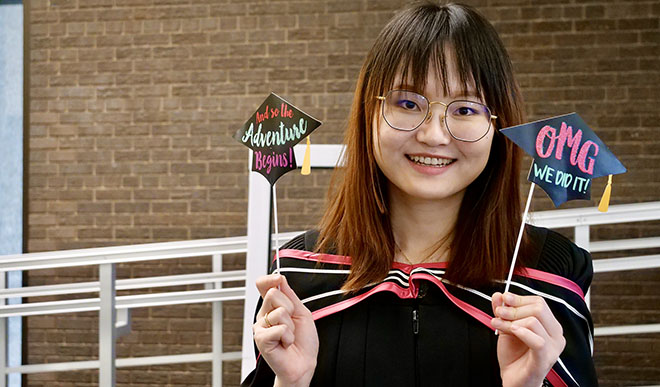 Important Information for Students
Be aware of the deadlines set for our receipt of your final degree requirements. The deadlines for graduation and the deadlines to avoid assessment of additional fees are often different.
Notify your collaborative specializations of your intention to graduate. Information on Collaborative Specializations. 
Let your instructors know that you intend to graduate.  There is an early grade submission deadline for students graduating in the Summer.  There should be a graduating indicator next to your name on the eMarks grade sheets so they can verify that you do intend to graduate. 
Master's students should Calculate their Degree Fee to avoid the surprise of being assessed a balance upon graduation.
Name Changes
Students should review their names on ACORN, as this is the name that will appear on their diploma. Your name on the title page and abstract of your thesis must also be exactly as you are officially registered on ACORN.
If the necessary change(s) are not made by the deadline for name changes set by the Office of Convocation, there is an $80.00 fee to have a new diploma printed.
Managing Outstanding & Degree Fees
Balance Owing of Minimum Degree Fee
Students who complete and who have paid less in program fees than the degree fee, whether registered full-time or part-time, will be subject to a balance owing of the degree fee.  
There are two exceptions to Restrictions on Past Due Accounts for balance of minimum degree fee amounts only. 
Graduating students who owe only the balance of the minimum degree will receive their diploma at the ceremony. 
Even though the balance of degree fee becomes due when posted, service charges on that amount do not begin until three months after the student's convocation. If the fee is still unpaid by that time, you will be charged a monthly service fee of 1.5% compounded (19.56% per annum).  
If you have paid more than the minimum degree fee due to the time taken to complete the degree requirements, there is no refund of fees. 
Outstanding Fees
Students with outstanding fees will have a financial hold placed on their ACORN account and transcripts. Confirmation of degree letters will not be released until fees are paid.
Graduating students with outstanding fees other than the balance of degree fee who are attending the ceremony will receive an empty envelope, which will be identical to the other envelopes containing diplomas. More details are available at Restrictions on Past Due Accounts.
Transcripts
Transcripts are not automatically sent upon graduating. Students are responsible for ordering transcripts through ACORN if they require that a copy be sent anywhere. Some organizations have other preferred methods of receiving your U of T transcript (check their information).
Transcripts will not say degree conferred until after the convocation period. The School of Graduate Studies updates transcripts for all graduate degrees within two days after the final convocation ceremony date.
Transcript requests made via ACORN do not have an option to select "After Convocation". If you select a production date that is too early, your transcript will be sent even if the Degree conferred is not showing. You will most likely need to request another transcript, costing you extra money and time.
University of Toronto - University Registrar's Office advises: If you are graduating and require the conferral of your degree to appear on your official E-transcript, check your academic history in ACORN before you submit your order to ensure the conferral of your degree has been updated on your record. Conferral is updated after the last day of each convocation period.