Congrats to our award-winning team members!
April 5, 2023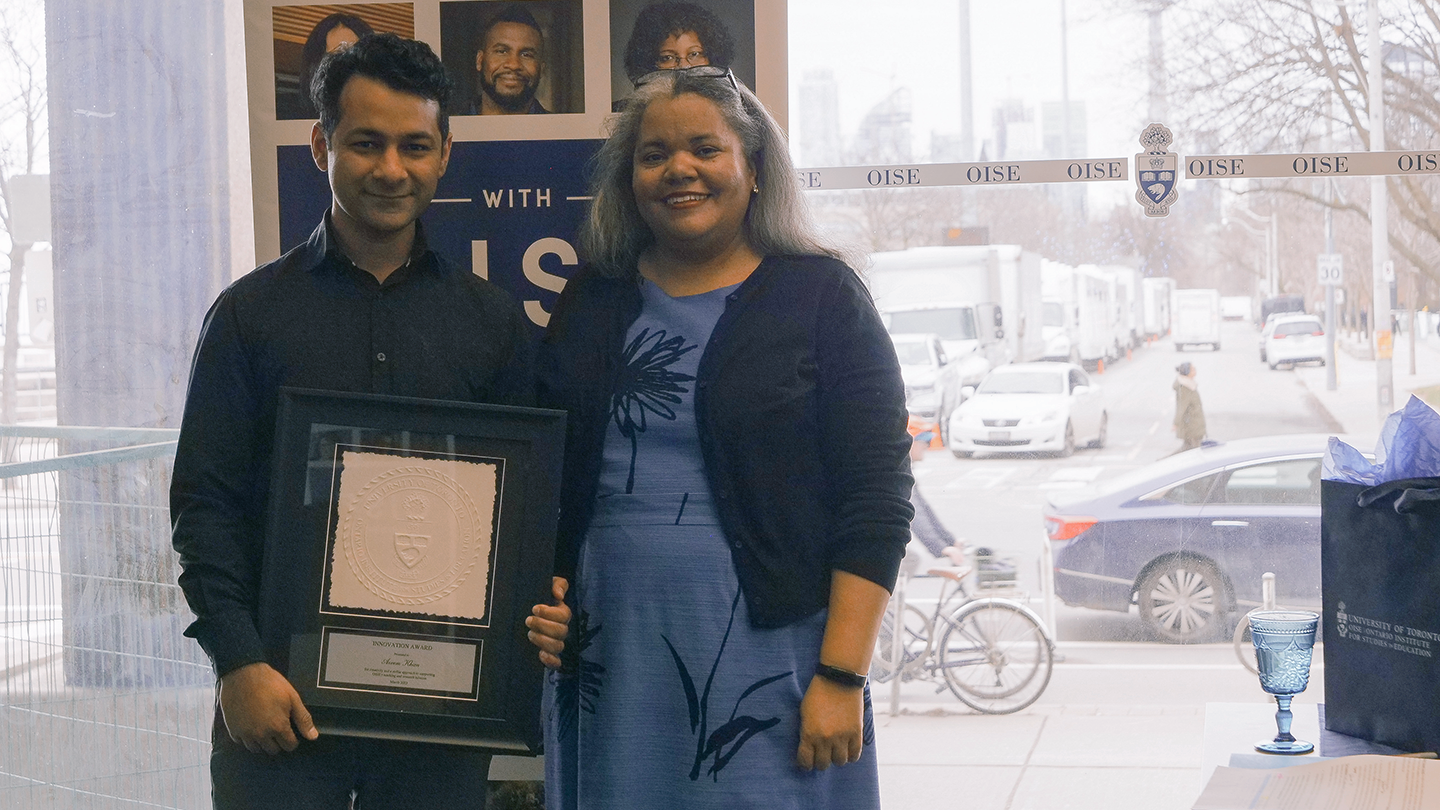 The 2022-2023 OISE Teaching and Staff Excellence Awards took place on April 4, 2023! During this event, Professor Erica Walker, Dean of OISE, Helen Huang, Chief Administrative Officer and Chair of the Staff Awards Selection Committee, and Professor Normand Labrie, Interim Associate Dean of Programs, recognized the many amazing community members who have made an incredible impact at OISE this past year.
Read more about the 2022-2023 OISE Teaching and Staff Excellent Awards, including the full list of winners.
Education Commons congratulates all the winners selected in this year's ceremony. We're particularly proud of our team members who were recognized!
Azeem Khan (pictured with Dean Walker above), our Audio Visual and Business Solution Architect, was recognized as the winner of the Innovation Award in the Individual category. His vital work this past year saw the full potential of his creativity shine, bringing forth numerous forward-facing solutions (and the latest in coolest tech!) to support innovative pedagogy and collaboration at OISE.
Whether it's introducing the amazing telepresence robot DAZEE, or providing his support and expertise to the many programs and events at OISE (such as Dr. Stacey Falconer's TechDudes program), Azeem's accolades are well-deserved. As the Staff Awards Selection Committee says, "[Azeem] elevates OISE to the next technological level with his knowledge, expertise, and creative ideas."
Read more about Azeem's recent work at Education Commons.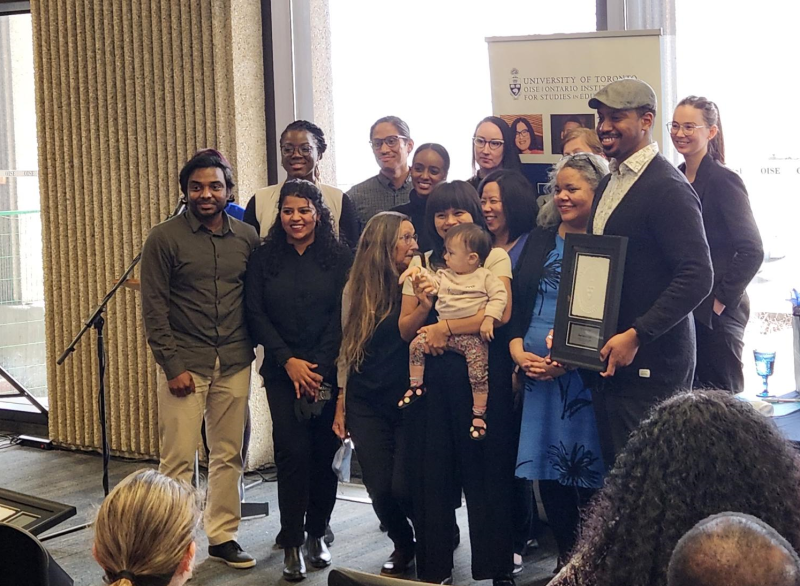 Additionally, members of Education Commons were part of the group awarded the Innovation Award in the Team category – the Drupal Migration & Early Adopters Team. An interdisciplinary group made up of many hardworking community members throughout OISE, this team has done – and continues to do – vital work adapting all OISE websites into one content management system, Drupal. Through this implementation, OISE's digital presence is becoming more accessible, flexible and easier to manage, not to mention more environmentally sustainable and accommodating to the latest best practices in web design.
Education Commons is proud of the Education Commons' contributors to the team: Drupal Developers Jed Dela Cruz and Hentry Mathias, and Technology Adoption Consultant Andrea Zdzylowski. All three play key roles in OISE's migration to Drupal in many different areas: co-ordinating with departments and labs on their website content throughout OISE, transferring and adapting content into the new platform, conducting training webinars for Drupal for community members, and much more!
Want to know more about the migration project? Read our webpage resource on the OISE website migration to Drupal.
Once again, a big congrats to Azeem, Jed, Hentry, and Andrea! As your colleagues and fellow community members at OISE, we appreciate having you all on our team, and look to you for inspiration as we carry out our work!