2023 OISE Staff Excellence Award winners recognize leadership, success and community
April 3, 2023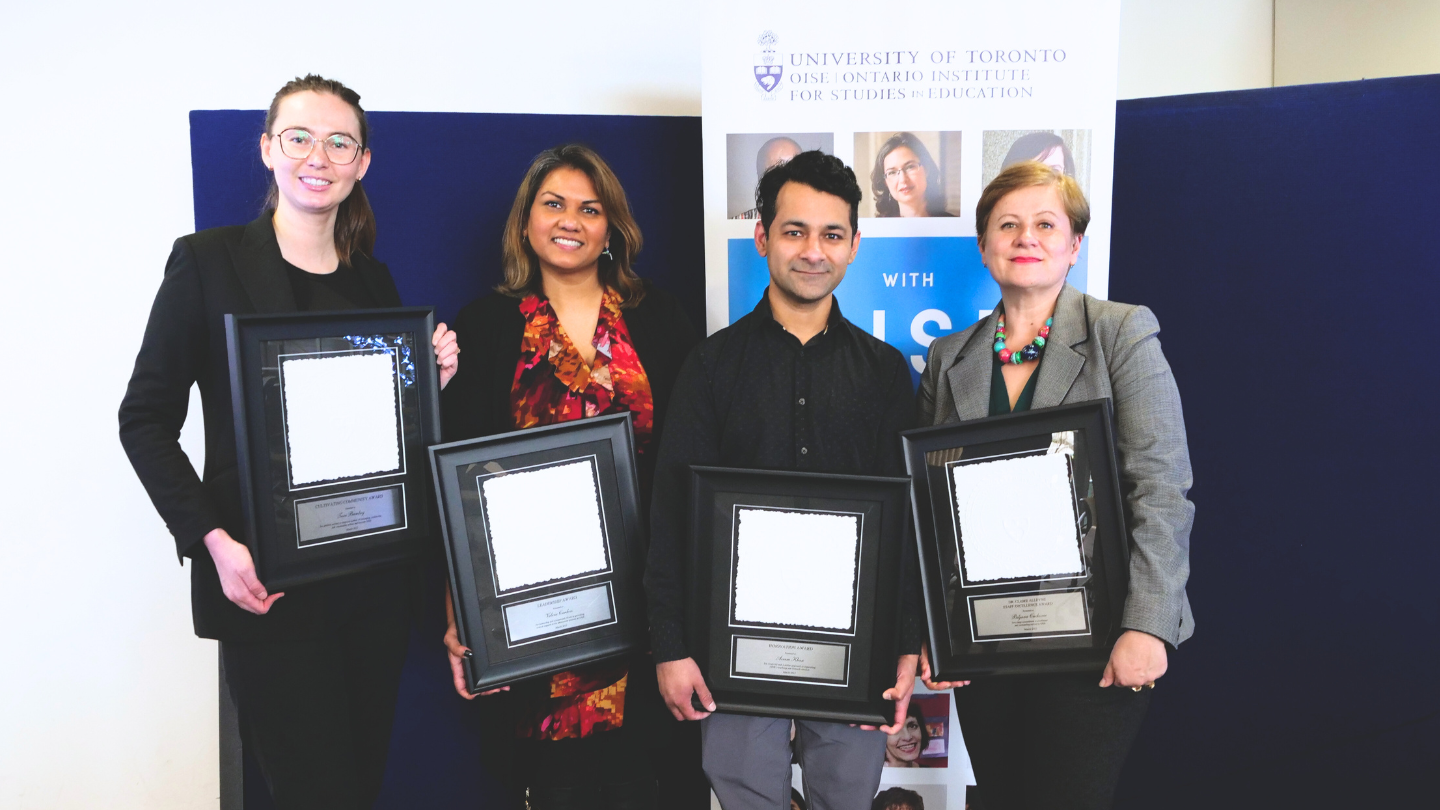 The OISE Staff Excellence Award winners for 2023 tell a story of remarkable contributions that the Institute's staff are adding to the success of the Institute.
This year's winners, across multiple categories, signify administrative and technical expertise, boisterous support of faculty and students and great achievement within the past year.
"Our dedicated staff is one of the key elements that help OISE achieve its academic mission, and our students thrive and persevere as a result," said Professor Erica Walker, Dean of OISE. "This auspicious group of talented, selfless professionals has been critical to our success, and their award wins are well deserved. 
"We truly appreciate their contribution to our Institute. On behalf of OISE, we congratulate you on these amazing accolades."
Dean Walker is a member of the 2022-2023 Staff Awards Selection Committee, and is acknowledging the hard work of all staff committee award members – Helen Huang (Committee Chair), Christine Corso, Sheldon Grabke, Henry Ssali, Aliya Mustafina, Madelaine Panoulias, and Earl Woodruff.
Learn more about each individual award, and each winner, below.
---
Dr. Claire Alleyne Staff Excellence Award
Co-winners:
Biljana Cuckovic, Director, Governance, Policy & Planning, Office of the Dean
Madelaine Panoulias, Manager, Human Resources, Office of the Chief Administrative Officer
The Alleyne Award was established in 2008, in recognition of OISE's former Registrar, Dr. Claire Alleyne, and her retirement after more than 35 years of exemplary service – and her dedication to, and respect for OISE administrative staff. The Award celebrates contributions of a staff member who has continually demonstrated a deep commitment to excellence and outstanding service, and whose actions have created a positive and lasting impact on our community.
Biljana Cuckovic and Madeleine Panoulias, co-winners for 2023, are being recognized for their professionalism, sustained contributions and deep commitment to OISE's core values.
Considered the "guardian of the Academic Plan," Biljana Cuckovic is a highly respected colleague within OISE and the broader University of Toronto community recognized for her extensive knowledge of the university governance, decision-making structures, and academic polices. She tirelessly offers her expertise and guidance to matters of governance, program reviews and accreditations, divisional teaching excellence awards, and so much more.
Cuckovic is a kind team-player who is always willing to lend a helping hand to her colleagues. She embodies a deep commitment to our core values always offering outstanding dedication and service to the broader mission of OISE.
Madeleine Panoulias' sustained contributions to OISE's mission are characterized by her extensive expertise in human resources management, impressive professionalism, and profound fairness for all OISE employees.
Madeleine provides unwavering support to our leadership team and ensures that our departments and units are able to recruit new staff members in a timely manner, and receive advice on position re-classifications, and performance management.
As a steward of OISE talent, Madeleine assumes responsibility for creating conditions that enable connectivity, and ensure continuity between team leaders and team members. She understands that leaders require new and enhanced skills in managing from a distance, motivating employees in the midst of ambiguity, providing clarity and calm, and aligning work among team members.
---
Leadership Award
Winner: Valene Cardoso, Assistant Registrar, Admissions, Office of the Registrar and Student Experience
This award celebrates the achievements of a staff member who has continually demonstrated exceptional leadership through inspiring a high level of commitment from others, and motivating them to achieve outstanding results; setting and maintaining high professional standards.
Valene Cardoso is being recognized for support of OISE's admissions process, making enormous contributions to the Institute's mission, and the ability to admit excellent students into our programs. In leading her team and cross-departmental staff, Valene consistently projects optimism, confidence and positivity. She inspires the admissions team to meet targets and expectations regarding academic assessments, and admissions offers. Her keen ability to assess unconventional circumstances and systemic barriers, and identify solutions to ensure equity within the admissions process results in positive outcomes for students who may otherwise remain voiceless in the assessment of their applications.
---
Innovation Award
Winner in the Individual category: Azeem Khan, Audio Visual and Business Solutions Architect, Education Commons
Winner in the Individual category: The Drupal Migration & Early Adopters Team
Education Commons: Jed Dela Cruz, Hentry Mathias, and Andrea Zdzylowski
Advancement and External Relations: Christina Andrews, Marianne Lau, Natalie Neumann Butler, and Perry King
Department of APHD: Sasha David
Department of CTL: Alex Andrei, Alanna McKnight, Terry Louisy, and Michelle Pon
Department of SJE: Iman Fouad
ROSE: Shamelle Sutton
Office of the CAO: Tessa Barclay
Office of the Dean: Biljana Cuckovic and Denise Makovac
The Innovation Award celebrates the achievements of staff, individually or as a team, who have developed and implemented a creative solution that increases the productivity and enhances the value added to research, teaching and the administrative processes at OISE.
The individual winner, Azeem Khan, brings a passion for digital transformations and driving efficiency at work. He elevates OISE to the next technological level with his knowledge, expertise, and creative ideas.
His ingenuity is behind a significant number of cool technology-based projects. For example, he helped bring Professor Sandra Styres' digital immersive space to reality – characterized by an unparalleled level of technological sophistication and integration.
The Team winners this year share an honour for a multi-departmental and multi-unit project. This amazing group of staff have contributed to the implementation and adoption of OISE's new content management system for web presence – Drupal. It was built the Education Commons to provide environmentally sustainable, technologically innovative, and accessible platform. This cross-OISE team carried out a monumental task of moving thousands of web pages, updating links, identifying content improvements, reviewing content, testing and launching OISE's new and improved web presence.
This team award also recognizes Professor Eve Tuck, and Dr. Hilary Inwood for their stewardship and championship in adopting Drupal.
---
Cultivating Community Award
Winner in the Individual category: Tessa Barclay, Executive Coordinator, Office of the Chief Administrative Officer
Team Award: Members of the OISE Student Success Centre
OSSC Faculty Supervisor: Leslie Stewart Rose, Associate Professor, Teaching Stream
ROSE: Jeananne Robertson, Asst. Dir., Student Experience & Student Success Counselor; and Ghayas Shams, OSSC and Career Coordinator
OSSC Teaching Assistants/Advisors: Sana Abuleil, Diana M. Barrero, Gabrielle Breton-Carbonneau, Stacy Alexandra Costa, Elena Danilina, Velta Douglas, Lucy El-Sherif, Hoda Gharib, Susan He, Michael Koslowski, Ximena Martinez Trabucco, Claudio Jaramillo-Yanquepe, Christos Orfanidis, Jasmine Pham, Fiona Purton, Ty Walkland, Wenyangz Shi, and Amina Yousaf
This award celebrates the achievements of staff, students or faculty members – individually or as a group – who have undertaken positive actions to influence and improve a sense of belonging, inclusivity and community within OISE or our external environment.
Tessa Barclay, the winner in the Individual category, has been described as the "go to person" for issues large and small – who skillfully directs, helps, and facilitates the work of various teams and groups across the community ensuring things are moving in the right direction. She has a great impact on running the most efficient Business Officer and Professional Managers' meetings by improving practices, nurturing collegiality, and promoting efficiencies that make these meetings both productive and valuable for members.
Barclay's commitment to community building in all her work, and her ability to foster the feeling of togetherness and belonging is so remarkable that people collaborating and interacting with her always feel uplifted. She adds a unique spark to everything she does.
The team winners this year, from the OISE Student Success Centre, have demonstrated outstanding service to the OISE community, and they are integral role in creating a culture of care and compassion within the community. Despite the challenges during the pandemic, the OSSC has been a constant and reliable resource for students fostering kindness and compassion. Given a growing number of students who need assistance, the team has adapted to meet this need through offering large-scale workshops to help a greater number of students.
The expansion of virtual services prompted by the pandemic enabled the OSCC team to enhance opportunities for students to connect with one another across departments building a sense of belonging, inclusivity, and community among OISE students.