Radical Knowledges: Learning with and from Communities
SJE Colloquium 2023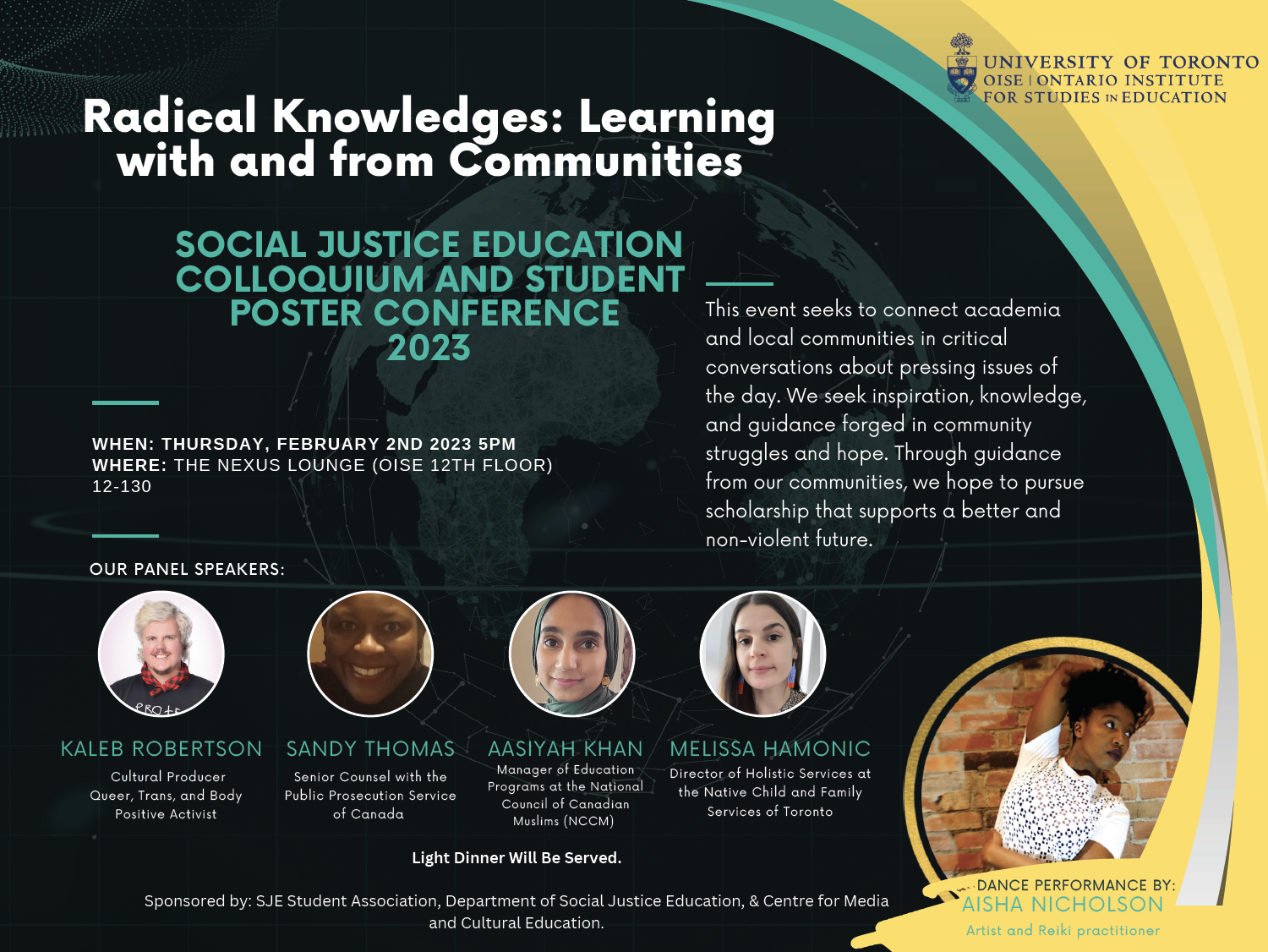 Ontario Institute for Studies in Education
252 Bloor Street West
12th Floor, Nexus Lounge (Rm. 12-130)
Toronto ON M5S 1V6
Canada
Radical Knowledges: Learning with and from Communities
Department of Social Justice Education
Ontario Institute for Studies in Education
February 2nd, 2023 |  The Nexus Lounge OI (12-130) | 5 PM EST
Join us for this special event!
This event seeks to connect academia and local communities in critical conversations about pressing issues of the day. We seek inspiration, knowledge, and guidance forged in community struggles and hope. Through guidance from our communities, we hope to pursue scholarship that supports a better and non-violent future.
Special Guests:
Kaleb Robertson – Cultural Producer, Queer, Trans and Body Positive Activist
Sandy Thomas – Senior Counsel with the Public Prosecution Service of Canada
Aasiyah Khan – Manager of Education Programs at the National Council of Canadian Muslims (NCCM(
Melissa Hamonic – Director of Holistic Services at the Native Child and Family Services of Toronto
And Special Dance Performance By:
Aisha Nicholson (Artist & Reiki practitioner)
Light Dinner Will Be Served.
Sponsored by: SJE Student Association, Department of Social Justice Education, & Centre for Media and Cultural Education