Linda Zhao
October 1, 2022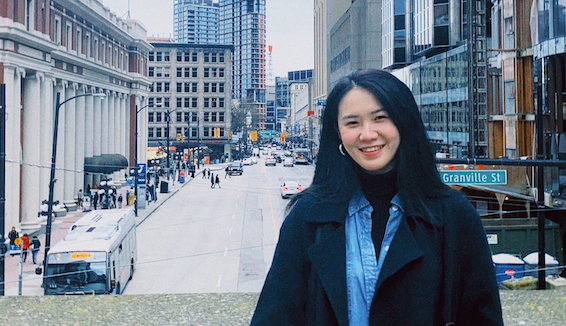 Program: Master of Education in Developmental Psychology and Education
Expected year of graduation: 2024
---
What led you to apply to APHD at OISE?
Education Mental Health was my interest during my undergraduate. As a psychology student, I always hope to use what I've learned to help those who struggle in mental health. After I started my first job at a non-profit organization as a child and youth counsellor, I realized that in order to help others I still required more education and trainings in education Mental Health. Therefore, with this desire I applied to APHD at OISE.
What was your past experience like?
I worked at a non-profit organization as a child and youth counsellor. I mainly worked with children between 3-10 years old with different developmental disabilities. Our goal was to create and implement strategies to help children with their developmental skills, social skills communication skills, behavior managements and community involvement. This was a really valuable experience for me to be connected with my clients and build a deeper understanding towards the life of children with developmental disabilities.
Are there any past accomplishments that you would like to highlight?
Getting into OISE was definitely the most recent accomplishment for me! 
What is one thing you like most about your experience so far at OISE?
So far, I really enjoyed and loved all the social events hosted by APHD and monthly colloquiums. These events provide me the opportunities to make connections with so many brilliant and talented peers and professors, along with so many eye-opening research.
What is your favourite thing about Toronto?
My favorite thing about Toronto is that everywhere I wish to go is so accessible. With the advantage of live in downtown I am able to get to most of my favorite places by walking. Don't have to worry about driving and where to park feels really nice.
What does your "weekend" typically look like?
I try to be as social as I can during the weekend, hang out with friends and discover new restaurants. Yet the truth is, most of my weekends are spent in bed with my laptop and phone.
What are some of your hobbies & interests?
Swimming and Tennis are two of mine to go hobbies whenever I am stressed or need a break from either work or school.
What is your favourite type of cuisine?
My favorite cuisine changes according to my mood. Since coming to Toronto, I am exposed to many Thai cuisine and I am in love with any Thai restaurants I visited so far.
Where do you see yourself after you achieve your degree from APHD?
I'm planning to go back to work after my degree from APHD, specifically I wish to work in a university setting.