Martin Luciani
September 1, 2022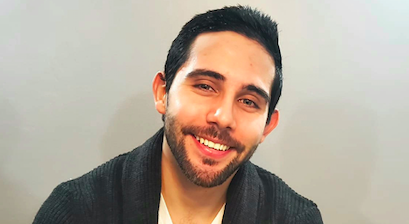 Program: Master of Education in Counselling Psychology - Counselling & Psychotherapy
Expected year of graduation: 2024
---
What led you to apply to APHD at OISE?
My journey to OISE has been intentional, value-driven and takes inspiration from the many people who have contributed positively to my journey as a refugee immigrant to Canada. The collective support that my family and I received as refugees fueled my passion for working in the helping professions and inspired me to pursue an education in Psychology. In my undergraduate studies, I developed a love for psychological theory and perspectives, which led me to explore mental healthcare as a career path that could combine my passion for helping and my love for the field of Psychology.
I knew I would eventually need to pursue graduate studies if I wanted to engage in deep-level work with the people I hoped to serve. The MEd CP program at OISE became my focal point, so I dreamed big and began by learning from my peers, seeking relevant practical experience and upgrading my education, hoping to earn the privilege of calling OISE home.
Being a student in the MEd CP program at OISE allows me to pursue a career path where I can contribute compassionately and genuinely to the life experience of others. I feel privileged to have the opportunity to be part of the APHD community at OISE, and I can't wait to continue learning.
What was your past experience like?
During my undergrad, I worked in finance and sales, which was an incredible learning experience, but it wasn't really for me. I reminded myself that my true passion was mental healthcare, so I pivoted quickly and began volunteering at my local distress centre and working in youth employment counselling. While in the employment field, I also worked in a coordinator role for Employment Ontario youth job programs. From there, I explored new avenues of learning by returning to school for a graduate certificate in mental health and addictions, where I learned of my interest in working with addictions. I decided to pursue a role as an addiction counsellor at a local hospital and did some part-time work running psycho-educational groups for immigrants and refugees. I'm excited to continue to learn from my peers and professors at OISE! It has been a very rewarding journey so far.
Are there any past accomplishments that you would like to highlight?
I tell myself that every step in my journey toward achieving my academic and professional goals has been an accomplishment. Big or small, I do my best to celebrate each step with humility and gratitude. I think my most outstanding achievement thus far has been attending graduate school. I am privileged to be the first person in my family to do so, and I know that it wouldn't have been possible without my parents and twin sister's love and support.
What is one thing you like most about your experience so far at OISE?
I have enjoyed getting to know the students in my cohort this year. Everyone has immense knowledge and experiences to share, and I am incredibly excited to learn from my peers. I enjoy having stimulating conversations with my colleagues, and I always leave with new insights and ideas that expand my learning. My professors have been very personable and approachable, and I can't wait to continue learning from them.
What is your favourite thing about Toronto?Toronto is a captivating city, with many things to see and do. I love the people and cuisine most of all. The diversity we share in this city is the most rewarding part of being a Torontonian. The food, though – Toronto should be the world's food capital, and if you are foody like I am, Toronto truly feels like home.
What does your "weekend" typically look like?
Typically, I say my weekends mostly revolve around food. I enjoy spending time with my wonderful partner and adventuring around the city. We're always diving into a new restaurant or exploring a new event or venue.
What are some of your hobbies & interests?
I enjoy biking in the summers and gaming throughout the year. I have a deep interest in writing and enjoy jotting down and expanding on ideas in philosophy, spirituality and self-acceptance.
Sometimes – you can find me hanging out reading a book or watching mixed-martial arts.
What is your favourite type of cuisine?
I spent too much time thinking of how to respond to this question. Could I say all of them? Honestly, I think East Asian cuisine is probably very close to first.
Where do you see yourself after you achieve your degree from APHD?
I see myself contributing to the Latinx community in Toronto and working closely with immigrants and refugees. I see myself working in private practice with individuals experiencing addictions and mental illnesses. Most of all, I see myself continuing to learn from my future clients, colleagues and mentors. I also aspire to pursue a Doctorate program (hopefully at OISE). Eventually, I hope to teach in post-secondary institutions.