Rachel Vandezande
May 28, 2020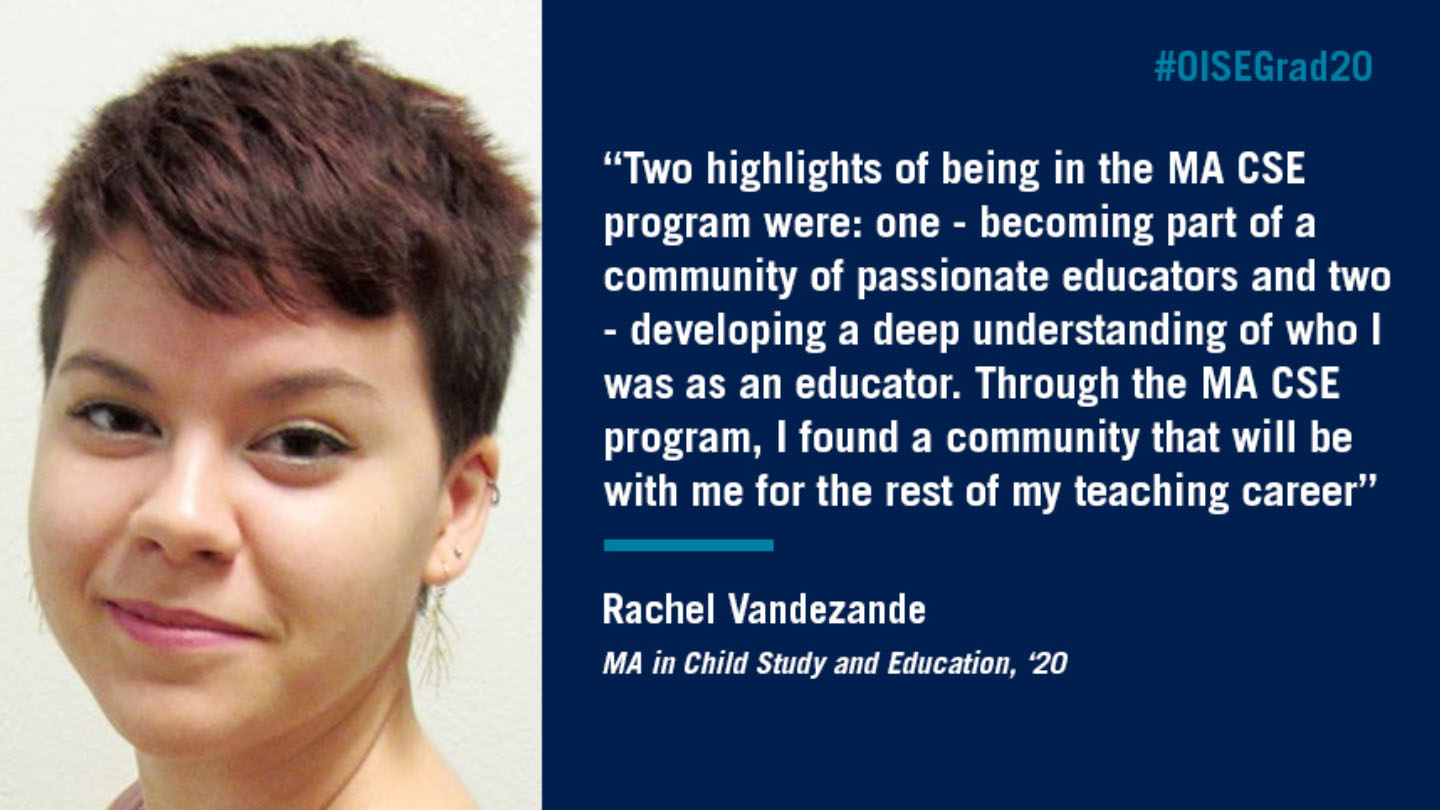 Master of Arts in Child Study and Education (CSE), Class of 2020
---
What are some words of wisdom you would give to a new or incoming student in your program?
First, take care of yourself. The program can be very intense, so self care is incredibly important. Learn what works well for you to destress and place value on setting aside time to do those things even when you feel overwhelmed, it will help!
Second, be vulnerable in your own practice and open yourself up to trying new things that may not work. Experimenting is the only way to learn about yourself as an educator, and no one else can do that work for you. When it gets frustrating, remember that you are not alone, and as educators we are all continually improving and refining our practice throughout our careers. Even the best educators have taught lessons that bombed and have had to dust themselves off and learn from their mistakes.
What next?
Starting in the fall, I will be working as an elementary French teacher.
Why OISE?
Two highlights of being in the MA CSE program were one, becoming part of a community of passionate educators and two, developing a deep understanding of who I was as an educator. Through the MA CSE program, I found a community that will be with me for the rest of my teaching career. My fellow teacher candidates helped me immensely to grow into the educator that I am today, and even though many of us have already moved out of the city to begin pursuing our lives after graduation, we are still supporting each other as we navigate our next steps. In addition to becoming part of this community, the MA CSE program helped me to develop my own educational philosophy. Throughout the two years, we critically examined many different pedagogical practices and philosophies throughout the two years and were encouraged to explore them during our practicums. These experiences allowed me to begin to develop a strong sense of purpose that grounds my teaching, something that I am very grateful to have moving forward after graduation.