Tanya De Mello
May 28, 2020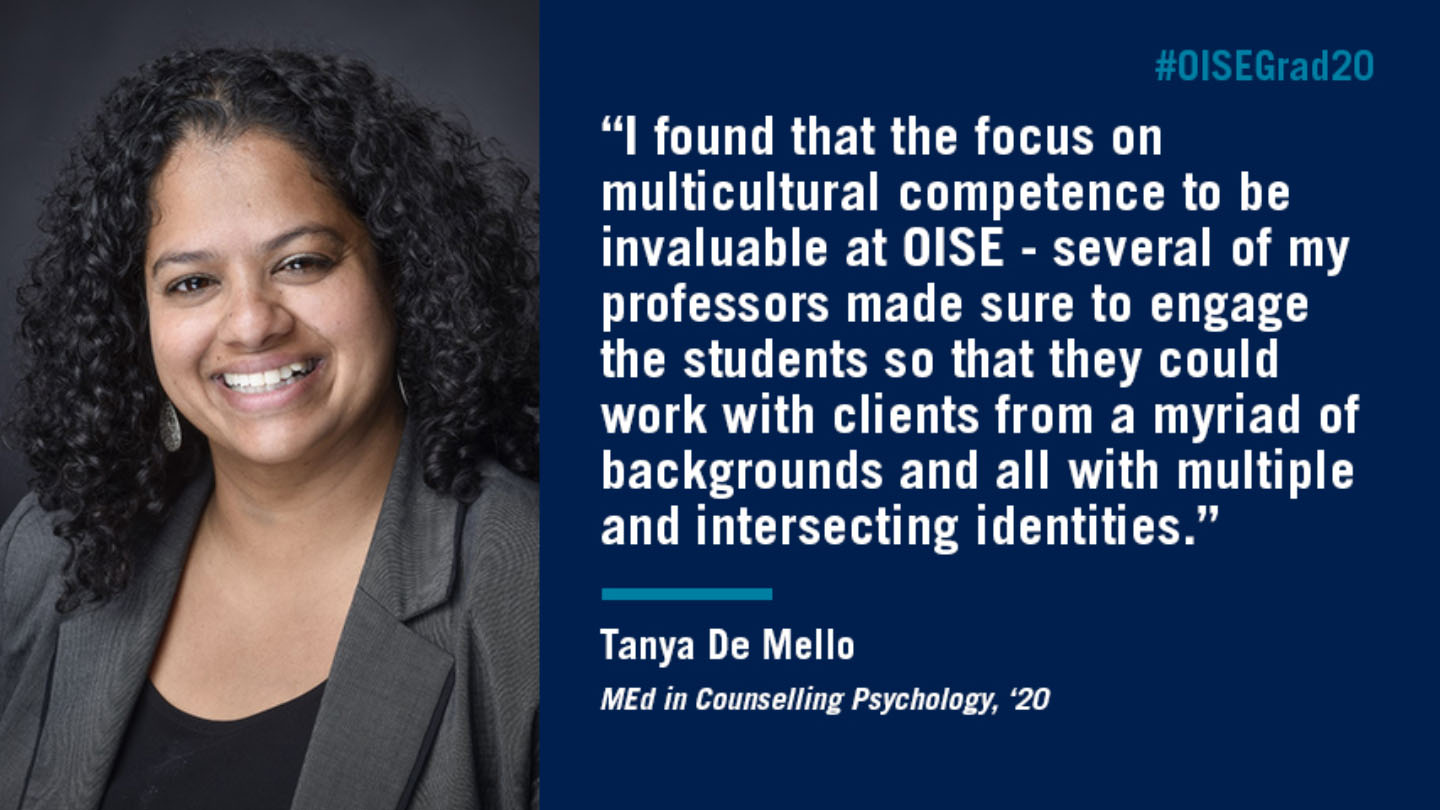 Master of Education in Counselling Psychology (CP),

Class of 2020
---
What are some words of wisdom you would give to a new or incoming student in your program?
Engage with your fellow students as well as your professors as much as possible. I learned so much from my colleagues in my courses and especially in reviewing their work as therapists-in-training. The professors at OISE are deeply invested in student learning and client service and I found the instruction to be insightful, relevant and suited to the clients that we are serving in Toronto. I learned so much from the readings and coursework but without question, the best part of the programme was learning from professors and colleagues about the ways in which they serve and support their clients. 
What next?
I want to continue working with under-represented populations: Black, Indigenous and Racialized People, 2SILGBTQ+ communities, newcomers to Canada and those that have experienced trauma, discrimination, harassment and violence. I have been working with these populations for over 20 years and have strive to approach my work in a trauma-informed way. Many people in these communities, as well as others,  are not able to access psychotherapy. I believe that therapy is transformative and want to work to decrease the stigma around it so that more people can navigate some of the structural and individual challenges that they face. In addition, I believe that therapy can help many people find greater balance, experience healing as well as deeper meaning in their daily lives and relationships.
Why OISE?
I was very attracted to the way in which OISE combines practical training and theory in every course. I found it so valuable to learn from practitioners as well as fellow students in the programme and I found that OISE taught the curriculum in a way that could be implemented readily into practice. I also found that the focus on multicultural competence to be invaluable at OISE - several of my professors made sure to engage the students so that they could work with clients from a myriad of backgrounds and all with multiple and intersecting identities.