Ulrica Jobe
May 28, 2020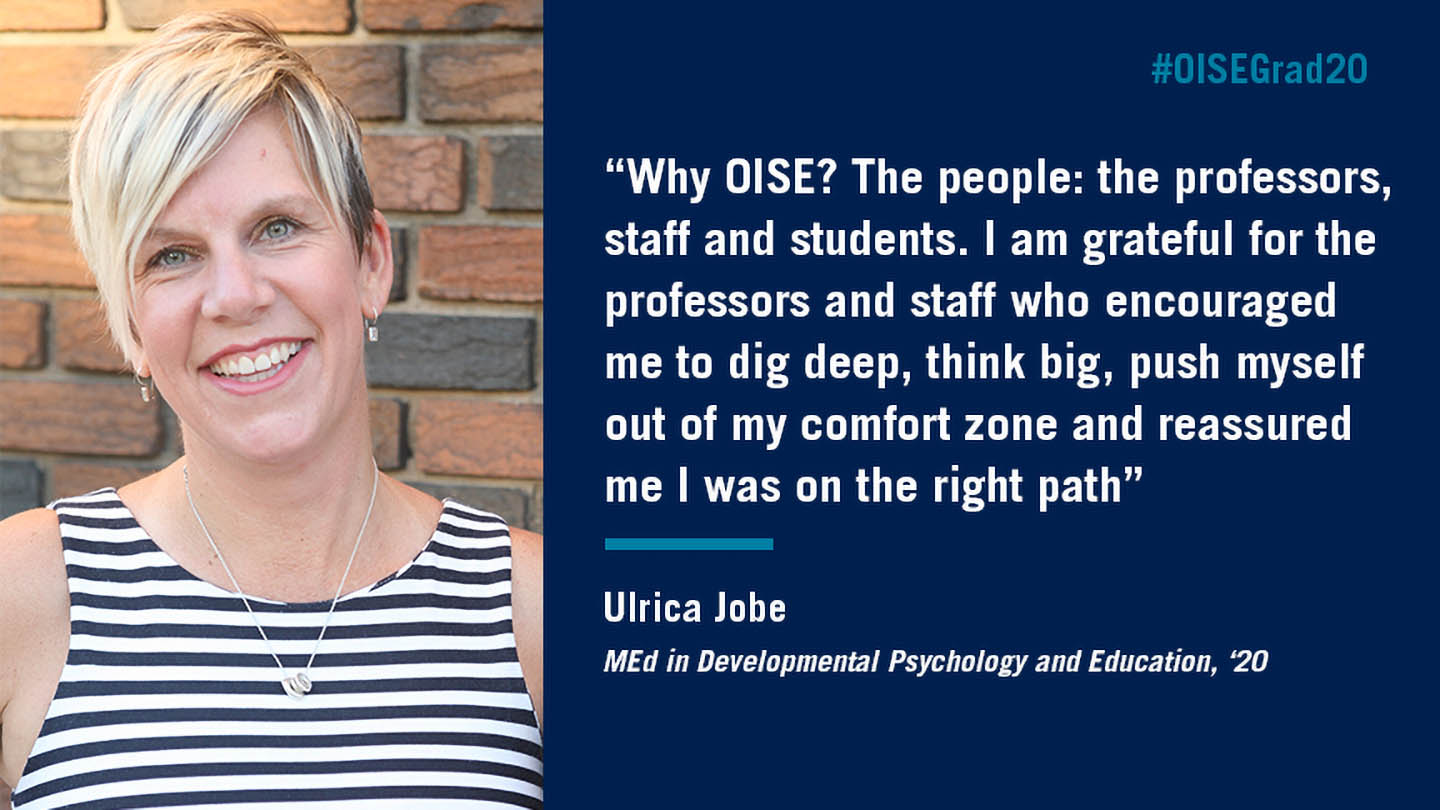 Master of Education in Developmental Psychology and Education (DPE), Class of 2020
---
What are some words of wisdom you would give to a new or incoming student in your program?
I left my 20 year career as a professional fundraiser to return to the world of academia and pursue one of my lifelong passions. It was a bold, risky, and gutsy move that resulted in one of the best decisions of my life.  Personally for me I have learned some valuable lessons along the way.  As a student, I have learned to honour different voices and the importance of integrity, resilience and passion. As a friend, I have learned the necessity of a listening ear, patience and the simple act of compassion.  As a leader and mentor, I have learned to embrace vulnerability as a sign of strength rather than weakness, the power of empathy and the ability to recognize potential in every person. I would encourage an incoming student to embrace this challenge and be an active learner, engaged and curious about the material.  Most importantly, take the opportunity to learn about yourself during the journey and remember you get what you put into it.
What next?
Right now, I am working on a contract as the Project Manager for the Laidlaw Research Centre at the Jackman Institute for Child Study. It has been a wonderful opportunity to stay connected, apply my learning and skills and given me a valuable glimpse into how research can effectively be put into practice. Although I am not entirely sure where the next adventure will take me, I do know that I would like to work within the fields of education, human development and mental health. I would love fundraising still to play a role somehow, while also wanting to work with children, parents and educators to help them understand themselves better and have the tools to implement meaningful strategies to take care of their own mental health and wellness as well as others. And who knows...maybe there will be an opportunity to become Dr. Jobe in the future?!?!
Why OISE?
The people:  the professors, staff and students.  Professors who cared as much about their students as they did their research. Students who valued their time and the time of their fellow students, respected others and deeply appreciated this opportunity to learn. Staff willing to go above and beyond to help iron out an administrative glitch, detail or bump. I am grateful for the professors and staff who encouraged me to dig deep, think big, push myself out of my comfort zone and reassured me I was on the right path.  I am grateful for the amazing new friends I would never have met otherwise. The highlights of my time at OISE weren't all necessarily "highs", because the lows are often when we learn our most valuable lessons. That said, I wouldn't trade any of them and I am proud to say I was present and embraced each one.