March for the Land on September 27
September 25, 2023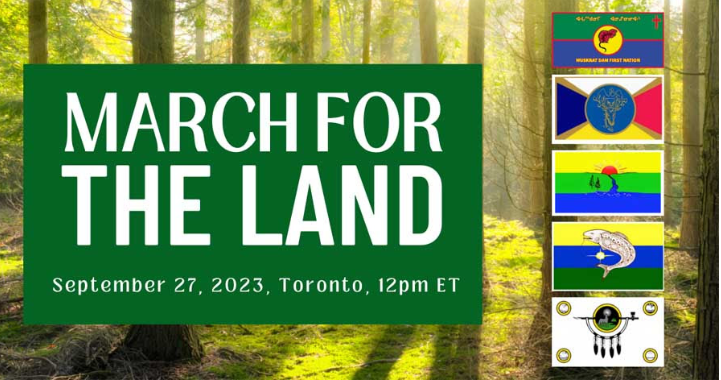 On September 27th, five First Nations from Northern Ontario will come to Toronto to lead a march calling on Premier Ford to end unwanted mining activity on their Territories.
These five strong First Nations have formed a historic alliance to protect their lands and waters in the face of mounting concerns about encroachment on their territories by mining exploration companies who have been enabled by the Ford Government.
What: Land Alliance March
Where: Grange Park, Beverley St & McCaul Street, Toronto, ON M5T 2W7 
When: Wednesday September 27th, at 12 p.m.  
Sign up here. 
Earlier this year, leaders from Kitchenuhmaykoosib Inninuwug (KI, or Big Trout Lake First Nation), Wapekeka, Neskantaga, Muskrat Dam and Asubpeeschoseewagong Anishinabek (Grassy Narrows) signed a Mutual Cooperation Agreement.
These five First Nations are powerful leaders in the movement for Indigenous sovereignty and environmental justice. They have shown that together we can fight for justice against all odds and make real gains.
Join the Land Defence Alliance to demand respect for Indigenous rights and protect the sources of life on their Territories in the face of mining incursions. Through this march, the Land Alliance will show their strength, present their demands, and build public support for their struggle for control over their lives and their lands.
Follow this blog for more details about the march in the days to come. And click here to read our analysis about why this alliance and mobilization is so critical at this time.