Healthy Great Lakes for Future Generations
November 23, 2022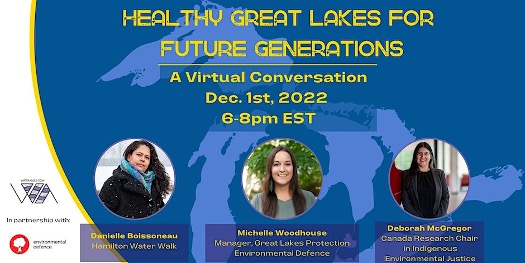 On December 1st, 2022, Water Allies, in partnership with Environmental Defence, will be speaking with Indigenous women who are working to protect the Great Lakes from environmental degradation and to ensure healthy freshwater and riverine systems in Ontario. The aim of this panel is to bring an Indigenous perspective of water protection, relationship to freshwater, and the importance for healthy water for future generations. These perspectives add to the humanities, to the social sciences, and to research related to environmental health and contamination. Join us on December 1st to hear from three incredible panelists: Michelle Woodhouse, Danielle Boissoneau, and Deborah McGregor.
The panelists:
Michelle Woodhouse is the Manager of Great Lakes Water Protection at Environmental Defence and has passionately worked to support Anishinaabe water protectors on Line 5.
Danielle Boissoneau is a water walker and advocate for water justice.
Deborah McGregor is the Canada Research Chair in Indigenous Environmental Justice and has held multiple roles in the government related to water and Indigenous justice.
Register here to attend Healthy Great Lakes for Future Generations!