Exploring the Potential of Teacher Education as Climate Action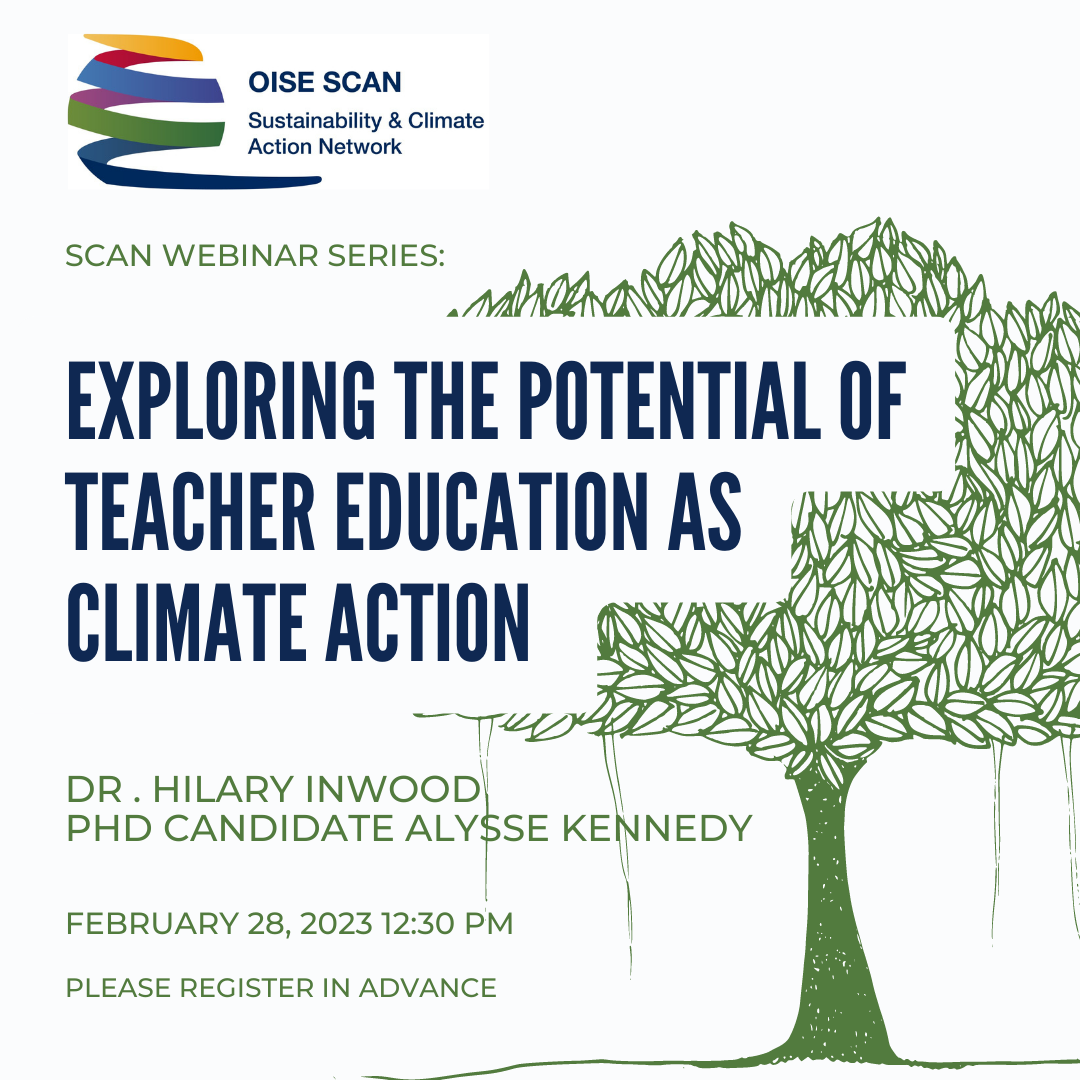 Teacher education is a promising site for better embedding climate justice, climate change education, and sustainability across all levels of education. In this third SCAN Spotlight on Research talk, CTL Faculty member Dr. Hilary Inwood and PhD candidate Alysse Kennedy share aspects of their research taking place at OISE in this emerging field of study. Dr. Inwood's current research focuses on integrated models of professional learning for inservice and preservice teachers, with a special focus on creative approaches to Environmental & Sustainability Education (ESE). In conjunction with this, Ms. Kennedy's doctoral work investigates the experiences of preservice teachers in learning about ESE as part of their teacher training. 
The event webinar recording can be viewed here.
---
About the Speakers
Dr. Hilary Inwood is a teacher educator, researcher, and artist who leads the Sustainability and Climate Action Network (SCAN) at OISE. As part of this work, she teaches in the Master of Teaching Program and coordinates an innovative partnership between OISE and the Toronto District School Board focused on deepening teachers' professional learning in ESE. Her research focuses on developing teachers' knowledge, capacity, and creativity in Environmental and Sustainability Education. 
Alysse Kennedy (she/her) is a Program Manager for Natural Curiosity, an organization centered on integrating environmental education into K-12 curriculum, informed by Indigenous perspectives and inquiry-based learning. As a doctoral candidate (OISE), her research is focused on making environmental learning accessible, relevant and meaningful. Alysse has been proud to be part of the OISE-TDSB EcoSchools partnership team since its inception.