From Sustainability to Regeneration or Bust: Revolution, evolution, or rebranding business as usual?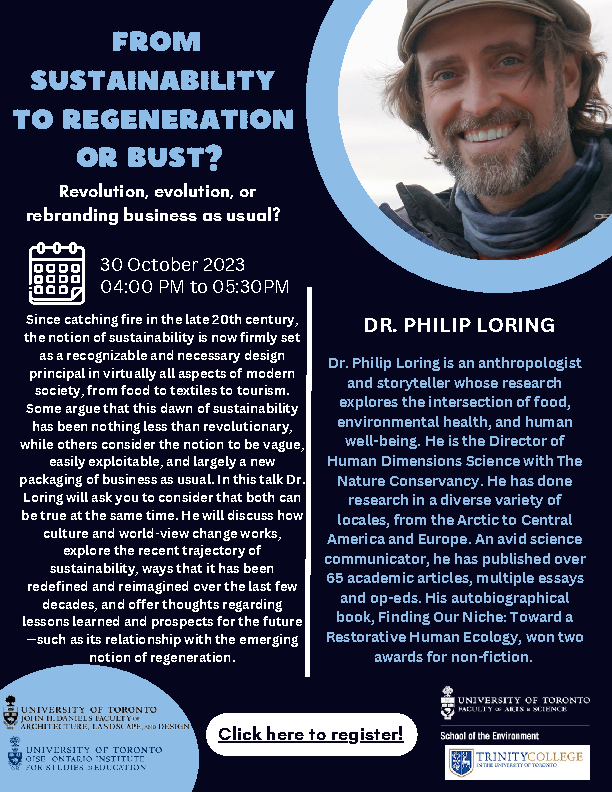 Since catching fire in the late 20th century, the notion of sustainability is now firmly set as a recognizable and necessary design principal in virtually all aspects of modern society, from food to textiles to tourism. Some argue that this dawn of sustainability has been nothing less than revolutionary, while others consider the notion to be vague, easily exploitable, and largely a new packaging of business as usual. In this talk Dr. Loring will ask you to consider that both can be true at the same time. He will discuss how culture and world-view change works, explore the recent trajectory of sustainability, ways that it has been redefined and reimagined over the last few decades, and offer thoughts regarding lessons learned and prospects for the future—such as its relationship with the emerging notion of regeneration. This webinar is organized by UofT's Community of Practice on Sustainability Teaching.
---
About the Speaker
Dr. Philip Loring is an anthropologist and storyteller whose research explores the intersection of food, environmental health, and human well-being. He is the Director of Human Dimensions Science with The Nature Conservancy. He has done research in a diverse variety of locales, from the Arctic to Central America and Europe. An avid science communicator, he has published over 65 academic articles, multiple essays and op-eds. His autobiographical book, Finding Our Niche: Toward a Restorative Human Ecology, won two awards for non-fiction.