Exploring the Potential of Transformative Sustainability Pedagogy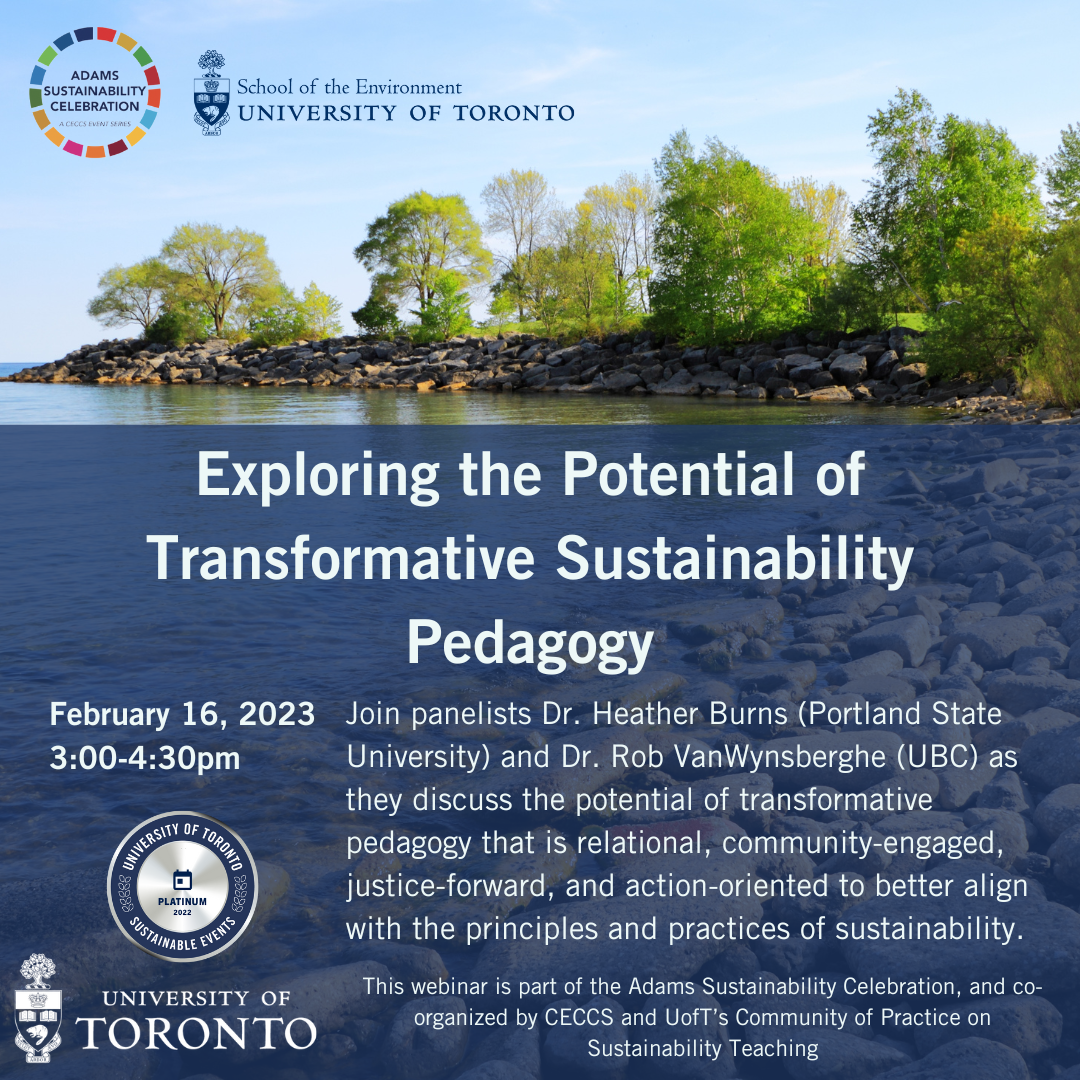 Universities worldwide are considering the transformative role they can play in shifting their communities towards sustainability, but what commitment is higher education making to transform its approaches to teaching to align with this? Reflecting on curriculum and pedagogy in university courses will help to avoid replicating the same approaches to teaching and learning that have contributed to the climate crisis in the first place. Join panelists Dr. Heather Burns (Portland State University) and Dr. Rob VanWynsberghe (UBC) as they discuss the potential of transformative pedagogy that is relational, community-engaged, justice-forward, and action-oriented to better align with the principles and practices of sustainability. 
This webinar is part of the Adams Sustainability Celebration, and co-organized by the Committee on the Environment, Climate Change, and Sustainability (CECCS), and UofT's Community of Practice on Sustainability Teaching that focuses on aligning sustainability pedagogies with equity and inclusion. Link to webinar recording here. 
UofT faculty, staff and doctoral students are invited to join in a follow-up in-person forum to discuss the ideas presented in this webinar. Info on this event is found here.
---
About the Speakers
Dr. Heather Burns is an Associate Professor and director of the Leadership for Sustainability Education (LSE) graduate program in the Educational Leadership & Policy department at Portland State University. She lives and works in Portland Oregon in the Willamette river valley on the unceeded and historic homelands of the Multnomah, Clackamas, Watlala, and Kalapuya people.  Dr. Burns teaches graduate courses on sustainability leadership, sustainability pedagogy, ecological & whole systems design, spiritual leadership, and deep ecology. She enjoys teaching classes at the Learning Gardens Laboratory, a dynamic garden-based and climate education site where she served as the PSU Faculty Coordinator for over a decade. Her scholarship focuses on sustainability pedagogy, including the roles of transformative learning, contemplative inquiry, experiential learning, and community-based learning in creating sustainable change. Dr. Burns has published a wide variety of academic articles and book chapters and is a contributor to the recently published book: The Palgrave Handbook on Learning for Transformation. She is currently working on a new book about designing and facilitating transformative eco-spiritual learning. Dr. Burns is also a certified forest therapy guide, a certified permaculture designer, and an avid polyculture gardener.
Dr. Robert Vanwynsberghe is an Associate Professor in the Department of Educational Studies at UBC. He coordinates a teacher education cohort in the Education for Sustainability and is the Academic Lead on a Master in Education program in Education for Sustainability, Regeneration and Resilience; initiating and developing such programs are his current research interests. His own educational philosophy, coined Adaptive Education is based on a neo-pragmatist theory of human action, which focuses on habits and creative solutions to challenges in everyday life. Robert is currently exploring the concept of transformative learning to categorize the various strategies that are brought together to make learning relevant to students' goals, explore their experiences, and develop classrooms into learner-led spaces that express democratic values. Inspired by the work of Mezirow, he is particularly intrigued by the capacity for transformative learning to capture cumulative learning as it unfolds according to adult education's notions of lifelong and life-wide education.