Learning to be affected by Climate Change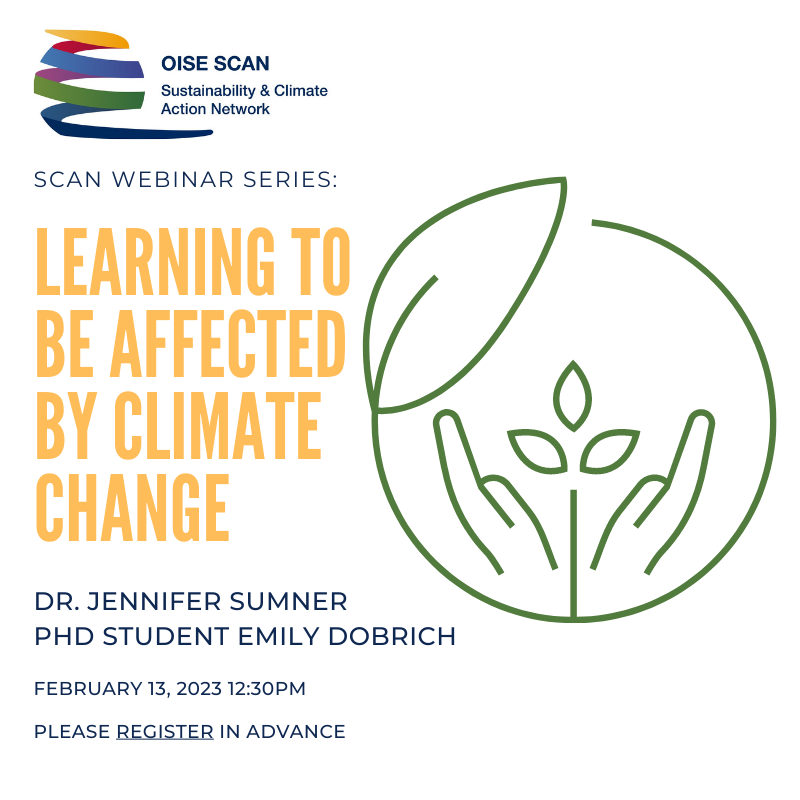 As part of a system-wide transformation to curb the climate crisis, we need to shift dominant cultural values and encourage individual and collective action towards more meaningful learning experiences that can foster behaviour change. How can we learn to work and live more sustainably?​ How do we learn to become more appreciative and perceptive to the interests of the climate?​ These issues and questions have inspired the research of Dr. Jennifer Sumner and Ph.D. student Emily Dobrich in the field of adult education and sustainability. In this Spotlight on Research, they will present the concept of 'learning to be affected' by climate change and explain how this process can encourage individual and collective action through everyday practices that promote greater relationality and embody sustainability in work and learning.  
Webinar recording can be viewed here.
---
About the Speakers
Dr. Jennifer Sumner is an Associate Professor (Teaching Stream) in the Adult Education and Community Development Program at OISE/University of Toronto.  Her research interests include sustainability, food, the social economy and the commons.  She is the author of Sustainability and the Civil Commons: Rural Communities in the Age of Globalization, editor of Learning, Food and Sustainability: Sites for Resistance and Change, and co-editor of Critical Perspectives in Food Studies and Selling Social: Procurement, Purchasing and Social Enterprises.
Emily Dobrich is a Ph.D. student in the Adult Education and Community Development program at OISE/University of Toronto. Her Ph.D. research explores holistic and relational models of education, specifically embodied learning theories, and the potential for the use of embodied learning methods in different contexts to create deeper more transformative learning experiences, social change, and collective capacity building.