Education Commons 2022 Fall Service Round-up
December 8, 2022
While we're wrapping up the fall term, and preparing for winter break, Education Commons is reflecting on the many technology success stories the community has shared with us over the past few months.
Hybrid Events
Since September our team has supported 48 hybrid and online events, making use of new and innovative technology to support the goals of the OISE community.
Recently this included helping coordinate the presentation of the first hybrid conference for OISE's Sustainability and Climate Action Network, hosted in partnership with the Toronto District School Board on November 19, 2022.
"The Education Commons team provided excellent support for this conference, from the planning done in preparation for its hybrid components, to its in-person and online delivery. Education Commons staff Daniel Marinos, Azeem Khan and Neil Tinker brought their extensive knowledge and experience to this process, helping our team to plan for a quality conference experience – thanks to the Education Commons team for helping to make this a very successful conference!"
– Dr. Hilary Inwood, Department of Curriculum, Teaching & Learning
Earlier in November, our team members Azeem, Daniel and Neil received personal words of thanks in a message from Samantha Clarizio from LHAE Departmental Students Association for their work in supporting the Nina Bascia Educational Policy Symposium.
"I wanted to send a personal note to recognize your efforts in helping our team transform the library into a virtual event space for the NBEPS on Saturday. It was a huge success! We received great feedback from speakers, guests, and our OISE students who participated in disseminating their work. All ran quite smoothly. And, quite honestly, it would not have been possible without your support. "
- Samantha Clarizio, Associate VP Academic Affairs, LHAE Departmental Students Association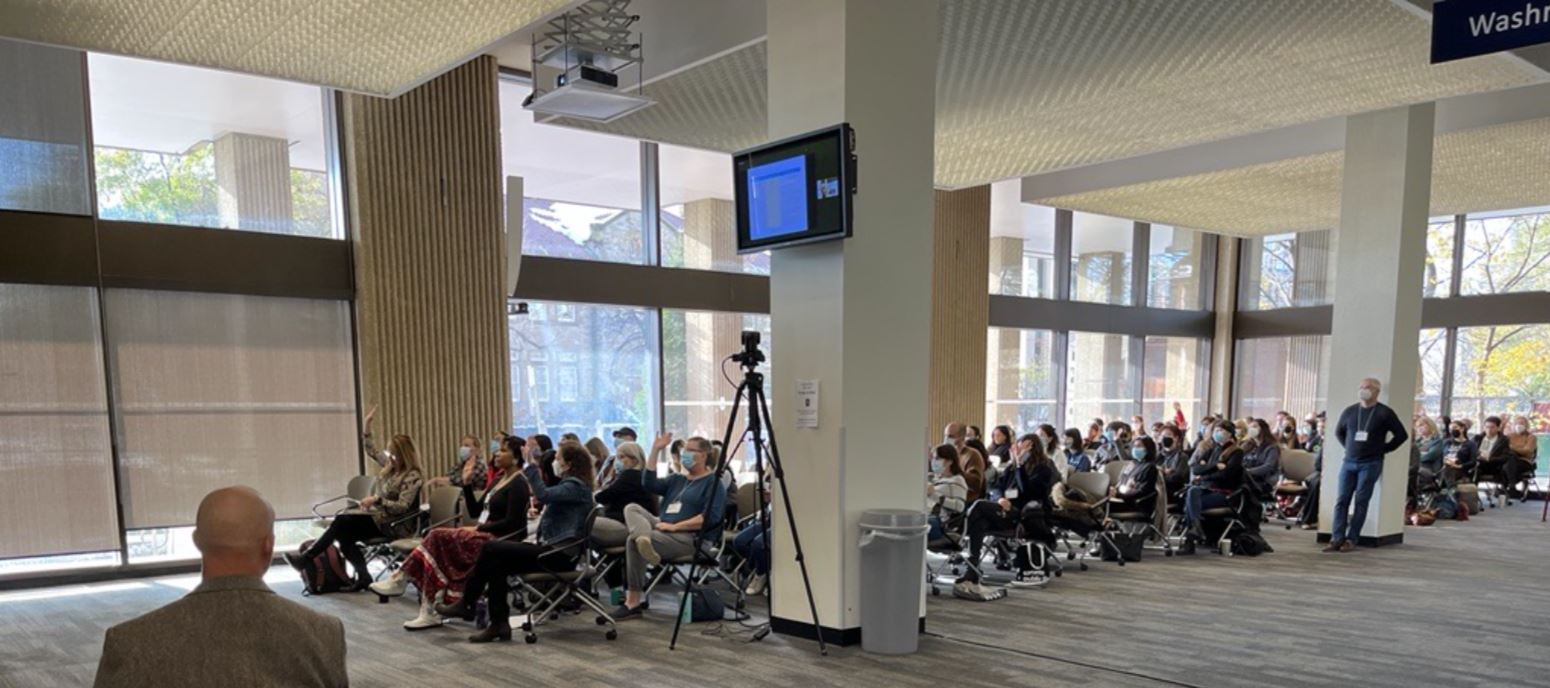 ---
Meeting Owl
As well as supporting larger hybrid events, several members of OISE staff and faculty have worked with Education Commons this fall to implement the new Meeting Owl in support of their smaller hybrid meetings.
The Department of Applied Psychology & Human Development explains why they chose the Meeting Owl for their hybrid classes.
"The Meeting Owl allowed us to pivot in person classes to hybrid rather than cancel classes when a course instructor is unwell and unable to attend in person. It is also very portable and compatible with existing technology," says Sugirthan Ganeswararajan, Manager, Academic Operations and Administrative Services at APHD.
APHD also uses the Meeting Owl for their faculty meetings so that all remote faculty can join with an equal view of those in the room at OISE. "I personally like it and advocate for using [Meeting Owl]," says Sugirthan "We use it for events as well!"
Deborah Peart, Assistant Director, EDI Recruitment & Engagement also likes the way the Meeting Owl facilitates a shared experience "Virtual participants get to share in the in-person experience with a 360-degree perspective, and the Owl can focus in on individual speakers in the room while still presenting the in-person space."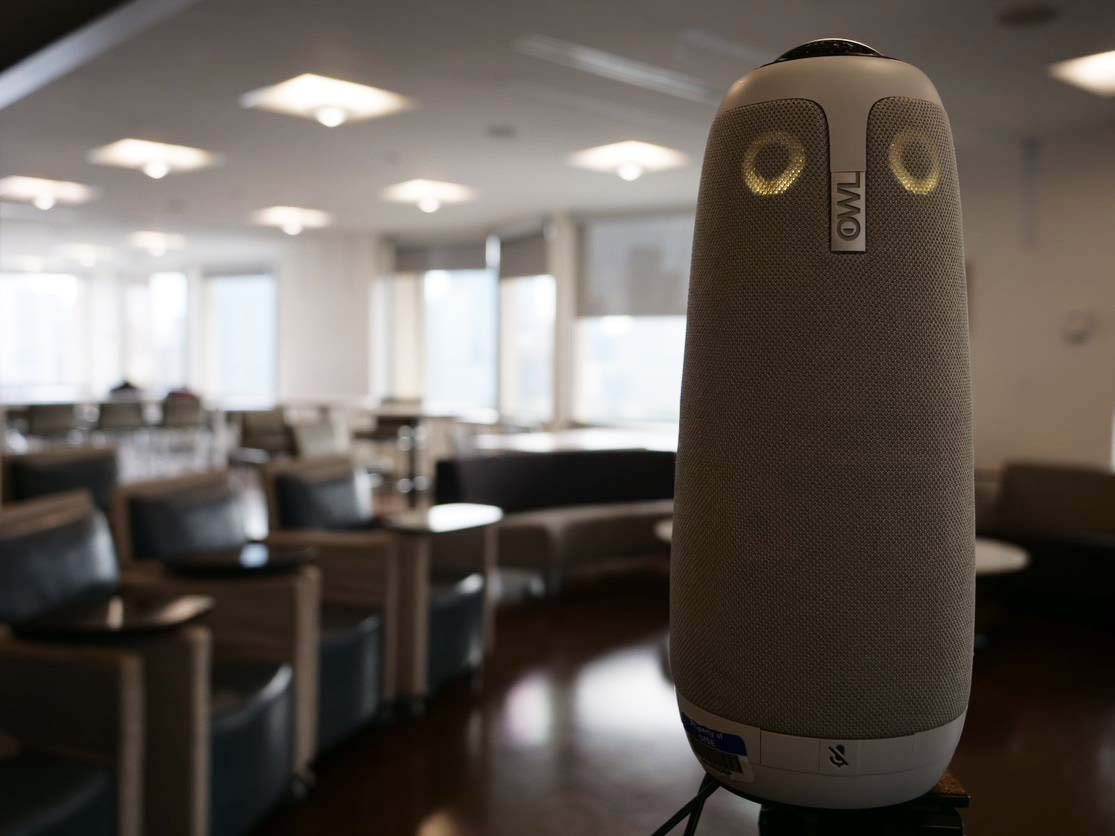 ---
Moving OISE Websites to the OISE Drupal System
Another remarkable technology adoption, not only this fall, but throughout 2022, has been the OISE move to the Drupal system for website hosting and development, starting with the OISE homepage launch on April 14, 2022.
"Together with the talented information and technology professionals at Education Commons, the OISE Dean's Office and the Office of Advancement and External Relations are proud to launch a new website – by the OISE community, for the world," says Sim Kapoor, Director of Advancement, Communications and External Relations.
Years in the making, our grassroots web redesign project has culminated into a modernized, storytelling platform – an engaging online space to showcase our collective marketing, recruitment and communications efforts to meet the diverse needs of OISE's departments and divisions," says Kapoor.
"The OISE website embraces the University of Toronto's bold new brand—Defy Gravity—to rally our global community around our core values of inclusive excellence and demonstrate OISE's remarkable breadth, depth, and diversity in education, professional practice and human development."
Since the homepage launch the Education Commons web team has worked in close collaboration with each OISE department to complete their migration to the Drupal System.
Groups that have completed the move to Drupal include OISE's academic departments; Applied Psychology & Human Development (APHD); Leadership, Higher & Adult Education (LHAE);  Curriculum, Teaching & Learning (CTL); Social Justice Education (SJE), as well as many pages under the Office of the Dean, Future Students, the Sustainability and Climate Action Network, and more.
Our web team is currently hard at work to complete the migration of the Registrars Office and Student Experience (ROSE) pages in collaboration with the ROSE team.
"The EC team has been a pleasure to work with throughout the migration process. Drupal is much more user friendly than the old CMS system, and I can see great opportunities for continued improvement of our pages."
- Shamelle Sutton, Student Recruitment Communications Specialist at ROSE.
"Andrea and Jed, along with the EC team, are leading an excellent OISE website digital transformation. The transition to Drupal has felt seamless and quick. The visuals and design layout work well for all mediums and devices."
- Ghayas Shams, Career and OSSC Coordinator, ROSE.
---
Daily Technology Support
Alongside special events support and collaboration on innovative technology adoption, Education Commons provides technical and IT support for the OISE community daily through service requests and tickets, drop-in support, training, and consultations.
Here's a round-up of the support we've provided the OISE community this fall:
September – November 2022
Number of tickets: 1431

Number resolved: 1294

Events supported: 48 events total. 6 online, 42 hybrid

Drop-in service online (Zoom): 264 calls totalling 4654 minutes (77.56 hours)

Private consultations:  238

Onsite service hub calls (by touch screen): 150
---
Monthly summary:
September:
Number of tickets: 565

Number resolved: 518

Events supported: 29 events total. 2 online, 27 hybrid

Drop-in service online (Zoom): 76 with 1327 minutes

Private consultations:  87

Onsite service hub calls (by touch screen): 35
October
Number of tickets: 478

Number resolved: 443

Events supported: 10 events total. 2 online, 8 hybrid

Drop-in service online (Zoom): 94 with 1415 minutes

Private consultations:  77

Onsite service hub calls (by touch screen): 64
November
Number of tickets: 388

Number resolved: 333

Events supported: 9 events total. 2 online, 7 hybrid

Drop-in service online (Zoom): 94 with 1912 minutes (31.9 hours)

Private consultations:  74

Onsite service hub calls (by touch screen): 51
Education Commons is proud to support the OISE community in the pursuit of discovery, through technology support services and collaboration.