Convocation Hub (Spring 2022)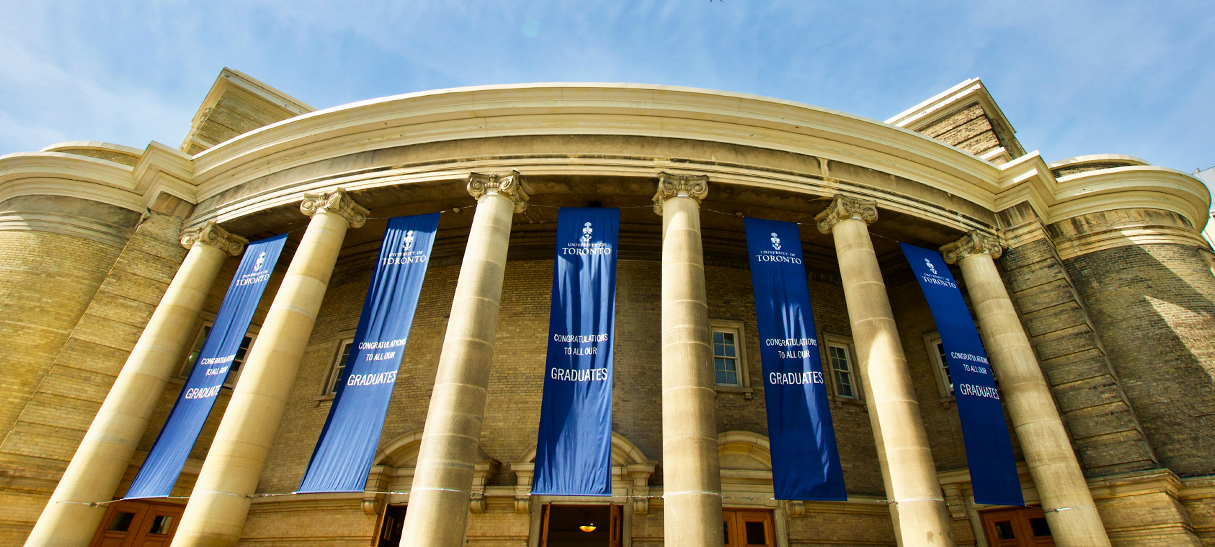 #OISEGRAD22 Congratulations You Did It!
You are an inspiration. With determination to make the world a better place, you have achieved the difficult task of completing your studies in a challenging time. You have now earned a degree from one of the top education faculties in the world – and you should be very proud.
Mission accomplished.
Congratulations from OISE Dean
Congratulations to the OISE Class of 2022! Your convocation is both a recognition of your outstanding academic achievements as a student and a harbinger of what is to come as a graduate: a future filled with hope, opportunity, and fulfillment.
Although the last two years of your journey were unprecedented to say the least, my colleagues and I watched with pride as you rose to the challenge, leveraging your knowledge, skills, and experiences to help usher in a new paradigm in education. The lessons learned from this master class in resiliency will serve you well as you continue to transform learning and the lives of your students through leadership and innovation in teaching, research, and advocacy.
Whatever path you pursue, know that you will be in excellent company. You're now a part of the OISE Alumni Association, a worldwide network of more than 100,000 graduates—Order of Canada recipients, cabinet ministers, a former Ontario premier, CEOs, teachers, social entrepreneurs, clinical psychologists, university and college professors, researchers, and policymakers, among them.
Rely on this powerful network to help guide your own career. Stay connected. Just as so many others helped you get where you are today, you may someday have the opportunity to impact the life of a future OISE student. We're counting on you to accept that challenge.
But today is all about you. Celebrate and enjoy this milestone moment with your family and friends.
We're all so very proud of you and your accomplishments. Congratulations OISE graduates!
Honouring OISE's Eagle Feather Bearers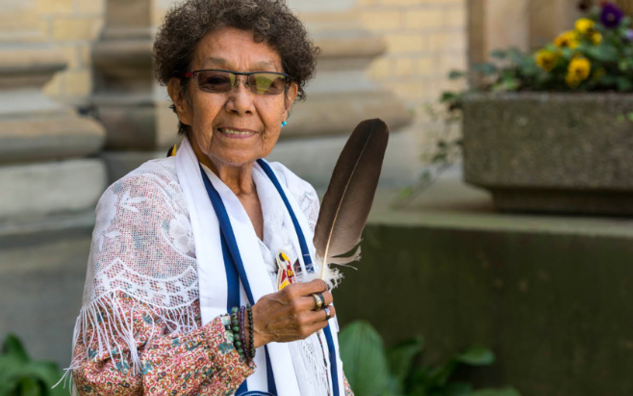 Dr. Jacque/line Lavallee
Dr. Jennifer Brant
Convocation Speakers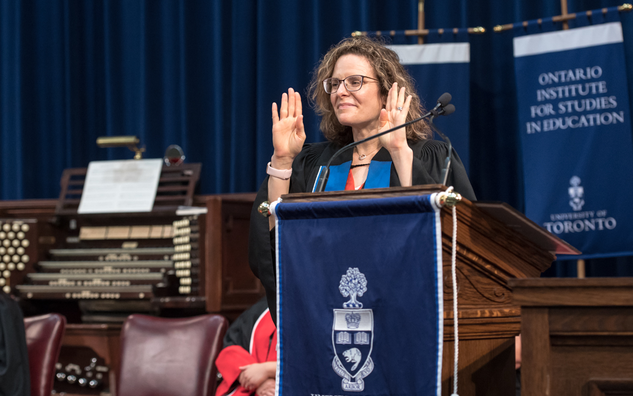 Dr. Kristin Snoddon
OISE alumna Dr. Kristin Snoddon delivered University of Toronto's first-ever convocation keynote in American Sign Language.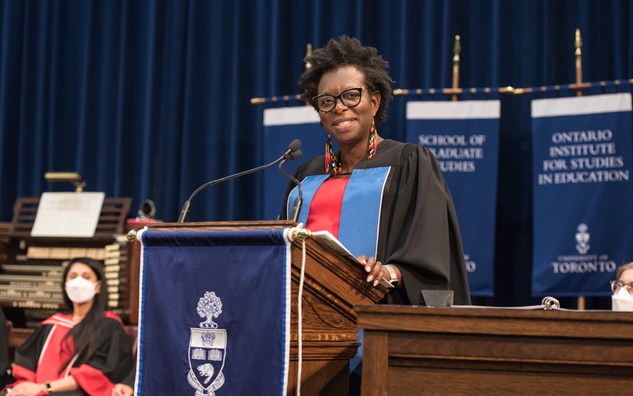 Karen Brown
Watch Past Convocation Ceremonies
View details and watch ceremonies from past OISE Convocations.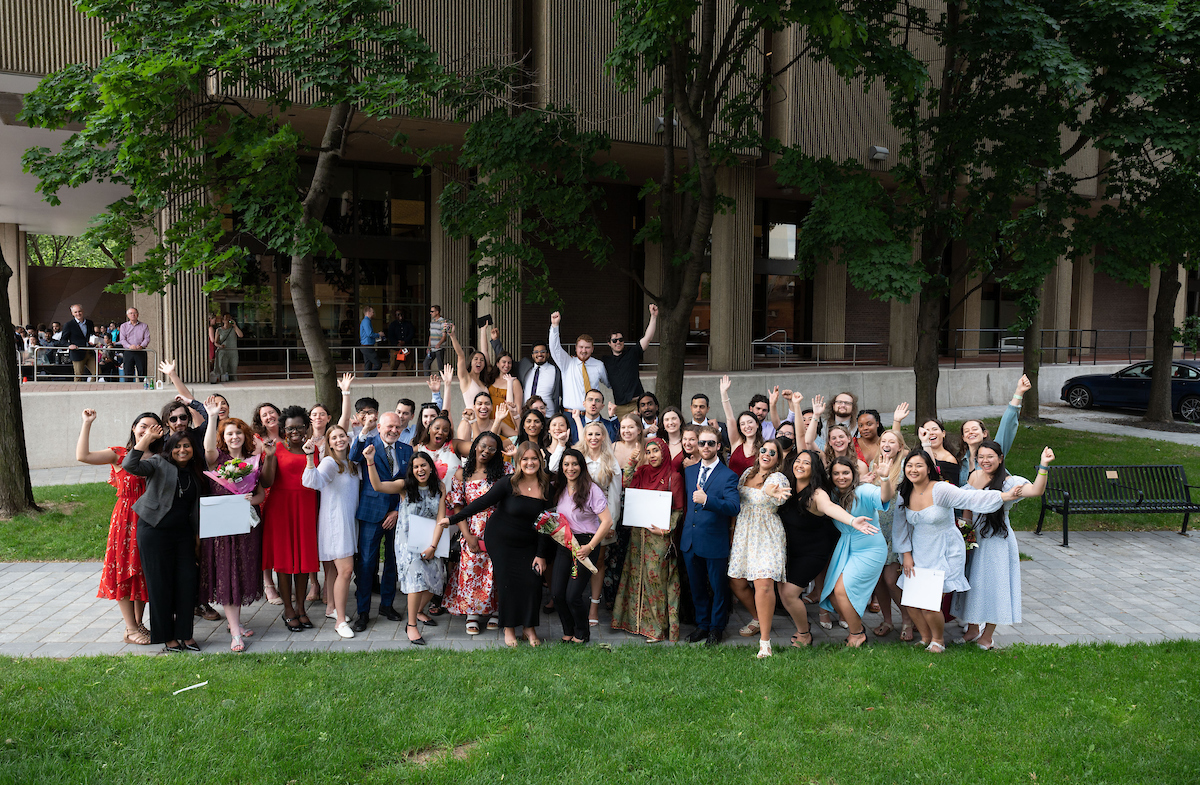 Graduation Sights and Delights
View grad moments from our 2022 OISE Convocation Celebration with alumni, faculty, staff and fellow grads at the OISE Alumni Association!
Convocation Stories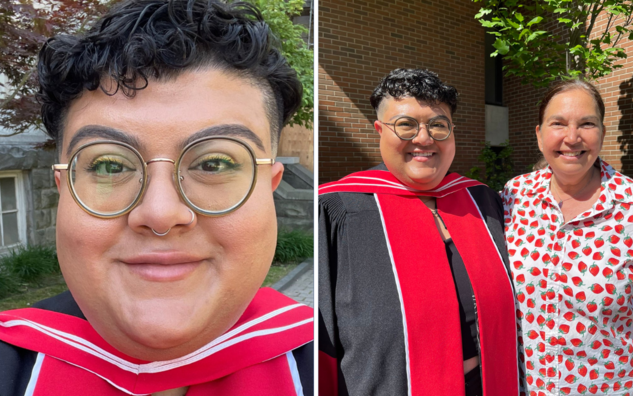 Meet our 2022 OISE graduate, Dr. Bishop Owis, who reflects on their doctoral journey with an emphasis on care.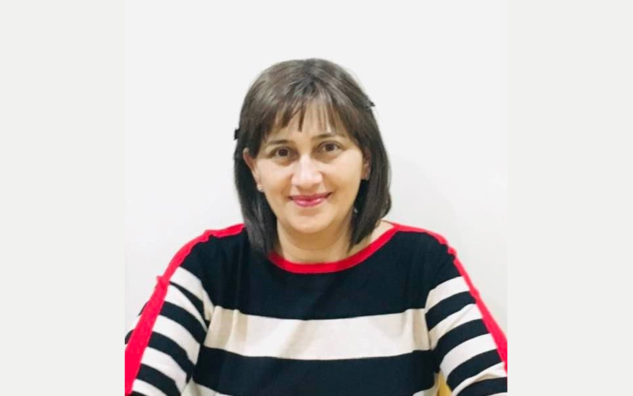 Mona El Samaty was named the 2022 winner of the OISE Leithwood Award for Outstanding Thesis of the Year for her dissertation.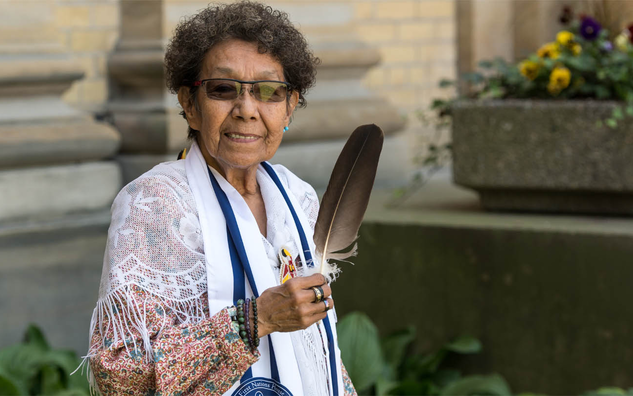 By telling her story through her thoughtful dissertation, Dr. Jacque/line Lavallee's scholarship will have tremendous impacts on how Indigenous doctoral candidates approach academia.
Welcome To The OISE Alumni Family
Our alumni community – over 100,000 strong – is making an impact in education every day. With a degree from one of the world's top education faculties, you are now equipped with the knowledge and skills to help make the world a better and brighter place. As an alum, you have access to a wide range of benefits and services that will connect you to meaningful professional opportunities as well as fellow alumni and new friends.
There are perks to being an OISE alum
Stay connected with our alumni newsletter
Virtual Card
Check out well wishes to the Class of 2022 from family, friends and faculty.
Well Wishes From Your Fellow Alumni
Cindy Sinclair, MEd '09, PhD '17
"The world needs you. You have been given the tools to become a part of something big, and to be leaders in your areas. You are a graduate from the number one faculty of education in Canada. Pick up the baton and follow your dreams. Think big. Think outside the box. Most of all, believe in yourself."
Shakina Rajendram, PhD '19
"Know that you are not alone because you are now part of a global community of scholars – unified not by your geographical location, but by your joint commitment to transforming education towards equitable, socially-just, culturally-responsive, and high quality learning."
Sabrina Persaud, MEd '13
"I know this is a tough time, but remember there are so many skills that you've developed that are transferrable across different industries and sectors. You have so much passion, you are all so amazing and unique, and you are going to do so well. Reach out to your fellow alumni if you need anything at all."
Rumeet Billan, MA '10, PhD '14
"I want you to know that it is not about the legacy you want to leave, but how you want to show up every single day. I hope you enjoy every single moment and that you take the time to celebrate this incredible achievement. Congratulations!"
Shelley Murphy, PhD '12
"You've navigated a lot – especially in the last months. But with resilience, dedication and hard work, you have graduated from an institution that this year was ranked the 5th best educational institution in the world. You have much to be proud of."
Suleyman Demi, PhD '19
"Don't rest on your laurels. Put all that you have learned at OISE to good use and make a difference in your various communities. Be inspired by the historical moment we are in to change the course of history."
Professor Ann Lopez
"As OISE graduates, we are counting on you in these challenging times to lead the charge for social justice and equity wherever you may be and in whatever context you may find yourselves. Go out into the world and create that change."
Michael Salvatori, PhD '07
"Congratulations on the future that awaits you and the privilege to help students flourish. To help them become happy and productive citizens in our civil society. To connect their learning to their lived experiences, and to their discovery."
Liliana Compagnone, BEd '83
"My advice to you would be to send love ahead of you in everything that you do and everywhere that you go. You are never alone. Just look around and there will be someone there who is willing to help."