This seminar series is offered by the Centre for the Study of Canadian and International Higher Education (CIHE) at OISE, University of Toronto. 
CIHE Speaker Series - Graduate Education in Global Context - Insights Into The Diversity Of 'Distance' Doctoral Cohorts
Overview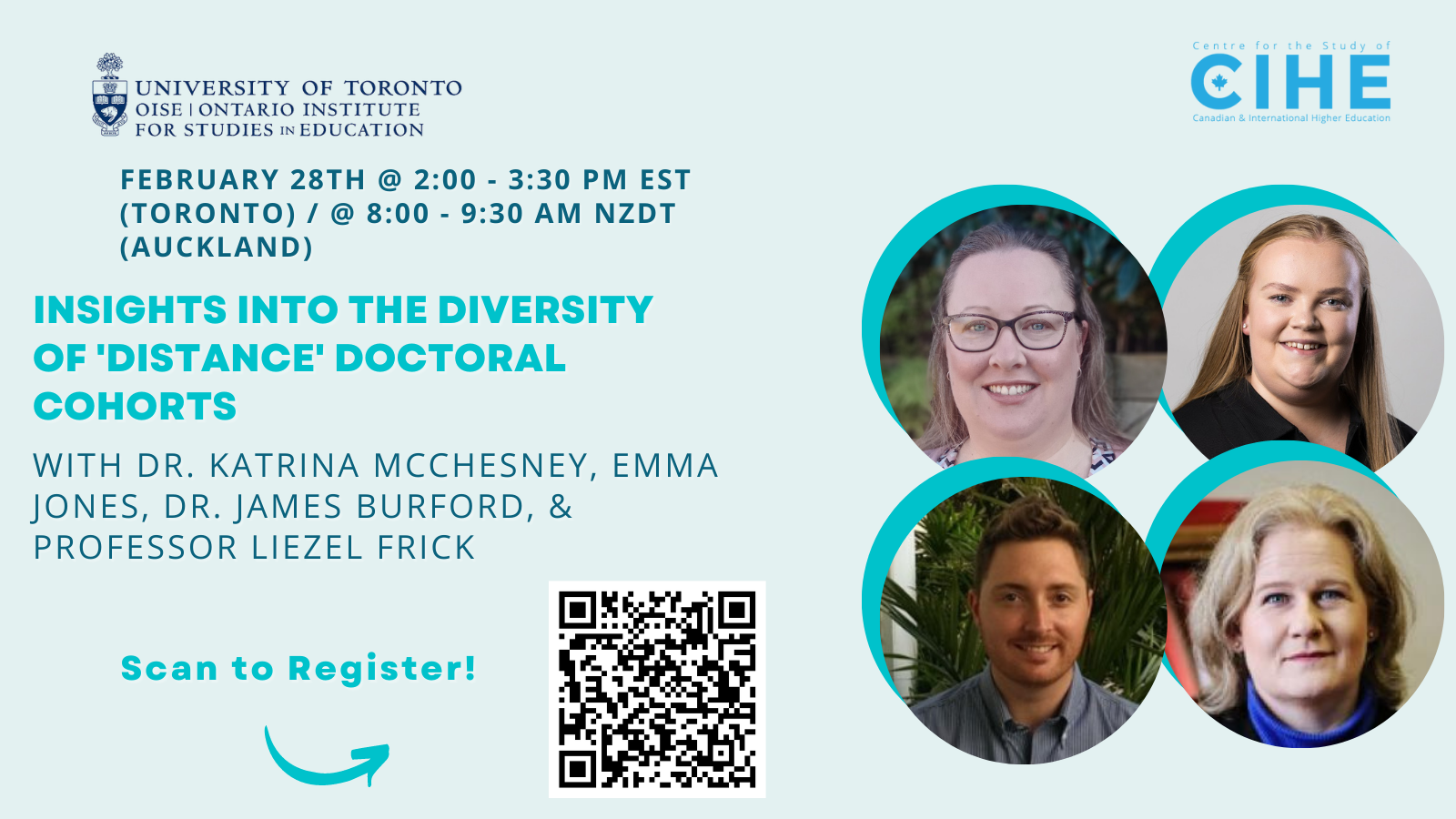 The experiences of doctoral researchers studying by distance have received comparatively limited research or institutional attention. Distance doctoral researchers are at risk of having reduced access to supervisory input, support services, training and development, networking opportunities, physical and material resources or infrastructure, opportunities to inhabit and perform new scholarly identities, and the wider institutional climate. This pathway therefore, continues to be positioned - implicitly or explicitly - as 'second best' compared with on-campus doctoral education. We argue that this positioning is inequitable and outdated, requiring disruption and fresh ways of working, particularly given the impact of the COVID pandemic on mobility and hybrid ways of working in a range of contexts. This presentation will draw on our 2022 international survey of over 500 students who are currently undertaking, or who have recently completed, doctoral research via 'distance'. Our study conceptualised distance broadly, including a range of scenarios in which students work away from campus either by choice or by necessity and for either some or all of their enrolment. In this presentation we will share insights from the data to illustrate the diverse nature of this cohort in terms of a range of dimensions, including their backgrounds, motivations for studying via distance, life circumstances during their enrolment, experiences of distance supervision, researcher development experiences, and how the COVID-19 pandemic affected their doctoral journey. Through the richness of these student accounts, our research provides other scholars, supervisors, policymakers, and institutional stakeholders valuable opportunities to learn about and understand the experiences of 'distance' doctoral cohorts in the 21st century. The participants' lived experiences offer productive insights that can help improve both quality and equity within doctoral education for current and future 'distance' doctoral students.
---
About the Speakers
Dr. Katrina McChesney
Dr Katrina McChesney (project co-leader) is a Senior Lecturer in initial teacher education at the University of Waikato in New Zealand. Her doctorate (monograph thesis, 2017) from Curtin University, Australia, was completed entirely by distance, first while living and working full-time in Abu Dhabi, and then while working part-time in New Zealand. Katrina's overarching research interest is people's experiences in education – what it's like for them – and this orientation centres her interest in the lived experiences of distance doctoral students. Katrina founded and co-edits Ipu Kererū, the blog of the New Zealand Association for Research in Education.
Emma Jones
Emma Jones has recently been a summer research scholar on the Doctoral Research by Distance project. Emma is currently a music student at the University of Waikato majoring in Classical Voice Performance and Psychology. Emma has her own lived experiences of distance high school and undergraduate studies. She has previously been a research scholar with Dr Lara Hall in the music programme as well as working on developing distance learning materials for a platform accessed by over 150,000 New Zealand secondary students
Dr. James Buford
Dr. James Burford (project co-leader) is an Assistant Professor of Global Education and International Development at Warwick University in the UK. Prior to taking up his position at Warwick, James worked at universities in Australia and Thailand. Jamie undertook his PhD through the University of Auckland via distance from various locations – working in a student support centre in Dunedin, caring full-time for an unwell relative in Christchurch, and lecturing full-time in Bangkok. Jamie's research is broadly in the area of critical university studies, with a particular interest in doctoral education, academic im/mobilities, and gender and care in higher education. He co-edits the Conference Inference blog.
Professor Liezel Frick
Professor Liezel Frick is based in the Department of Curriculum Studies and the Director of the Centre for Higher and Adult Education at the Faculty of Education, Stellenbosch University, South Africa. Her research interests are within the broader field of doctoral education, with a particular focus on aspects of doctoral creativity and originality, learning during the doctorate, and doctoral supervision. In 2015, she received the Best African Accomplished Educational Researcher Award for 2013-2014 by the African Development Institute (ADI) and the Association for the Development of Education in Africa (ADEA).