Kathleen Gallagher's U of T Press publication wins the American Alliance of Theatre and Education Distinguished Book Award
July 21, 2023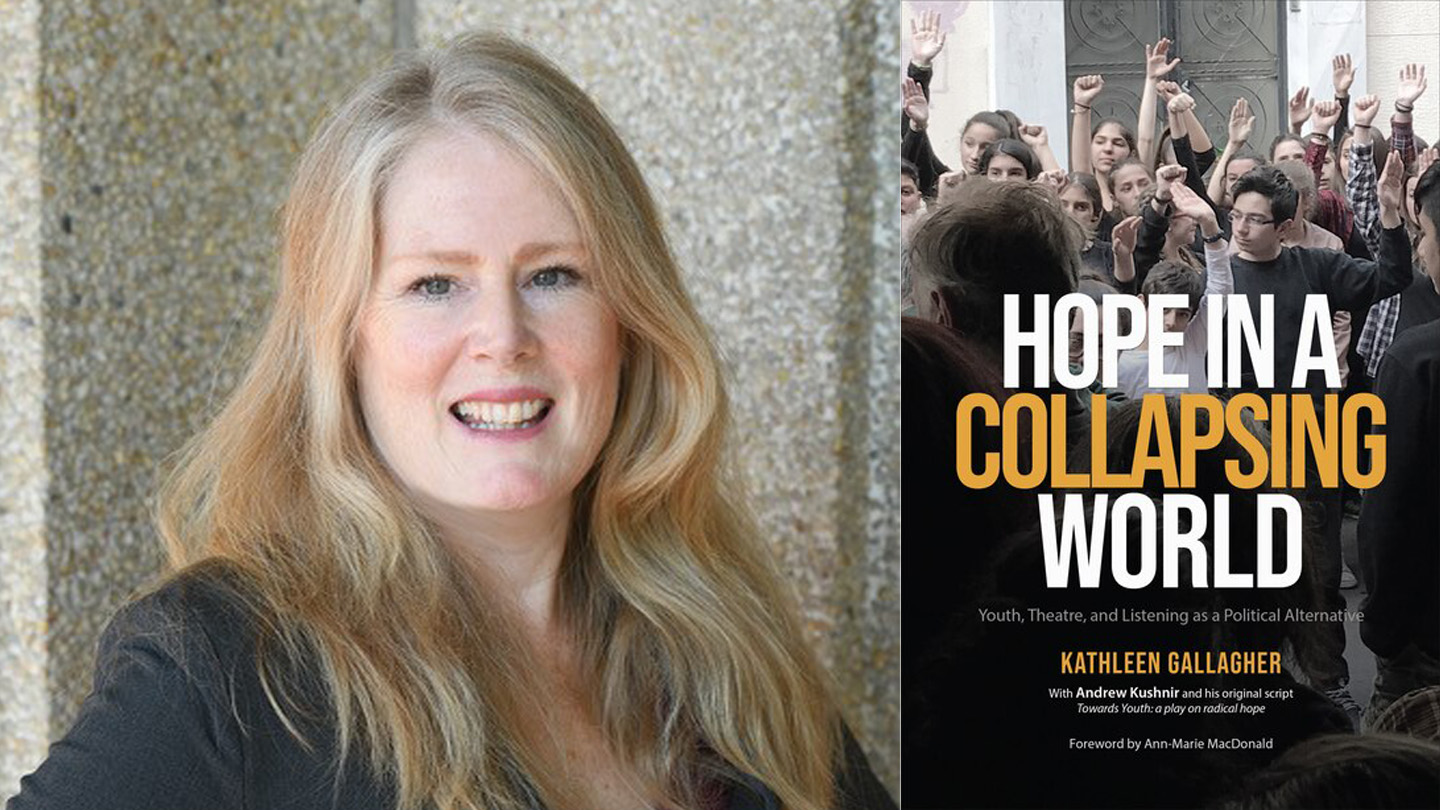 Professor Kathleen Gallagher is receiving new accolades over her collaborative work Hope in a Collapsing World.
The book, a collaborative work with playwright Andrew Kushnir, has received a Distinguished Book Award from the American Alliance for Theatre and Education (AATE), considered among the most recognized arts education organizations in North America.
Open to members or non-members of AATE, this book award honours an author and publisher for an outstanding book relating to any aspect of the field published during the past calendar year (January through December).
This award, Gallagher says, from the AATE is significant for its recognition of research and pedagogies that foreground young people and the powerful role that theatre can play in their lives. 
"For me, personally, it is a bit of a full-circle moment as this was the organization that recognized my dissertation with a "Most distinguished dissertation award" in 1998!," said Gallagher, a Distinguished Professor in the department of Curriculum, Teaching and Learning, and a Royal Society of Canada fellow. "Now, 25 years later, they have again honoured my research."
Hope in a Collapsing World presents the process and findings of Gallagher's Youth, Theatre, Radical Hope and the Ethical Imaginary research project, which was a five-year international ethnographic study investigating how the drama classroom can awaken the activist voice and inspire engaged citizenship. Kushnir's play "Towards Youth: A Play on Radical Hope," a verbatim piece created from the interviews and fieldwork of the project, is included in the book, offering a hybrid format of research text and playwriting.
The book comes from research with young people, artists, and teachers in Canada, India, Greece, England and Taiwan, says Gallagher, using theatre to sound the alarm about their concerns and to give shape to their dreams, personal and collective, for a just and expansive future. "We need to listen to their wisdom and I hope this award gives their creativity, and astonishing insights, a greater platform."
Gallagher, the Director of the Centre for Drama, Theatre and Performance Studies at the University of Toronto, says this award is further encouragement to her research team across the globe, "that our ongoing creative practice with artist collaborators and our research work with young people matter.
"We have a renewed sense of purpose as we move forward with our current collaborative ethnographic work centring young people's commitments to socio-ecological justice," she adds.
The award will be presented in Seattle Washington the weekend of July 29th, for AATE's 2023 National Conference.