Chief Administrative Officer
Whether you're returning to OISE or attending for the first time, these resources will help you navigate and enjoy your experience while keeping healthy and safe. 
Welcome from the Chief Administrative Officer (CAO)
I am very proud to be part of the OISE community and feel privileged to lead a team of professionals within the Office of the Chief Administrative Officer. We are committed to be the effective enablers for OISE's academic goals and priorities by providing effective and useful resources, tools, information and systems. 
As a strategic partner, the Office of the CAO provides leadership and expertise in the development, implementation and evaluation of OISE's strategic plan ensuring sustainable and fiscally responsible management of faculty resources in support of the Institute's academic priorities. We promote organizational and service excellence, operational efficiency, community wellness, and employee engagement & recognition.
We are proud to provide collaborative, comprehensive, and professional services to the OISE community with expertise in the areas of information technology, human resources, finance, facilities, data management, and legislative & policy compliance. We are a team that values respect, equity, teamwork, personal and professional well-being, integrity, and collegiality. Our supportive, professional environment fosters learning, innovation, diversity, and recognition with a commitment to embracing change.
I encourage you to learn more about our current initiatives and team by exploring this website.
Helen Huang
Chief Administrative Officer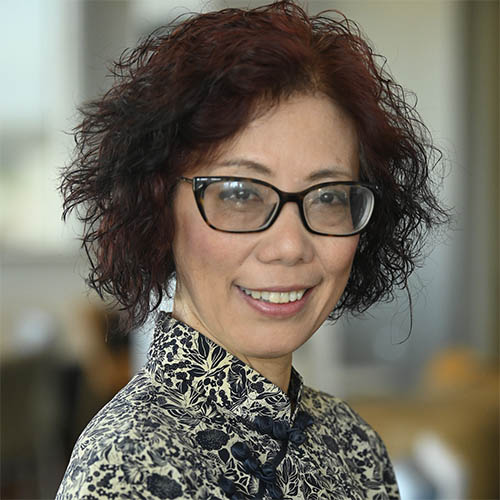 Featured Initiatives
OISE is reimagining the under-utilized 5th floor outdoor terraces at the podium level to create a dedicated space for community gatherings, cultural practice, study, and social events. The project underwent broad consultation within the OISE community and the design will incorporate the latest standards of accessibility and sustainability.
The OISE Wellness Committee is comprised of representatives from across the OISE. Our objective for this working group is focused on developing programs and resources to help us cultivate a culture of Readiness, Resilience, and Recovery as we adapt to our evolving learning and work arrangements.
The activities of this group include:
engaging in meaningful discussions about the needs of each of our constituent groups as our learning and work arrangements evolve
gathering data from our community through surveys, focus group discussions, interviews
exploring current trends and strategies from other organizations
learning from and working with experts, both internal and external to OISE, to develop a post-pandemic wellness strategy
building a library of resources to help us cultivate a culture of Readiness, Resilience, and Recovery
We are pleased to announce the construction of new covered bike parking in the OISE parking garage, situated just east of the exit ramp. You may have already noticed the vibrant stripe design on its exterior. With an opening date this October, this dedicated bike parking area will feature a lockable fence and gate, providing an additional layer of security. Limited spots will be available for a small fee on a first-come, first-serve basis. For further information and to reserve a spot, please contact us at oise.space@utoronto.ca.
The Department of Social Justice Education is presently undergoing renovations to improve student space. Any noisy work associated with these renovations will be scheduled after regular business hours to minimize disruptions.