'Finding routes through loss': OISE graduate Rebecca Beaulne-Stuebing receives Leithwood Award for research on Indigenous grief medicines
June 16, 2023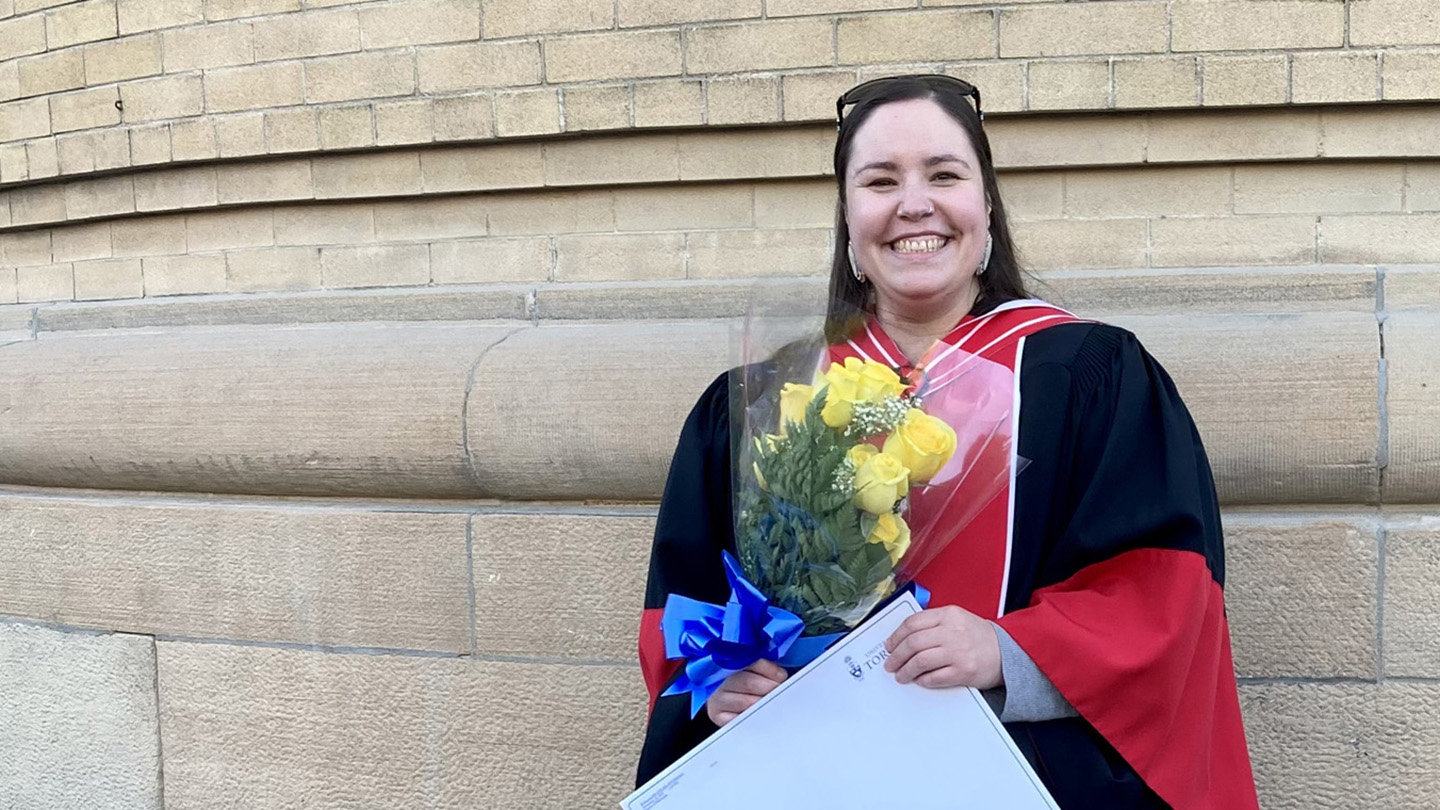 Congratulations to Dr. Rebecca Beaulne-Stuebing, recipient of the 2023 Leithwood Award for OISE Outstanding Thesis of the Year.
Named in honour of former Associate Dean, Research Ken Leithwood, this award is presented annually to one OISE graduate in recognition of research excellence in the final stages of their doctoral program.
"We are pleased to have this opportunity to celebrate exceptional and impactful student research," says Professor Michele Peterson-Badali, Associate Dean, Research, International and Innovation.
"Beaulne-Stuebing's research considers how Indigenous people in Toronto make life while grieving, and the routes they make to engage in acts of self and relational care through experiences of grief," adds Professor Eve Tuck, Beaulne-Stuebing's thesis supervisor. She "makes important contributions to Indigenous education and pedagogy in a way that is community-focused."
A citizen of the Métis Nation of Ontario with belonging in the Sault Ste. Marie Métis community, Beaulne-Stuebing positions herself as a co-learner and sharer of community-based healing knowledge. "My project is an offering to community members seeking to better understand life, death, and grief," she says.
Beaulne-Stuebing's research reflects her knowledge of land-based and community-based pedagogies. Before beginning graduate work in OISE's department of Social Justice Education, she served as Program Development Coordinator of Shingwauk Kinoomaage Gamig Centre of Excellence in Anishinaabe Education in Sault Ste. Marie, and was an instructor in the Community Economic and Social Development Program at Algoma University. While completing her studies at OISE, Beaulne-Stuebing also continued to pursue formal education in Anishinaabe language and philosophy through the Three Fires Midewiwin Lodge in Bad River, Wisconsin.
Beaulne-Stuebing's commitment to community is evident in her project's collaborative approach. Her thesis is a response to experiences that are connected across communities, places and time.
"Colonialism has created a context of loss," she says. In this context, Indigenous peoples experience grief "not as an individual pathology, but a structural reality. Attending to the needs of people and communities in this context, then, must balance a focus on an individual's distinct experience, while also understanding the fuller picture of compounding structures and relations."
In response, Beaulne-Stuebing thinks together with Indigenous community members to consider "how Indigenous medicines and caring systems endure" in the urban context of Toronto. Adapting Indigenous storywork methods, Beaulne-Stuebing interviewed Indigenous grief workers in Toronto to offer histories of activism and griefwork. She also detailed collective acts of care, including grief ceremonies and sustainable planting practices.
As part of her research, Beaulne-Stuebing distributed seeds, food, and medicines harvested from the medicine gardens she continues to tend. 
"These giveaways are a critical method of disseminating knowledge co-created through this research", says Beaulne-Stuebing. "Giveaways also served to build community around the medicine gardens I cared for in relation to the project."
Beaulne-Stuebing's work collaboratively theorizes what "grief medicines" entail in this time and place and is itself medicinal in envisioning and attesting to ways of living through loss.