OISE-based Deepening Knowledge Project unveils new Digitally Immersive Land-Centred Space
June 21, 2022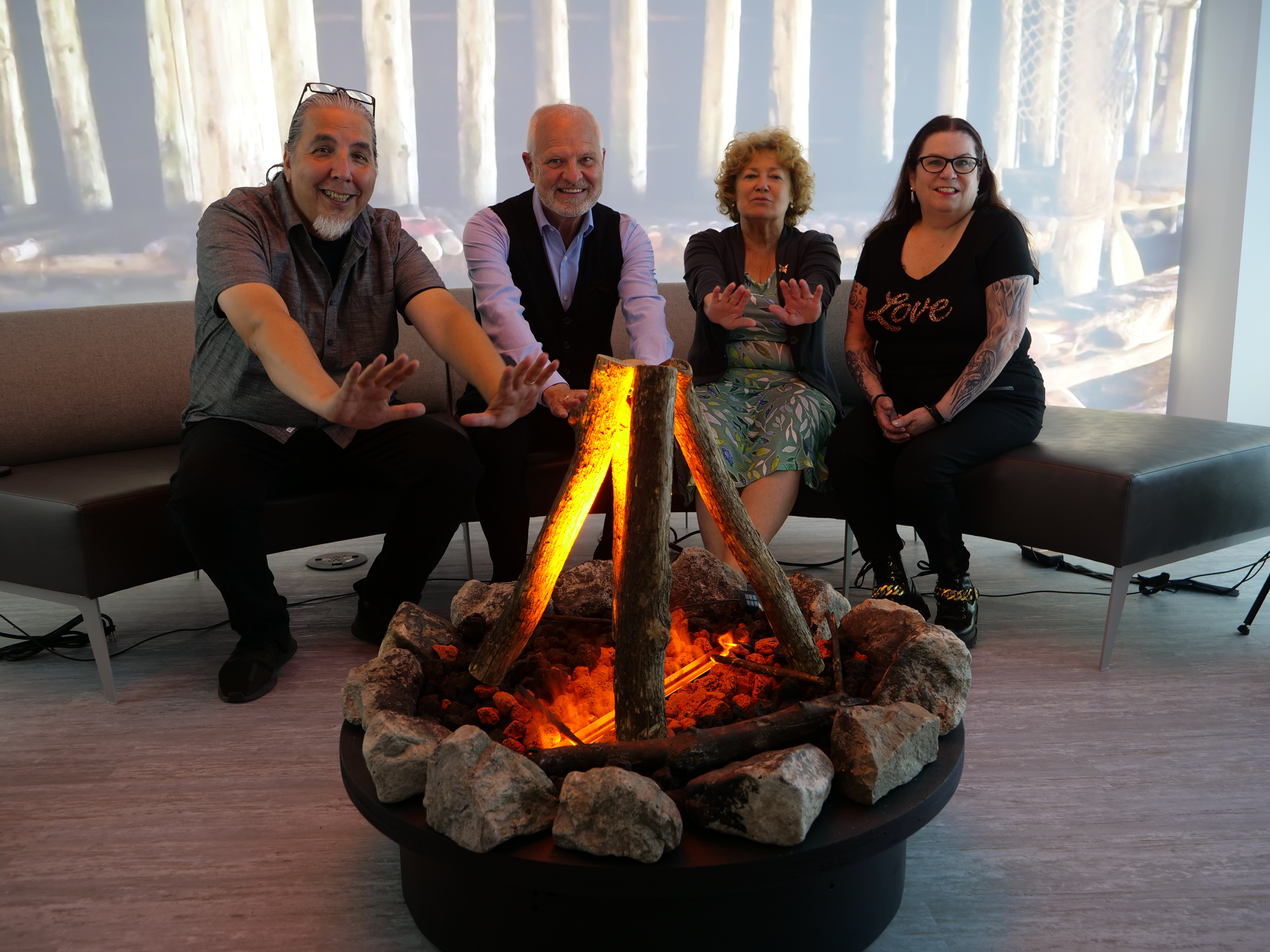 On the week of June 20, a new digitally immersive land-centred learning environment, Deepening Knowledge Project (DKP) website and the Centre for Indigenous Educational Research computer lab at OISE's Indigenous Educational Research Centre have all been revealed by Dr. Sandra Styres, her research team, and Elder Clayton Shirt.
The multifaceted centre, located on the 10th floor of the OISE building, will provide a key space for Indigenous-specific research across OISE – where Indigenous faculty and students can access Indigenous resources, collaborate on research projects, and engage in critical conversations about their work in a sacred space.
"I feel honoured to be here on the very first day of the launch of DKP. It is a great addition to OISE and an incredible space for our researchers and educators to collaborate, lead and connect on Indigenous research and excellence, said Professor Normand Labrie, Interim Dean of OISE.
Deepening Knowledge Project: Indigenous Knowledge Resurgence and Education, which seeks to infuse Indigenous peoples' histories, knowledges, and pedagogies into all levels of education in Canada, was created by the OISE Centre for Indigenous Educational Research and rooted under OISE's department of Curriculum, Teaching and Learning (CTL).
OISE News spoke to Dr. Styres about the launch of the digitally immersive land-centred floor space which combines Indigenous traditional knowledge with a 360 immersive learning experience.  
"With the national spotlight still on the reconciliation project and with education seen as a critical site for reconciliatory efforts, there's a significant attention to the importance of addressing Indigenous rights in national and global conversations about Indigenous education," said Dr. Styres, an Associate Professor in OISE's CTL department and a Canada Research Chair in Iethi'nihstnha Ohwentsia'kkha (Land), Resurgence, Reconciliation, and the Politics of Education.
"Some examples of these are found in the ways we occupy the space to make it placeful, the ways we enter the space, the furniture placement open to the East and West directions, the use of sacred fire with tobacco and 360 imaging in the room around you," said Styres.
Led by a group of Indigenous and non-Indigenous faculty, students, and staff, DKP is a hub that provides access to resources about the history and perspectives of First Nations, Métis and Inuit peoples along with other Indigenous cultures. It also provides curricula for teachers to incorporate into their teaching practices and content areas related to the issues of pressing concern to Indigenous peoples and their communities.
"I realized today, listening to the ceremony and sitting in the room with community that going through the pandemic has somehow raised the importance and the reality of the potential that this project has," said Associate Professor Clare Brett, chair of the department of Curriculum, Teaching and Learning. "I see it now as being a real fulfillment of some of the promise of what we saw during COVID-19, that this movement towards a more hybrid world. And now we have this centre, which is a wonderful embodiment of that."
The new digitally immersive land-centred space, DKP website and Centre for Indigenous Educational Research computer lab, provides a forum for Indigenous students, faculty and staff to share their own stories, build connections with one another and activate understandings on what it means to be in good relationships with "Land" that has and continues to exist first and foremost in relationship to Indigenous Peoples.
Ryan Neepin, who is the project coordinator of the Deepening Knowledge Project and oversaw the development of the website, invites all teachers across Canada to infuse and integrate Indigenous knowledge, content, and perspectives into their classrooms. DKP also features Indigenous authored content and resources for all school grades and materials for educators that have been vetted by Indigenous faculty and staff on the team.
"It is the knowledge we want you to know and we are asking you to walk into a relationship to learn. So, we talk about the Truth and Reconciliation Commission before we move into reconciliation. Reconciliation – or as Dr. Styres called it, reconcili-ACTION – requires that we do the hard work of truthtelling first, and that's what this website allows us to do together," said Neepin.
With access to research and language software including SPSS, NVIVO, and Language Geek, the centre's computer lab will provide resources for students to use fonts and keyboard layouts which will allow them to type in several Indigenous language.
"It is a doorway, and you can think about how we can use this best as we move forward to really empower the next generation of Indigenous students," said Brett.
The project is a part of the Ontario Institute for Studies in Education, University of Toronto, which is located on the territories of Anishinaabe and Onkwehonwe peoples.