Combatting sexual, gender-based violence beyond borders: OISE duo establishes international partnership
August 9, 2023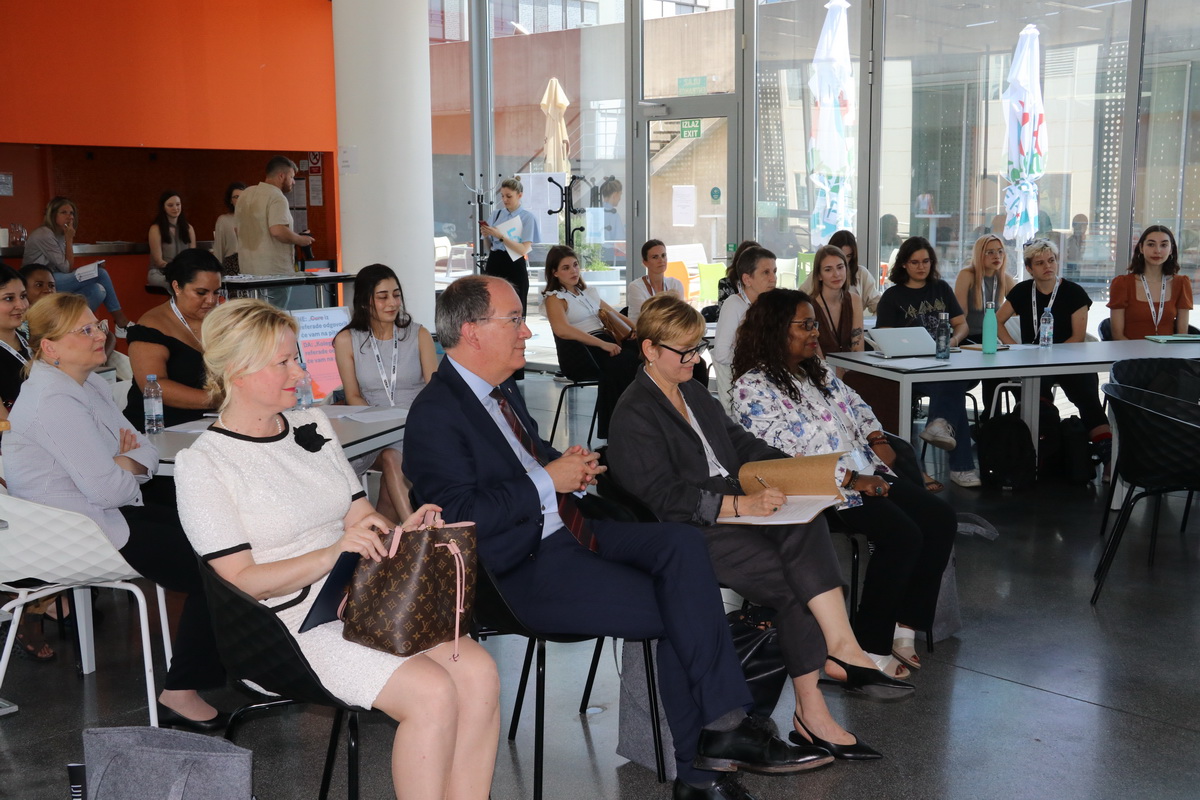 In July 2023, the picturesque coastal city of Rijeka, Croatia, hosted a week-long conference that brought together over 50 international scholars, students, educators, community activists, and practitioners to exchange ideas and research on sexual and gender-based violence prevention.
Driving this initiative were OISE professor Miglena Todorova and her doctoral student, Nana Gulic – who hails from Rijeka. They have both long recognized the need for an international and comparative approach to address the complexities of sexual and gender-based violence.
Their shared vision resulted in the creation of the Summer Institute for Preventing Sexual and Gender-based Violence in Education. By bringing together ideas, practices, data, and research from various countries, the conference aimed to develop strategies and policies to prevent gender-based and sexual violence. It also played a crucial role in fostering an ever-growing international partnership to address this issue.
For Todorova, an associate professor based in OISE's Department of Social Justice Education, the need for a transnational approach to sexual and gender-based violence was shaped by her experiences as an immigrant woman from Bulgaria. As a result of her diverse background, she has a deep interest in issues that transcend national and cultural boundaries. Her research specialization in transnational feminism further underpins her commitment.
"International organizations are predicting another 300 years until gender equality is achieved. That's crazy to think about," said Todorova. "This is why we can't fight in our own cocoon and only in Canada. We need to engage with the rest of the world."
 
Learning from each other
Providing opening remarks, Professor Njoki Wane, chair of OISE's Department of Social Justice Education, Sandra Krpan, the deputy mayor of the city of Rijeka, and Alan Bowman, Canadian Ambassador to Croatia and Kosovo, spoke about the importance of the event and praised international knowledge exchange as a method for addressing gender-based violence.
This spirit of international exchange was showcased in a special panel featuring OISE doctoral candidate Hayley Brooks and Dr. Hubert Brard, an OISE alumnus who is now a vice principal at the York Region District School Board (YRDSB). They discussed Ontario's experience in implementing its K-12 sexuality education curriculum.
The audience included principals of 23 elementary schools in Rijeka, along with members of the city's education department, which is currently in the process of developing a K-12 sex-ed curriculum for Rijeka.
The OISE delegation also discussed Ontario's legislation, which mandates all post-secondary institutions to have an official sexual violence policy—a topic that is unexplored in most parts of the world.
"Canada and OISE are leaders in this area, and partners from around the world are looking to us for knowledge exchange," said Todorova.
"Although we must be mindful that many practices are not easily transferable and cannot simply be replicated from one country to another, the ability to learn from an assembly of international educators and researchers who can provide this extraordinary knowledge is invaluable."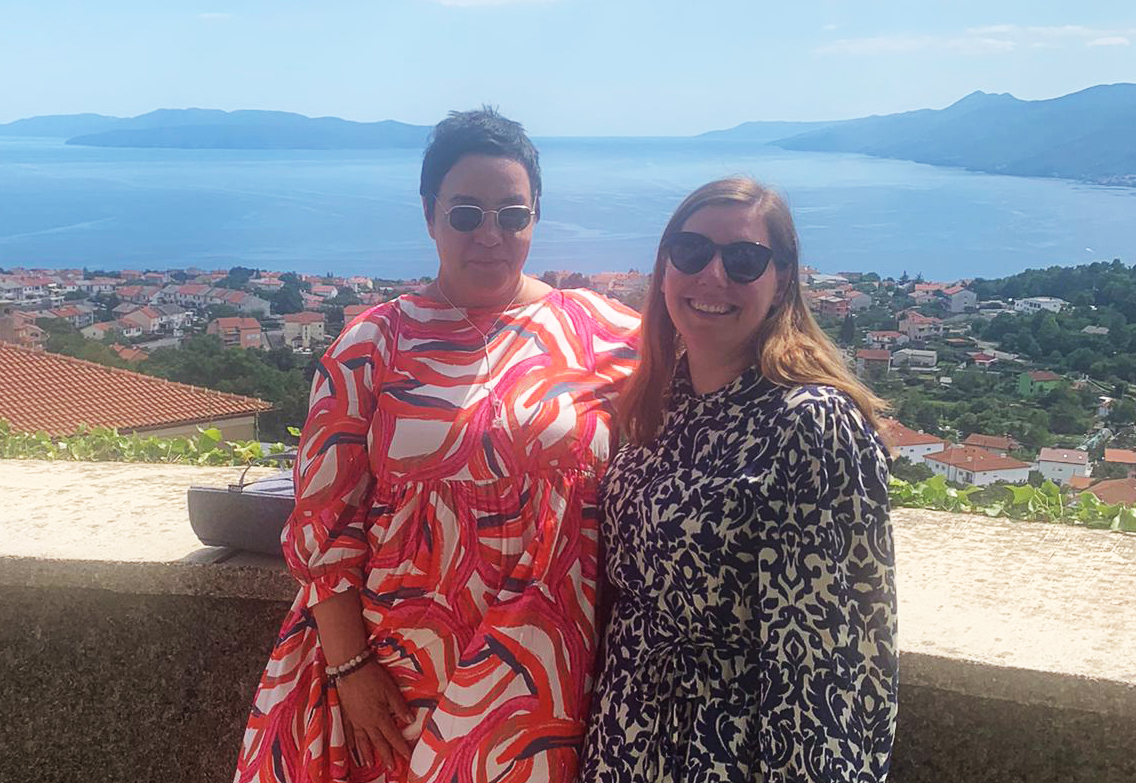 Perspectives, beyond the West
Todorova and Gulic, each born in former socialist countries – Bulgaria and Croatia, respectively – have a shared interest in education and change in post-socialist contexts and are passionate about involving these countries in discussions around sexual and gender-based violence.
"Currently, most of the conversations surrounding sexual and gender-based violence revolve around the West, with little attention given to former socialist and communist countries like the Balkans, which often remain marginalized in global politics. The same holds true for the Global South," said Todorova, who served as the conference's program chair.
"However, these places are conducting innovative research and experimenting with new practices and we can all benefit from the insights provided by this work."
One of the speakers at the conference was Leah Nyalobo Omutanyi, who heads a community organization that supports survivors of sexual and domestic violence in Kenya. The work she does involves mentoring boys and young men from the slums of Nairobi, training them in leadership skills and providing employment opportunities and financial support through a community bank.
"Omutanyi is working to uplift boys and men who face tremendous poverty and lack of education. These same boys and men tend to also be perpetrators of sexual violence, and Omutanyi is engaging them on those issues as well. This is an extraordinary work that will enrich efforts to address broader gender-based violence issues," said Todorova.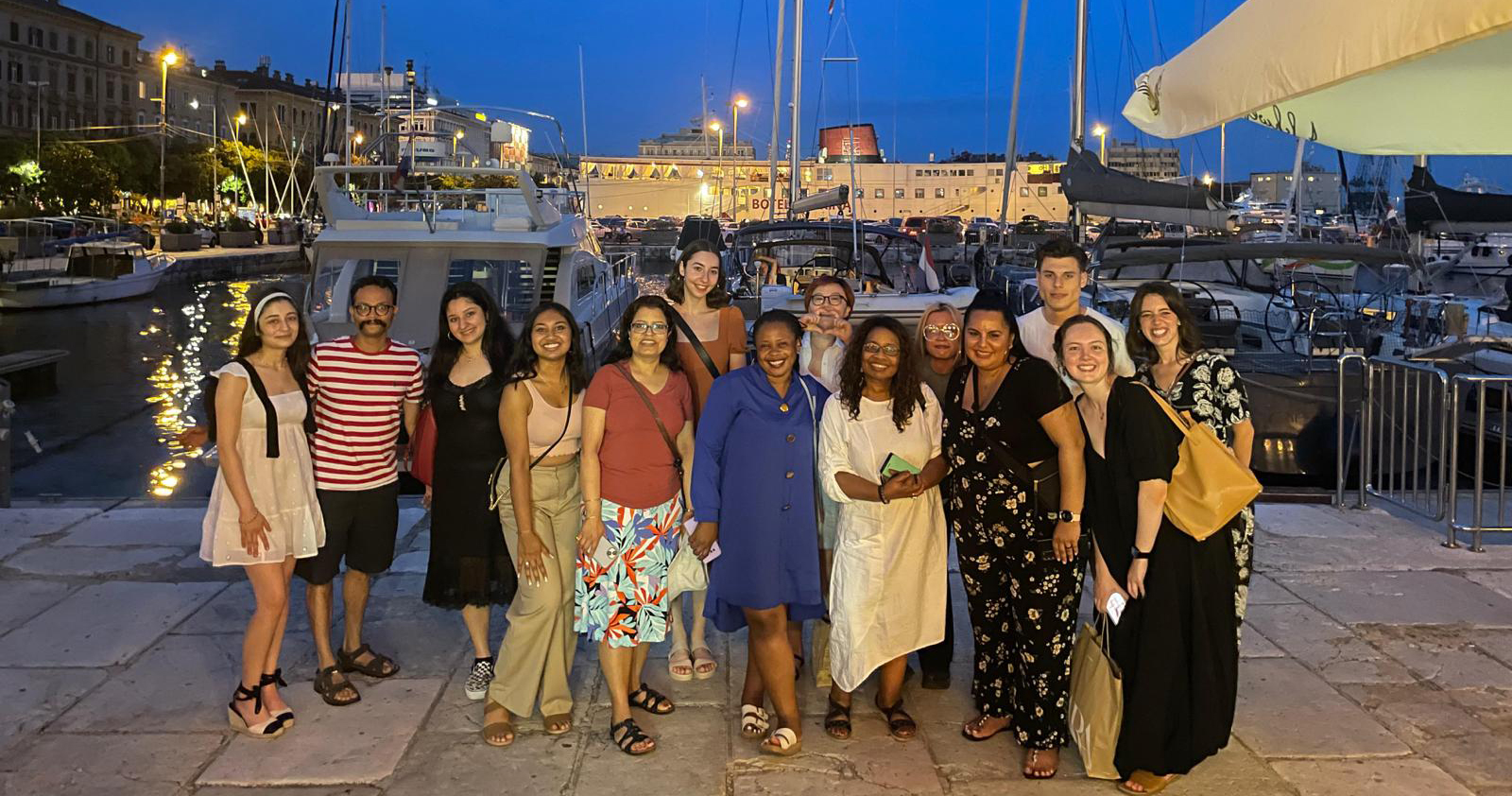 Rijeka, an ideal partner
Rijeka emerged as the ideal partner city for the event due to its progressive stance on sexual and gender-based violence issues.
Although Gulic's presence and connections in the city were beneficial, the primary decision was influenced by Rijeka's alignment with OISE's values of gender equity, social justice, and violence prevention.
For Gulic, creating a tangible impact in the real world through the conference discussions was of critical importance. The University of Rijeka's leadership in gender-based violence prevention work played a significant role in the city's selection, said Gulic, adding that its policies have been widely adopted by other universities in Croatia.
Rijeka, also has a proactive approach to promoting diversity and inclusivity. As the European Capital of Culture 2020, the city has a history of welcoming people from diverse backgrounds, driven by its position as a major port city. It was the first city in Croatia to have its own citizenship education program for students, which was later emulated in 12 other cities.
"Being able to learn from individuals who share similar goals, can contribute their experiences, and continue collaborating with beyond the event was very important to us," said Gulic, who coordinated the conference.  
Empowering students with global perspectives
The Summer Institute offered an invaluable opportunity for the 11 graduate students in the OISE delegation to enhance their understanding and approach to preventing sexual and gender-based violence. These students, who Todorova met in her graduate course on sexual, racial, and gender violence prevention in higher education, arrived at the conference with a transnational outlook and left with an expanded horizon.
Presenting their research on issues specific to their home countries or diasporic communities, the OISE students' diverse perspectives further enriched the conference. In their presentations, Usha Sharma discussed the cultural violence faced by widowed Nepali women and Abarna Selvarajah spoke about the struggles of Tamil immigrant women in Canada.
Students from both Toronto and Rijeka experienced a renewed sense of purpose in their work through learning from one another.
"As students, we tend to be focused on our narrow world. You enter doctoral studies with great ideas, but you're taught to channel them into a niche where you fit. The Summer Institute allowed us to lift our heads and see the broader global significance of what we're doing," said Gulic, whose research focuses on citizenship education.
"The conference inspired me in so many ways, and it helped me think more clearly about my area of expertise," said Paola Uroda, a resident of Rijeka currently studying in the United Kingdom. "One of my favourite parts meeting people with whom I could talk about ideas that could change the world for the better. I left feeling motivated and encouraged, worthy and brave."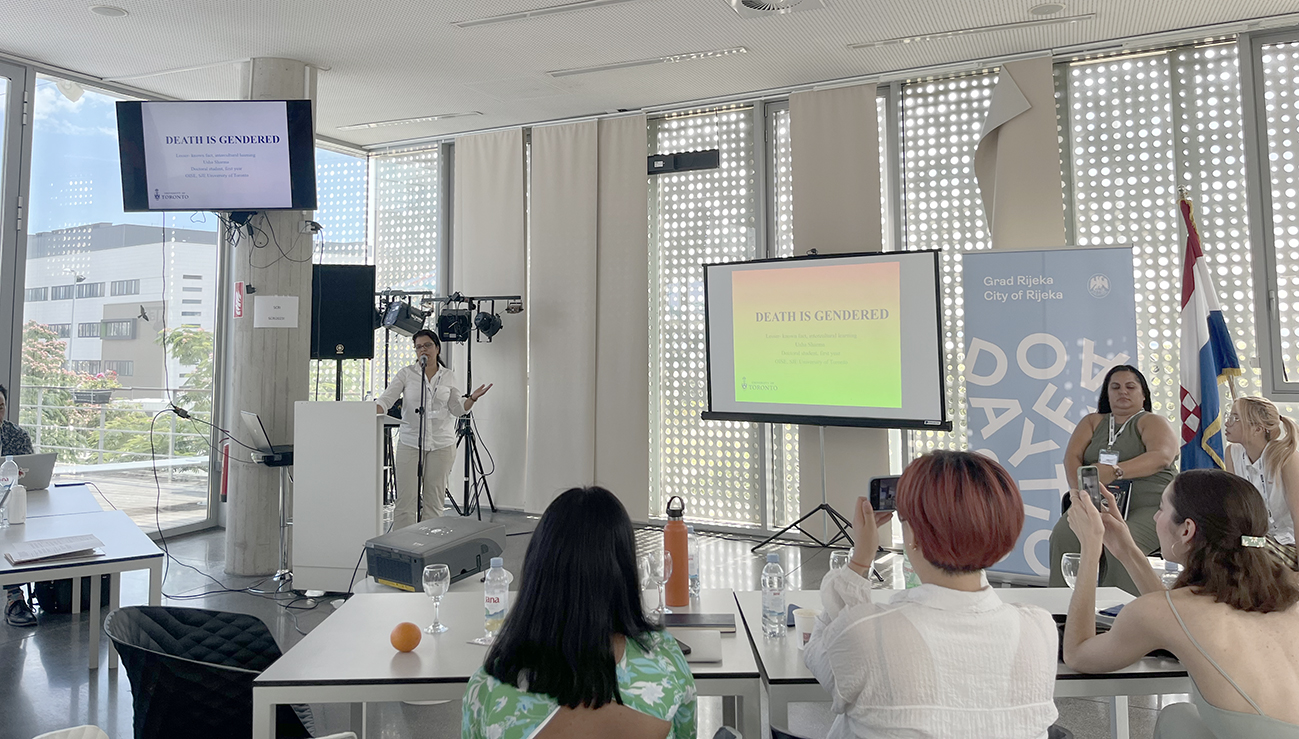 The next steps
Now that the event has concluded, Todorova and Gulic are focusing on formalizing the partnership across institutions and expanding it to include more stakeholders from various parts of the world. Meanwhile, partners from Rijeka and Kenya have expressed interest in visiting Toronto next summer to watch K-12 teachers deliver sex-ed education and participate in knowledge exchange at OISE.
Professor Michele Peterson-Badali, OISE Associate Dean of Research, International & Innovation, commended the events' participants for their contribution to the network. "The 2023 Summer Institute provided a tremendous opportunity for international partners to share and compare knowledge in Croatia and Canada; this knowledge exchange will contribute to a variety of practitioner-based strategies addressing the pressing global concern of sexual and gender-based violence," she said.
Lara Cartmale, OISE's Director of Research and International Initiatives, added, "I commend professor Miglena Todorova and doctoral candidate Nana Gulic for their deep investment and vision, working to position Canada as a global leader in the field of sexual and gender-based violence.
Gulic and Todorova take immense pride in the international partnership they have cultivated, recognizing the significant challenges involved in establishing institutional collaborations, especially ones that are intersectoral and international. The success of the conference can be attributed to the distinct strengths that they each brought to the table.
Gulic's enthusiasm for building connections played a pivotal role in establishing a strong network of partners and stakeholders for the conference. With eight years of experience as an elementary school educator in Rijeka, Gulic is well-connected with the local community.
"Everybody knows me because I always had some crazy idea that I wanted partners for," she said. "I feel that my greatest strength in life is building connections between people and finding ways to make these connections serve the communities that people are from."
Todorova, who has researched partnership building extensively, attributes "a lot of hope and consistency" as the main drivers to her success in fostering meaningful collaborations.
"I was relentlessly committed to the idea that such a partnership is possible—that we urgently need internationalized and comparative perspectives in this field, and it must include regions of the world that are marginalized in research, theory and practice," she said. "I was equally committed to the idea of learning from others, rather than imagining Canada as this kind of benevolent power that simply imparts knowledge to the rest of the world.
"This approach of political and intellectual humility allowed me to bridge certain differences and foster trust, which is key for any successful partnership."