Sights and sounds: Alumni and friends gather for the 2023 Transitional Year Programme Gala
October 30, 2023
Under the warm lights of the Great Hall at the University of Toronto's Hart House on Oct. 4th, the Transitional Year Programme's (TYP) celebratory gala brought hundreds of its alumni and friends together to celebrate its successes.
The programme, co-created by Dr. Keren Brathwaite, an OISE alumna, in 1969, is marking more than a half century of mentorship, guidance, and community. In its current form, TYP is a full-time, eight-month access-to-University program. It is intended for adults who do not have the formal qualifications for university admission because they have experienced various systematic barriers such as financial problems, family difficulties, education disenfranchisement or other circumstances beyond their control. 
Currently accepting about 60 students each academic year, hundreds of participants go on to earn university degrees and professional training, with many choosing to attend OISE for further studies. TYP already has many connections with the Institute, most notably Professor Lance McCready, an OISE faculty member, who serves as director of the TYP.
OISE was there to capture some of the sights and sounds of the night, including warm words from guests, a vocal performance by Jully Black, a silent auction, food and refreshments, and the rekindling of friendships.
Learn more about OISE and TYP's intertwined history
---
"In these times of crisis related to inflation, the rising cost of housing, global anti-Black racism and anti-Indigenous discrimination, climate change, wars in Sudan and Ukraine, and other global crises that affect us here in Canada, it isn't easy staying true to the mission of the Transition Year Programme. But over the last 50 years, TYP has accepted over 2,000 students into the program, and over 600 alumni have gone on to pursue their undergraduate and graduate degrees.
And we couldn't do this work without the help of the community. We stand on the shoulders of our visionary founders, Dr. Keren Brathwaite and Horace Campbell, and past faculty and staff, Dr. Roslyn Thomas-Long, Dr. Horace Henriques, Dr. Safia Gahayr, who have recently passed away. Resident faculty, alumni staff and administrators—past and present—continue to fuel the mission of TYP with love, respect, humor, ambition, wisdom, and fierce intelligence."
— Professor Lance McCready, TYP Director
---
"One of the most remarkable aspects of TYP is the deep sense of community and co-ownership that is felt through the program by staff, students, faculty, and alumni. Tonight, I hope that all of you as attendees will support TYP's efforts to stay connected to its vast and growing network of alumni by making referrals and connections to those attending the program within your network.
"TYP is at an important stage of its development by redefining what access to education looks like for mature students. Maintaining an engaged alumni community is key not only to establishing a strong student-institution relationship for mature Black, Indigenous and racialized students—but it also complements TYP's culturally responsive pedagogy across all platforms and curriculum.
"For over 50 years, the Transitional Year Programme has been actively working to remove barriers to higher education. Fifty-three years—I don't think we can applaud enough for that."
– Helen Tewolde, Director, Access Strategy & Partnerships Office, 
Office of the Vice-Provost, Students
 
---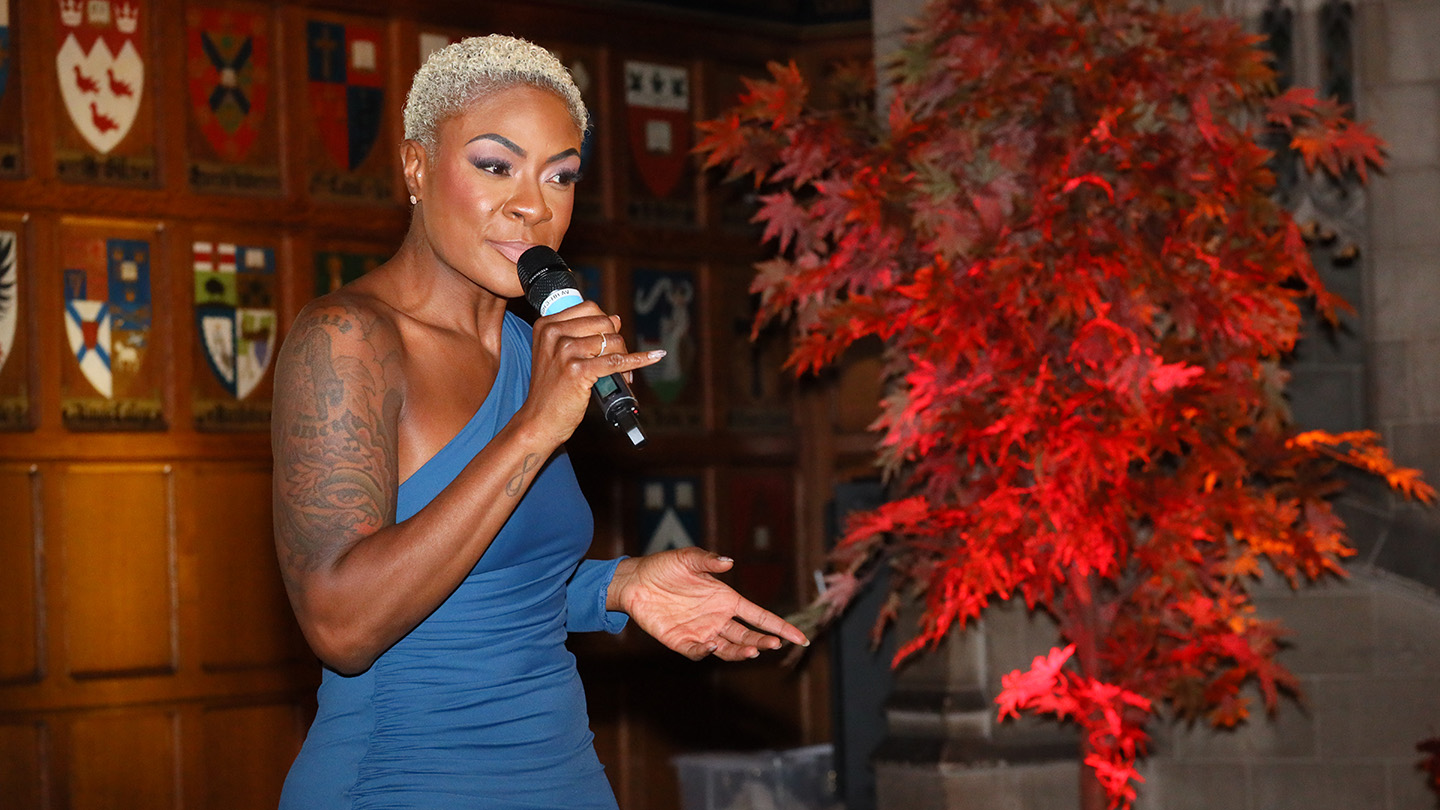 ---
We also asked guests one question: What is your favourite TYP memory?
Yvonne Connage 
TYP Class of 2005
My favorite memory was when we had exams, we were able to bring our kids – and all the other students took turns babysitting while we went to write our exams. Another time was in the summer when we got to bring our kids to tennis camp. And when I had the death of my father, TYP was like somebody to lean on.
Hameed Shaqq
TYP Class of 1987
I had a teacher call me; I was supposed to do an essay. I came up with this idea – because I came from Trinidad [and Tobago] – about creativity and poverty. People create because they're poor, and poverty affects more people who are creating. 
In Trinidad, we created an instrument called steel pan – poor people created that. It was kind of weird to explain that concept at the time, but I kept my focus on that particular subject. 
(Shaqq completed his studies at U of T and pursued Masters studies in socio-cultural Anthropology at the York University. A long-time pan performer, he worked as a steelpan musician with the Toronto District School Board for more than a decade. To learn more about his work, visit this page.)
Rob Innes 
TYP Class of 1992
One memory that sticks out is from the first day when we were upstairs in the lounge. About half the students were there, and I think it was Tom or maybe Horace who said, 'Welcome to the middle class.' Everybody was like, 'What are you talking about, middle class?' Nobody in that room was middle class; if they were, they were hiding it. It was a real eye opener. We weren't used to thinking of ourselves as being middle class, and it forced us into a different kind of mindset. 
Another memory was Dr. Keren Brathwaite. She had a huge impact on me. She was tough; I remember the way she smiled without moving her mouth. But I really appreciated her because there were six or eight Indigenous students in my year. One didn't make it through, but the rest of us did. In her class, she included readings from not only Black authors, but also Native authors. That was the first time I had ever encountered those works because when I went to high school, they weren't teaching anything about Native authors.
Robin Ann Battle
TYP Class of 1991
Just going to TYP every day and being able to be there until I could get the help to get through. There's a lot of little things I remember dearly, like the overall comfort and the shelter from the craziness outside.