'To amplify and recognize': Meet this OISE alum and his Black pro hockey player card collection
April 12, 2022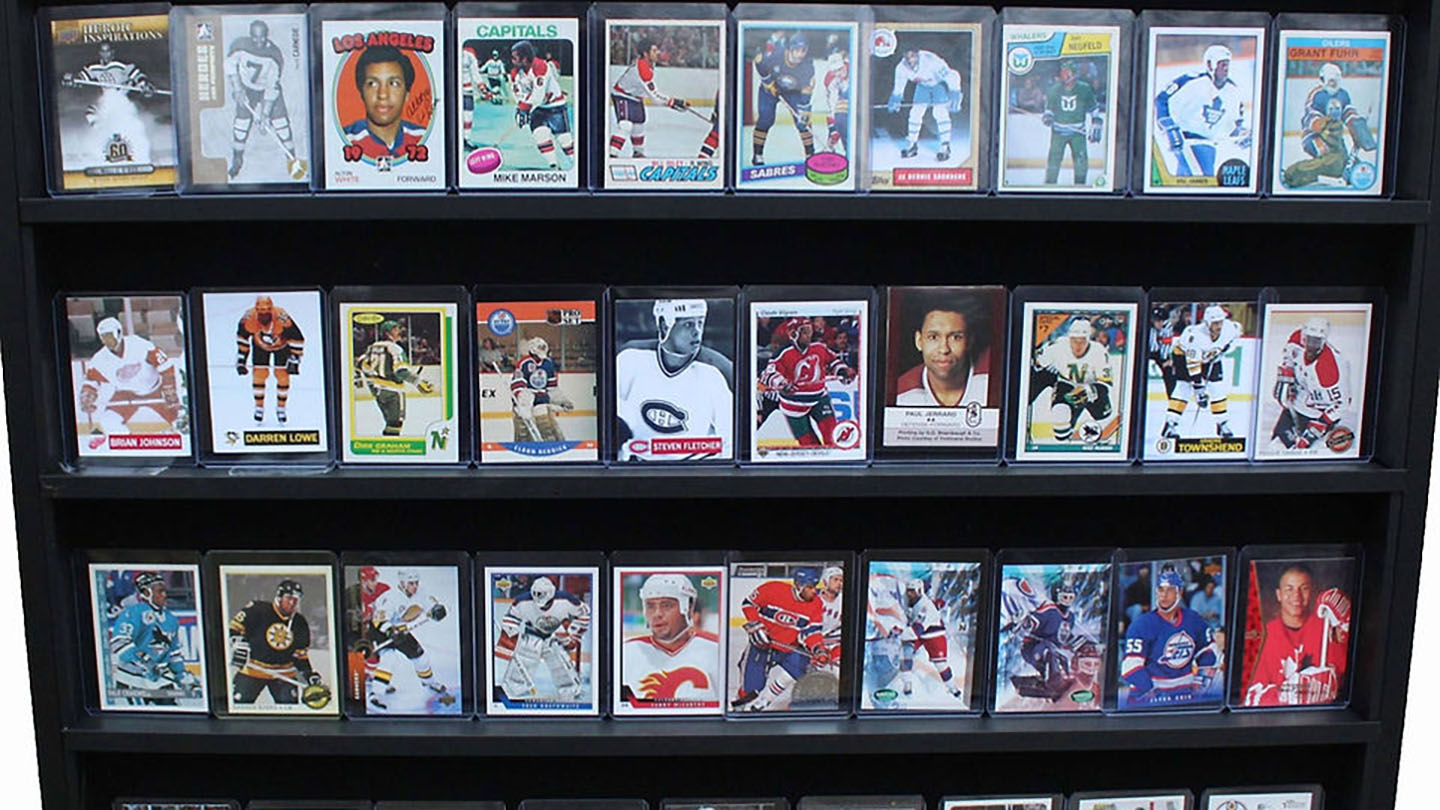 It began with a couple search engine clicks and now it is part of a North American tour, intent on helping folks think differently about hockey history and the rich contributions of Black hockey players.
A hockey card collection, featuring about 100 Black hockey players, is already making the rounds with the NHL Black Hockey History Tour – which aims to raise awareness of the League's history of pioneering Black hockey players as well as its current Black stars.
The museum truck will be at Maple Leaf Square (15 York Street) before the Maple Leafs game on Mar. 31 from 2 to 7 p.m. It will also be at Marc Garneau Collegiate in East York on Apr. 1 from 8:30 a.m. to 3:30 p.m.
Dean Barnes, who curated the collection, will have an opportunity to see his cards this Thursday, and is looking forward to meeting a few former Black NHL alumni who will be present. It has been a whirlwind for Barnes, a Superintendent of Education with the Halton District School Board and an OISE alum, who only assembled the collection during the pandemic.
It began with a desire to complete a card set with a Wayne Gretzky rookie card. But, as George Floyd's murder and the subsequent calls for equitable justice took hold in 2020, Barnes changed the outlook on his collection. With his eyes on the hockey world, he was aware that Black players have been, arguably, forgotten writ large.
"When I started collecting, I recognized the availability of buying the cards and was deeply inspired to purchase more and more cards to add to the collection," said Barnes, who earned his PhD with OISE's Department of Curriculum, Teaching and Learning in 2015. "The driving force, as I got into it, was to amplify and recognize players who should be celebrated for such an accomplishment that may not have been highlighted before – the significance of playing at least one NHL game." 
The collection includes everyone from a rookie card from Willie O'Ree (the first Black player in the NHL), and Hockey Hall of Famers Grant Fuhr and Jarome Iginla, to lesser-known names – including Bill Riley (the third Black player to make the NHL), Alton White (the only Black player who played the now-defunct World Hockey Association) and Brian Johnson (who played in the 1983-84 season with the Detroit Red Wings. Darren Lowe, a U of T alum and long-time former U of T Varsity Blues Men's hockey coach who played for Canada's Olympic Team and the Pittsburgh Penguins (in the 1983-84 season) is also in the collection.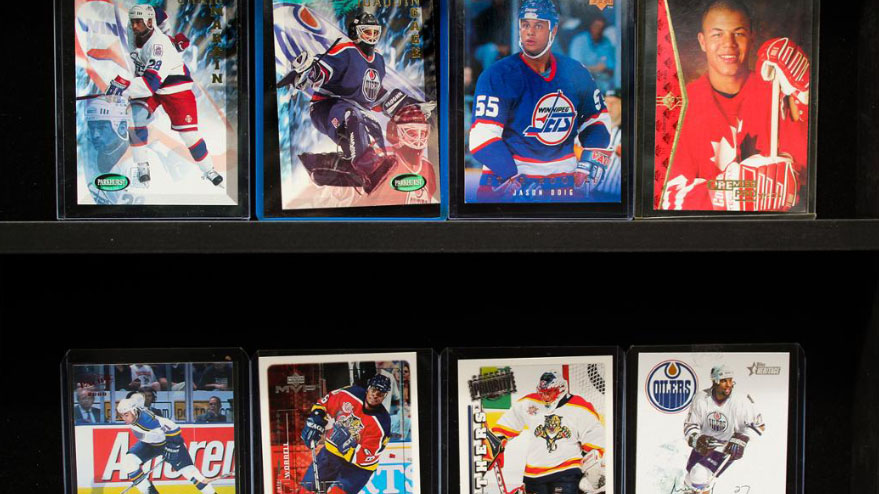 The collection built up quickly over a short period of time. Thanks to some detective work by Barnes, cross-referencing lists of Black players with listings of cards on eBay, he purchased some cards there – including Fuhr's. Some players are featured so briefly in the NHL that Barnes had to get creative. For example, for Val James – the first American-born Black NHL player – Barnes had a card made by an independent card manufacturer from Prince Edward Island.
After the collection was highlighted in a story written by the NHL, Barnes has heard from former and current hockey players to supplement the collection, and attention is now focused on expanding Black players' contribution in Canadian junior hockey leagues and U.S. College hockey. His two daughters also helped build a website for the collection and create social media to continue the effort.
"I'm an educator, and I wanted to share this important history with others and create an opportunity for people to learn more about these players," said Barnes.
An educational opportunity 
This whole saga hits home for Barnes. The superintendent competed with the University of Waterloo as Ice hockey player in the 1989-90 season, as an undergrad, and that experience carried into his doctoral journey at OISE and his work as an administrator.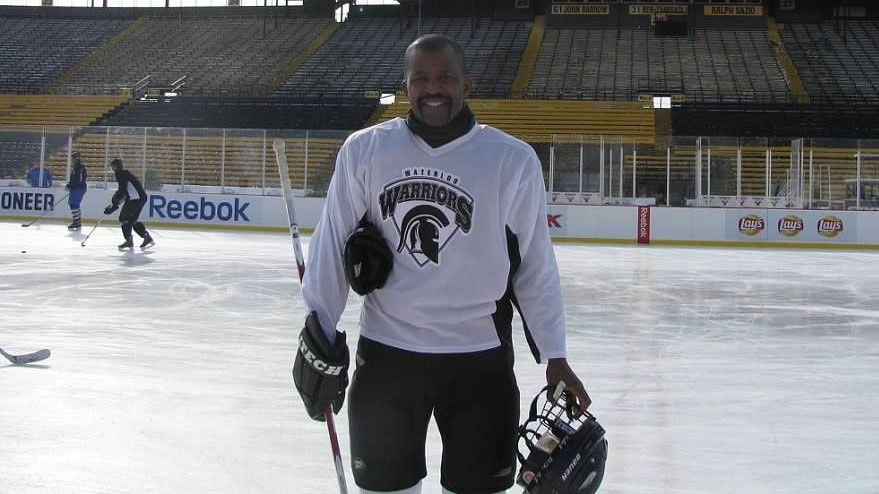 Under the tutelage of Professors Kathy Bickmore, Tara Goldstein and Lance McCready – his PhD supervisors – Barnes' doctoral dissertation focused on the potential of restorative peacemaking circles. He returned to school after many years of experience as a principal. 
That doctoral work signalled commitments to justice issues that he brought to his role as an administrator, particularly as a principal and leading the region's Welcome Centre for newcomers and international students, says David Montemurro, Barnes' colleague on the OISE's Teacher Education Advisory Committee – where Barnes continues to contribute.
"Throughout these connections, I have really appreciated his affable, kindly and clear commitments to creating concrete strategies to support students," says Montemurro, an Associate Professor, Teaching Stream in the Department of Curriculum, Teaching and Learning. 
Keen to maintain connections with OISE, Barnes reached out to Montemurro with an idea to create an innovative high school credit to promote post-secondary pathways for racialized and Indigenous students. "This led to his support of the Master of Teaching program's Access Pathways for Black Educators initiative, where the high school credit has become an outreach opportunity with U of T Mississauga, and the Halton, Peel and Toronto school boards," he says. 
"Dean has been a longstanding advocate for marginalized students disproportionally impacted by negative experiences in schools, and brings a consistent, caring and critical eye to building opportunities for their success."
And it is that attitude that undergirds Barnes' card collection and subsequent tour. Barnes sees value in educating others with this exhibit, and has been delighted in the chance to change perceptions about Black players. "When I have shared [my card collection] with people, whether they're a person of colour or not, there's been a bit of an ah-ha moment like, 'Well, I actually didn't know there was that many players who played,'" he says, noting there is value in arguing for more representation in hockey (at the pros and beyond).
"Ultimately, I am hoping my card collection will raise awareness and encourage future conversations about the importance of diversity, inclusion and acceptance, in the game of hockey at all levels – from minor hockey though to the pro levels."