Global Lab Schools leadership converges to JICS for highly awaited IALS conference
April 28, 2023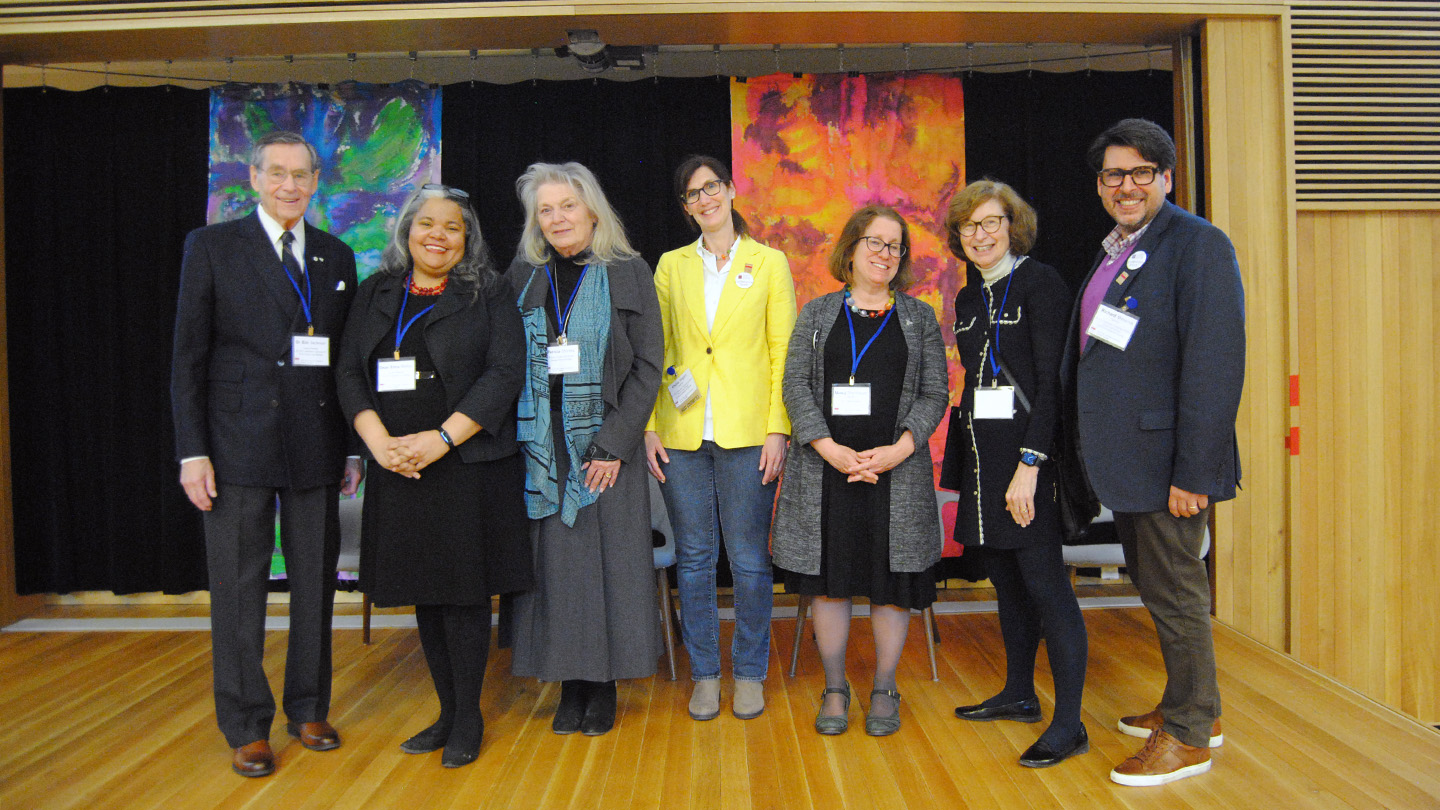 On April 26, at round tables and amidst fervent conversation, leadership from OISE, and the Dr. Eric Jackman Institute for Child Study (JICS) greeted global lab school leaders to the 2023 International Association of Laboratory Schools' (IALS) annual conference.
"On behalf of the OISE, and the entire University of Toronto, I would like to welcome all of you," said Professor Erica N. Walker, Dean of OISE. "I would also like to extend a very special warm welcome to all the representatives from international lab schools that are here for the IALS 2023 conference. Through the lively discussions and informative sessions that are sure to follow, we will undoubtedly learn from one another by exchanging valuable viewpoints."
For the first time, the JICS Lab School hosted the IALS summit in collaboration with George Brown College's School of Early Childhood and The Mabin School, an independent elementary school in Toronto. The summit brought together nationally and internationally renowned educators, pre-service educators, administrators, researchers, and faculty to discuss how they are intentionally designing and research cultures of learning. Lab Schools began in 1896 with the mission to explore what is possible when they educational philosopher John Dewey started the Lab School at the University of Chicago. This purpose was taken on in 1925 by the University of Toronto when it established the St. George's School of Child Study, now the Dr. Eric Jackman Institute of Child Study.
"Welcome everybody! That was 1925, which means two or three years from now we're going to have a 100th anniversary. And hopefully, you'll all come back from around the world. God bless you for coming," said Dr. Eric Jackman, whose 2010 gift to OISE became the largest donation in Canadian history for early development in childhood education.
The annual conference, which welcomed lab schools from eight countries, was in the works for JICS since 2019. The COVID-19 pandemic forced them to postpone the conference but JICS leadership is grateful to bring great minds together to talk about lab schools.
"What an honour it is for us to be a Canada's laboratory school from nursery to grade six, and to be joined by other Canadian laboratory schools, who specialize in the early years to continue this legacy of being schools that are exploring what is possible in order to improve other schools – in order to improve public schools education," said Richard Messina, JICS' principal.
Chriss Bogert, JICS' vice-principal, adds, "I see the conference as a celebration of the collective work that we do as Lab Schools, in service to public education. That public mission unites us across all parameters. And the IALS organization is the association that brings us together."
For Bogert, Lab schools are places where educators are exploring what's possible in education, "to deepen our understanding of how children learn best," she says, "and what they need to have their development fostered. I love going to the IALS conferences, we meet kindred professionals who speak our language, who understand the challenges and the joys of the work that we do in a way that no other educators really can."
This year's theme, "Designing Cultures of Learning: The Essential Purpose of Lab Schools," is a chance for lab schools to share how they are intentionally designing and researching how children learn best in the present-day context.
For JICS leadership, this is a IALS conference with "a Canadian twist," especially in terms of showing JICS' deep commitment to truth and reconciliation and environmental education.
"We're hoping that this conference will showcase some of the work that we're doing around diversity and inclusion," said Bogert, who sits on the IALS board. "We want to show and hear from others about the reconciliation work that we're all doing – not just reconciling with Indigenous peoples, but also with the natural world. And some of the more challenging things that are facing us now."
"Lab schools have a role to play in showing and leading the way in issues of  equity including gender. We've had huge growth in our school and look forward to sharing our new understanding with others."
"We feel a privilege to be able to showcase, in a humble way I hope, the work that we've done so far – the successes that we've experienced," adds Messina, who has served as principal since 2015, "with the hope that we're inspiring others. And we're hoping to be inspired as well."
Dr. Niigaanwewidam Sinclair, a professor & head of the University of Manitoba's department of Indigenous Studies, was a keynote speaker at the conference. Doug Anderson, an educator who helped co-write the latest edition of the Natural Curiosity teacher resource, was one of many educators who will be hosting sessions during this unique, dynamic international conference.
Sessions also included a focus on intentional approaches and priorities – including the design of caring, inclusive, and connected school communities that promote a celebration of identity and sense of belonging for all its members; incorporating Indigenous perspectives in building sustainable and reciprocal relationships with the natural world, or fostering inquiry and innovation through the design of idea-centred learning experiences.
This conference heard voices from around the world, highlighting how lab schools create, explore, and build learning cultures that continuously seek, apply, and share new knowledge about children's development and education.
"With any conference, and particularly with IALS, we want people to feel a sense of renewal and refreshment in their professional work, that they're coming away feeling really inspired to take some ideas back to their own settings, that they've made new connections with colleagues at schools all over, that they would like to continue," says Bogert. "There's just such a sense of family with our IALS colleagues. For us, the IALS conference is like a family reunion  -  an opportunity to reconnect with relatives from far away and an chance to meet new members of the family."
Ultimately, Lab Schools, and this IALS conference, is about outcomes, says Messina, and putting ideas at the centre so that Lab Schools can keep getting better and doing better for students. "We never want to be working in isolation and we believe deeply in idea diversity. So [the conference] is an opportunity to connect with others who have the privilege and responsibility to really explore what is possible, be innovative, and challenge the status quo by both utilizing and contributing to the research that informs best practice," he says.
"This is a way to ensure that, like any healthy ecosystem, we have access to idea diversity. We want to hear from other laboratory schools about the work that they're doing so that we can constantly be improving our approaches as well."