Imagining a new ethic of care: Graduate Bishop Owis reflects on their doctoral journey, scholarly focus
June 14, 2022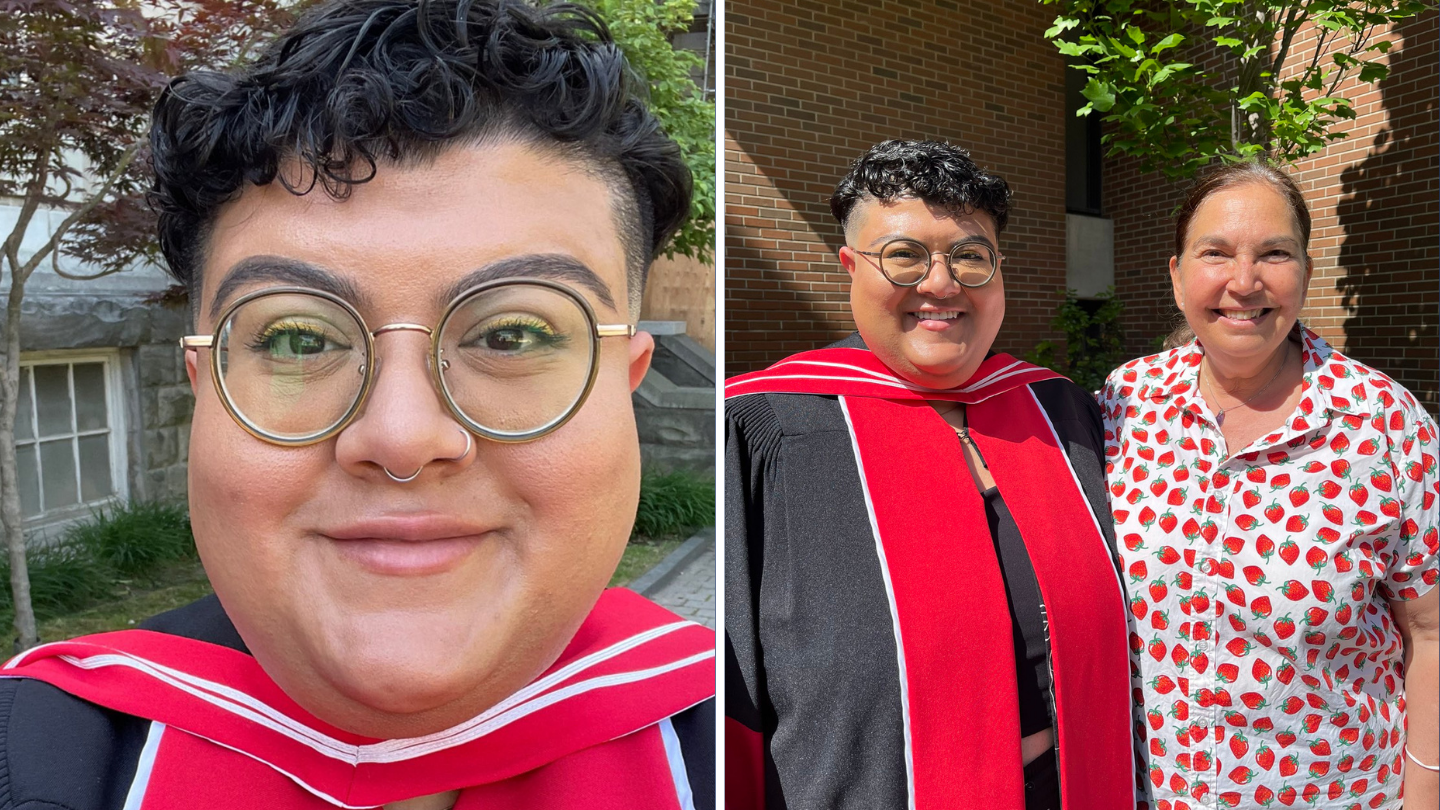 Dr. Bishop Owis is clear in their intentions.
"I wanted to centre stories and literature that support care and wellness for queer and trans people of color, for no other reasons besides the fact that they are deserving of it," they said.
The OISE graduate, who successfully defended their doctoral dissertation this past spring, emphasized that a focus on care – the kind of care that happens in queer and trans communities specifically, but also between racialized people – is paramount as teachers equip themselves to improve their educational practice. It is a dynamic that counters a system that has traditionally centred white, straight, cis, and Christian people.
"In queer, trans, and BIPOC racialized communities, there's a lot of hugging and touching and sharing of food and coming together – like you just care for each other differently," they said, drawing from lived experience and their doctoral research. "It's very community based and I noticed that, in schools, it's not like that.
"I was like, 'Well, how are queer trans youth of color and teachers of color supposed to thrive in these conditions, when it's really not made for them – like, there's no way they could succeed in terms of like being holistically cared for and loved." The lack of care comes from whiteness and colonialism, they said.
In Owis' dissertation, they delivered findings from three interviews with QTBIPOC educators in Ontario. Using those detailed interviews and art-based responses, teachers in Owis' study theorized about that queer ethic of care while offering their best practices to illustrate how Owis moves from theory to practice when working with QTBIPOC youth.
Their dissertation, but also their large body of work, wants to carve out new pathways that are different from the ones that exist – to create a place joy and justice for these teaching and learning communities. "So [it begins with] equity, meaning giving people what they need in order to function and thrive," they said. "It's a form of justice that is overdue, knowing that queer, trans, racialized communities are inherently deserving of care and returning to a place of queered care, means restoring something that was taken away from them."
A doctoral path for a Master of Teaching grad
Owis path to a PhD began in an interesting place.
While they were earning their teaching qualifications in the Junior-Intermediate division at OISE, Owis joined the research project LGBTQ Families Speak Out, led by Professor Tara Goldstein.
"When they first asked to join the team, I asked Bishop to send me their CV and quickly realized that their community experience with delivering intersectional sex education workshops at Planned Parenthood and the Sex Education Centre at the University of Toronto would be an asset to our team," says Goldstein, noting that the team was analysing what LGBTQ families in Ontario had to say about their experiences at school and turning their words into verbatim playscripts that could be read aloud and performed  .
"Bishop's skill with working with an intersectional lens was already quite sophisticated and they supported the team in developing and sharing an intersectional analysis of the families' experiences at school," they recalled.
As Goldstein finished up the LGBTQ Families Speak Out Project and moved into her current arts-based archival research project about queer and trans activism, Owis brought another important set of ideas to the project.
"Bishop noted that while practices of activism have not usually been associated with the idea of care, queer and trans communities' practices of activism have often featured practices of care, and have often depended on webs of care between other queer and trans people," she said.   "These care webs – which provide people with a way to find care without shame or judgement – are a response to the realities of gendered, raced and classed dynamics that are embedded within our communities."
For Goldstein, Bishop's connection of activism to care provided the project with a key focus: the team would work to uncover historical moments of queer and trans activism that are rooted in an ethic of community care. "In doing so, the team could work to demonstrate the importance and power of care in creating moments of resistance and mobilization throughout LGBTQ history," she said.
Owis eventually helped co-author a chapter in Dr. Goldstein's latest book Teaching Sexuality and Gender at School: Letters to Teachers – exploring ethical principles and practices when working with LGBTQ families.
"That got me thinking about ethics, and how we take care of one another, as queer and trans people, but also as racialized people," said Owis.
Lessons for others, lessons for one

'

s self
The COVID-19 pandemic had stopped their other doctoral research, so Owis pivoted to focus on the ethics of care – arguably writing the first iteration of these within the educational discipline.
"Uncovering and sharing these practices with other educators is important because these practices – often disruptive and transgressive – create important spaces for mutual healing for queer and trans racialized students," said Goldstein, currently the vice principal of New College.
It is a pivot that has transformed Owis scholarly practice, and was a factor in their own self-growth.
"I had a lot of a lot of breakdowns writing the dissertation," they said, "because it was pushing me to really think, reflect about who I am, as a researcher as a teacher, but also as a friend, partner, a colleague, and what I want to centre in my work moving forward and how I can not only write about it, but continue to practice it pedagogically everyday."