JICS Lab School cinema fundraisers garner tens of thousands in gifts
March 7, 2023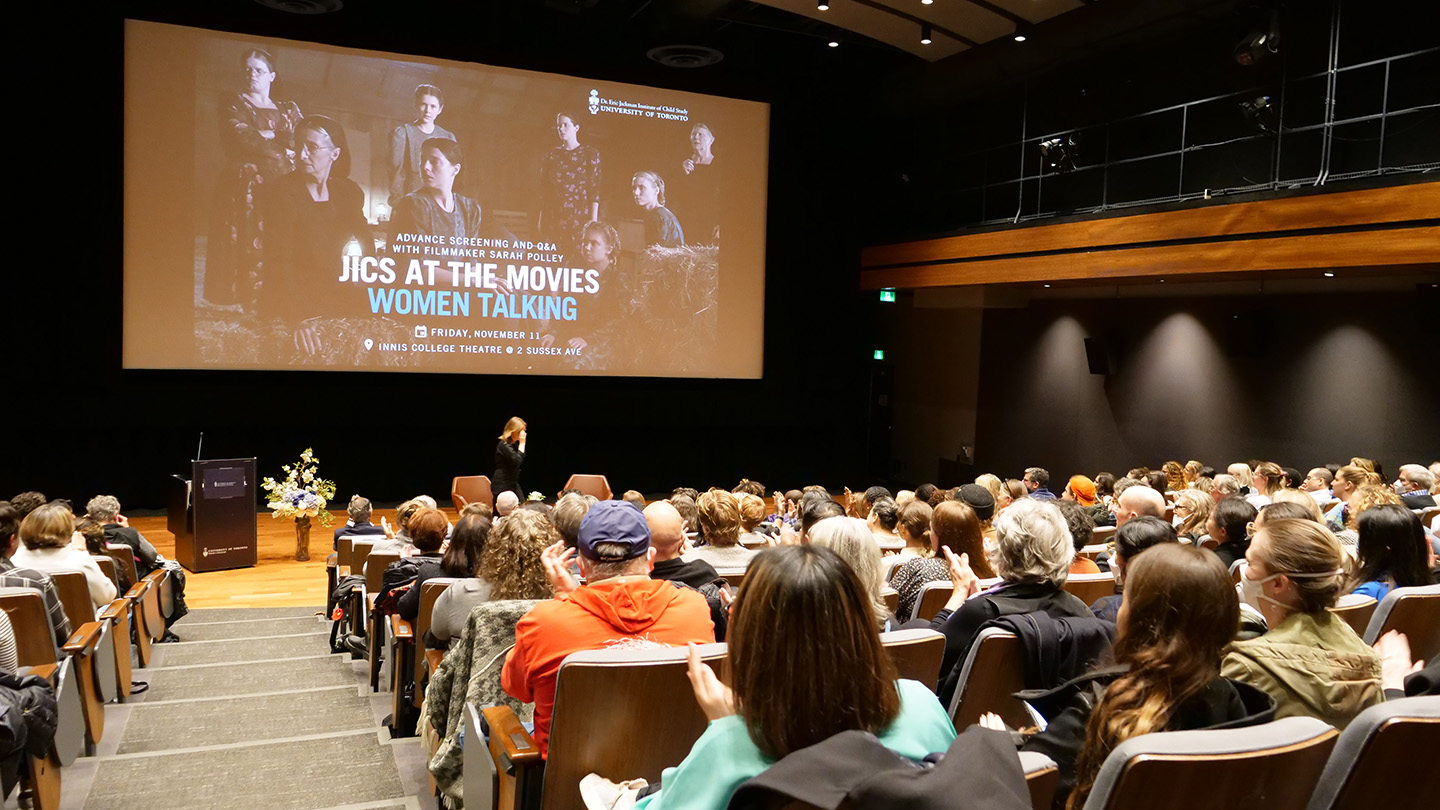 Two fundraisers organized by the Dr. Eric Jackman Institute of Child Study Lab School have made enormous strides in funding economic diversity and access to the school.
JICS at the Movies, and the subsequent Diana Rankin Muncaster Tuition Support Fund Matching Campaign, raised more than $120,000 that will go towards supporting economic diversity at the JICS Lab School, continuing its standing as a leader in the field of child development and education. Access, diversity and excellence are principles championed by the Dr. Eric Jackman Institute for Child Study Lab School and Dr. Eric Jackman – its lead benefactor.
The JICS at the Movies screenings, which drew impressive audiences at two screenings at Innis Town Hall, featured Q&As with special guests – director Sarah Polley to discuss her Women Talking film on Nov. 11, and producer Damon D'Oliveira, author David Chariandy and actor Lamar Johnson on Nov. 20.
The screenings also created an opportunity for a subsequent matching campaign. In turn, select donors from the community – including the Duchesne Coll-Black Family, Paola Salardi and Wilson Prichard, Andrea and Adam Russell, Susan Weedon and The Thor E. and Nicole Eaton Foundation – made generous contributions to support the Diana Rankin Tuition Support Fund.
"The support garnered from our screenings, and the overwhelming response from the matching campaign, helps our lab school be the most diverse (including economic diversity) independent elementary school in the city," said Richard Messina, principal of the JICS Lab School. "We are so grateful and are empowered to fulfill our public purpose because our community is made of individuals who share widely divergent life stories."
"On behalf of the JICS Lab School, from the bottom of my heart, I thank everyone for giving so generously."
The screenings and campaign were boosted by hearty amplification via social media, hearty word of mouth, and through OISE's own preview of the film Brother on Nov. 20.
 
---
However, the JICS Lab School still has a ways to go to reach their goal of $150,000 and are continuing their request for donations and support.
"The JICS Lab School relies on the support of our major donors and the generosity of supporters to offer tuition aid. Every donation, no matter the size, makes a real difference," says Sim Kapoor, director of OISE's Office of Advancement, Communications, and External Relations. "As the of Advancement, Communications, and External Relations works to better equip the school and its students, we hope you still find it in you to give."
JICS and OISE leadership also extend a heartfelt congratulations to Sarah Polley for her many Oscar and Golden Globe nominations – including the Academy Award nomination for Best Picture for her film Women Talking. They would also like to congratulate Damon D'Oliveira, who joined us for an advance screening of his incredible film Brother, on winning the Established Producer Award at the Indie Screen Awards and wish him a glowing reception with the theatre release of Brother on March 17th.
"It was an honour to have Sarah join us that evening and we are so proud to hear of her successes with Women Talking," said Messina, of Polley.
"Brother moved me to tears, and the post-film Q&A was insightful and thought-provoking," added Kapoor. "We are so grateful that Damon, David and Lamar joined us on Nov. 20 – it was an unforgettable event."
---
To us, learning in a community with representation from various aspects of diversity including race or ethnicity, socioeconomic situations, religion, gender, national origin, family composition, sexual orientation, physical/health or psychological difference, and political affiliation , is an invaluable aspect of a true education. Thank you for supporting the important work of the JICS Lab School.
We hope you will consider joining those who have donated by making a gift today. We know that together, we can reach our $150,000 goal!
If you would like to learn more about emerging historical naming opportunities at the JICS Lab School such as the Book Nook & Clubs Space, State of the Art Playground or the Outdoor Learning Courtyard. Please reach out to our Senior Development Officer Reesa Barkhouse at reesa.barkhouse@utoronto.ca.