OISE alum coach Darren Lowe talks teaching, coaching and leading the Varsity Blues hockey bench
February 13, 2023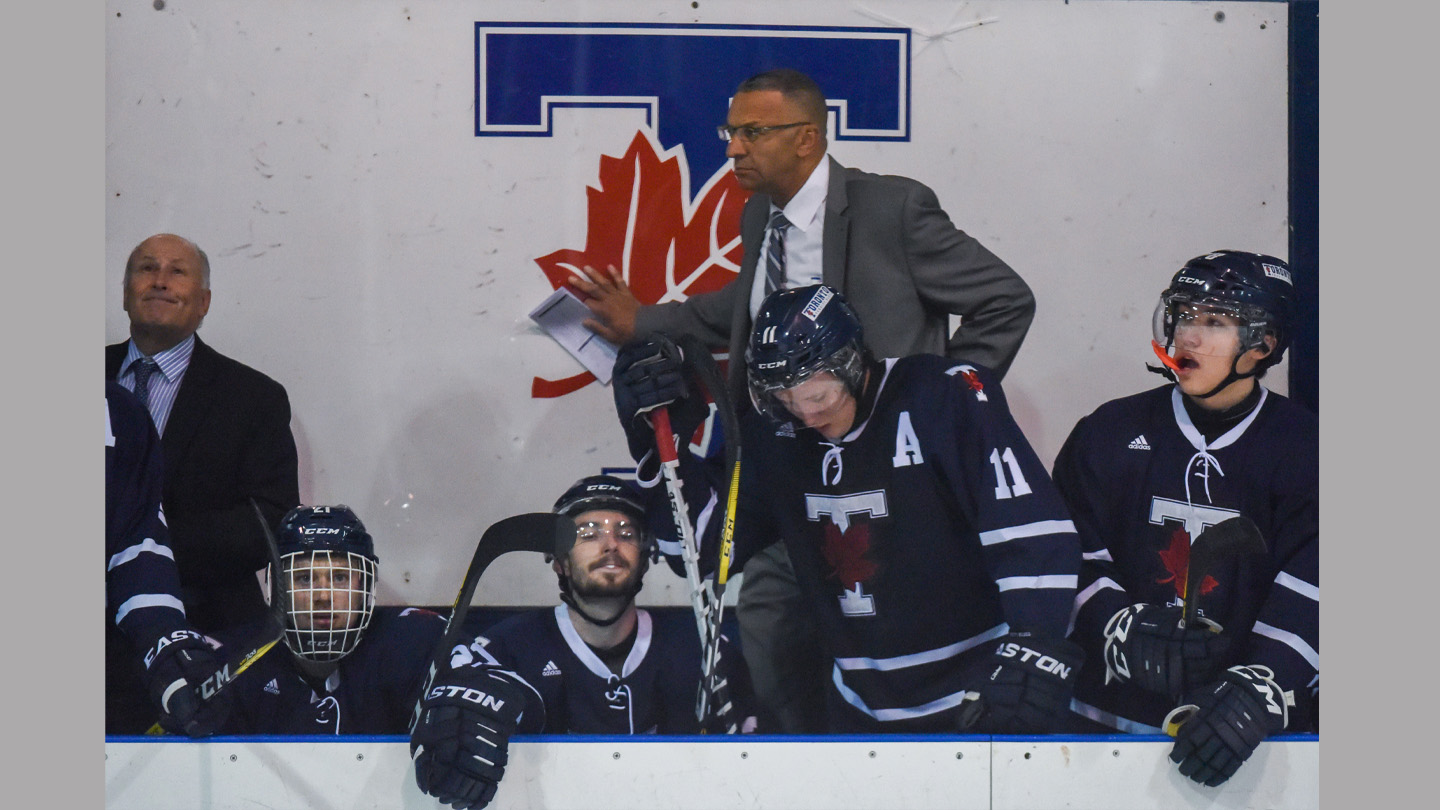 Before Darren Lowe became the only Black person to coach the Varsity Blues' men's hockey program – and become the winningest coach in that program – he was an OISE teacher candidate trying to juggle a life in pro hockey.
Lowe, who stepped down as Varsity Blues men's head coach in 2017 after 22 years at the helm, reminisced about his time at OISE – where he earned his Bachelor of Education in 1986. The first week on his practicum was a particularly crystal-clear experience, as he was juggling his in-class stint with a hockey life.
"I went to a school, but I was supposed to be there to watch the teacher teach, like you have sort of a free day or two where you watch your mentor-teacher and then you take over and they tell you what you're going to teach for the two weeks that you're there," recalled Lowe. "Because of hockey – I was playing for U of T at the time when I had to play – I missed one or maybe two of the three days. And then I came in, and my mentor told me, 'You're gonna have to start teaching on Monday, regardless of how much stuff you have.'"
As confident as he is, and he did get all the information on what he was supposed to teach, walking into that first classroom, a Grade 10 history class, he says, was pretty uncomfortable for a couple of minutes, "the students just staring at him," he says.
"And so I just started teaching," he says, reflecting on his in-class first teaching experience. "The teacher got tied up somewhere and he came in and saw that I was teaching, sat at the back of the class and waited until the class was over.
"And he said to me, 'I have never had anyone just start teaching before,' because I've always kind of waited for an introduction, or they were really nervous or something. 'And you just were teaching and I thought it was going well. So I just sat at the back.'"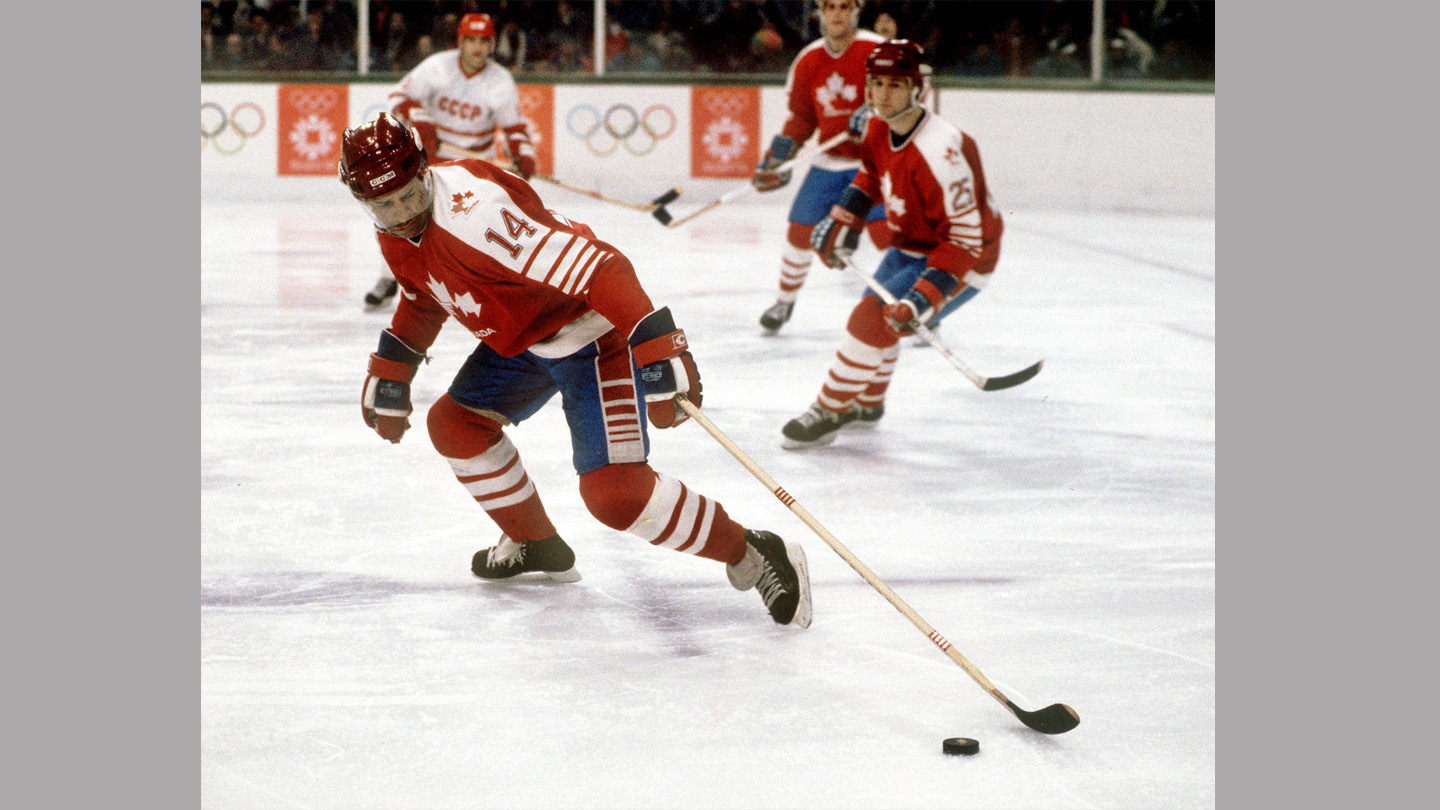 He felt at home, and it transformed into a productive practicum. Around the same time, hockey was still very much in his life. Lowe had just become the first Black player to sign for the NHL's Pittsburgh Penguins as a free agent in 1983. He would go on to play eight games and score one goal for them during the 1983–84 NHL season. This stretch had shortly followed an upstart appearance at the 1984 Winter Olympics in Sarajevo. There, he was the first Black Canadian to play hockey at the Olympics.
But, with all these accolades, Lowe has always wanted to be seen as a hockey player and coach, and not as a Black player or Black coach – someone to be judged on their merits and how they can add to a hockey team. He certainly reflects on it more now that his time behind the bench is about done, but he's proud of what he accomplished, nonetheless. "It is something that I was fortunate enough to do, and people gave me the opportunity. I enjoyed it," says Lowe.
His hockey life was certainly accomplished. He played professionally in Europe and around the U.S. before retiring in 1991. Naturally, he felt drawn to coaching, feeling it necessary to integrate much of his lessons from the ice but also his teachings from his time at OISE.
"I taught for a short, short period of time [then], but I think everything you do in life is helping you in the next thing that you do in your life, he says. "I've been asked the question a million times, like, 'How did you train to be an Olympic hockey player? I would say, 'Well, basically, I trained my whole life to be in the Olympics just didn't know it.
"I think that OISE was just another steppingstone to the next thing in my life. And it was a great experience, I think the practical component of it was the most important – being able to go out and try your hand at teaching."
Meanwhile, he returned to the Blues as an assistant coach in the 1992-1993 season – that season, the Blues won the Ontario championship and were national finalists. He became head coach during the 1995–96 season, holding court at the old Varsity Arena on St. George campus until 2017.
With the Blues, Lowe was honoured as the Ontario University Association's (OUA) Coach of the Year three times, led the Blues to four consecutive first-place division finishes and a 263-254-30 record – including the most wins by a Blues men's hockey coach.
His coaching success caught the attention outside of the university. In 1998, Lowe was a guest coach with the Toronto Maple Leafs, and spent time in the summer of 2001 working with Leaf prospects. In the 1999–2000 season, Lowe was a guest coach with Canada's national hockey team – the team that first put him on the map.
It's a lifetime in hockey, one enriched with many opportunities to tell his story. And, since leaving the bench in 2017, Lowe still gives instruction to students and prospective coaches – lecturing at the university's Faculty of Kinesiology and Physical Education. In this role, he hopes to foster a generation of coaches that will be better than he ever was, he says.
"I think I've learned a lot about myself, now that I teach coaching courses. I've learned about all the mistakes that I've made as a coach and try to pass on better information to people that are getting into coaching and leadership," he says. "The other thing I always say to them is, I hope to make you a better coach than I ever was – those are sort of the messages that I pass on. And then they can take what I've provided them and run with it.
"I've only been full time teaching for probably about four years. And so I haven't had somebody come back yet, who's a really successful coach and say, 'Hey, thanks for doing that course.' But, I think it'll happen at some point."