OISE/Humber College conference brings 175 global participants together to explore possibilities, trends in higher education
June 27, 2019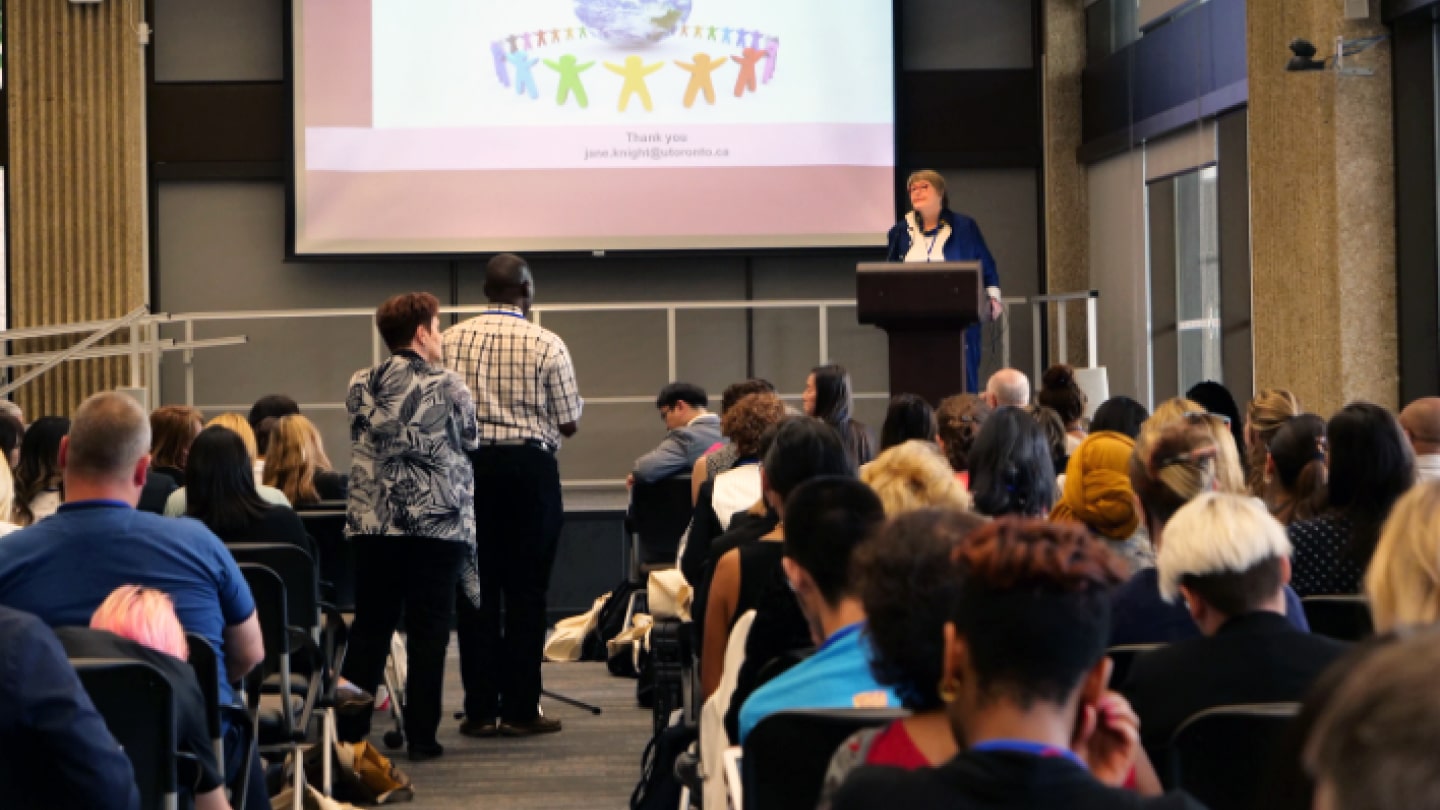 On June 24 and 25, OISE and co-host Humber College welcomed over 175 practitioners, policy-makers and students from across Canada and over 20 countries in Africa, Asia and Europe to participate in the 2019 Shaping Sustainable Futures for Internationalization in Higher Education (SSFIHE) conference and explore trends, issues and possibilities in the field.
"The conference provided an extraordinary opportunity to critically analyze many of the current issues and opportunities associated with internationalization," said Dean Glen Jones, who facilitated his own session on international education in Canada and its policy implications. "SSFIHE provided a space for uniquely engaging and insightful discussions of a very important and challenging issue in higher education," he added.
With the aim of creating a new professional development opportunity for OISE's global community, the conference focused on quality, reciprocity and inclusivity in relation to shaping sustainable futures for internationalization in higher education across local and global universities, colleges, government bodies, policy organizations and the private sector.
During 35 sessions in the Institute's many classrooms and main floor library, speakers and facilitators fostered conversations that emphasized the integrity of the roles practitioners, policy-makers and students play in the internationalization of higher education.
Sustainable futures in higher education
Early in the conference, Dean Jones asked the audience, "What are we sustaining, why and for whose benefit?" He alluded to the role of higher education in engaging with sustainable development, the notion of quality education for all, and equity as a central goal. He also gave three points for continual reflection:
How can we manage increasing international students and immigration policy?
In what ways should we consider internationalization and sustainable relationships with the environment?
What are our roles and responsibilities in internationalization and Indigenization?
Global lens to bring new collaborations
Sessions included "Global Classroom Technologies for Fostering Inclusion and Sustainable Access to International Education," "Exploring the Colonial Entanglements of Internationalization," and the "Role of English Language in Internationalization," which gave participants the opportunity to workshop new ideas in groups.
Their dicussions would later be developed into resources for global research, policy and practice.
"We wanted to ensure that the conversations and collaborations do not end with the drawing to a close of the conference," explained Emma Sabzalieva, a PhD candidate at OISE and one of the conference organizers. "We're in discussion, for example, with two journals to publish special issues of some of the papers, and have invited participants to share with us their ideas for keeping the momentum going."
"Additional resources may include policy briefs, new ideas for practice, novel analytical frameworks, as well as building future networks, knowledges and collaborations." 
Emerging trends and possibilities
At the closing panel on emerging trends and possible futures for internationalization, Associate Dean Michele Peterson-Badali commented on the wealth of ideas that were shared throughout the conference. "With them, we can build for the future of this field," she said during the session featuring Kumari Beck, associate professor at Simon Fraser University's Faculty of Education; Jane Knight, adjunct faculty with OISE's Comparative, International and Development Education Centre (CIDEC); and Karen Dalkie, vice president of development and partnerships at the Canadian Bureau for International Education.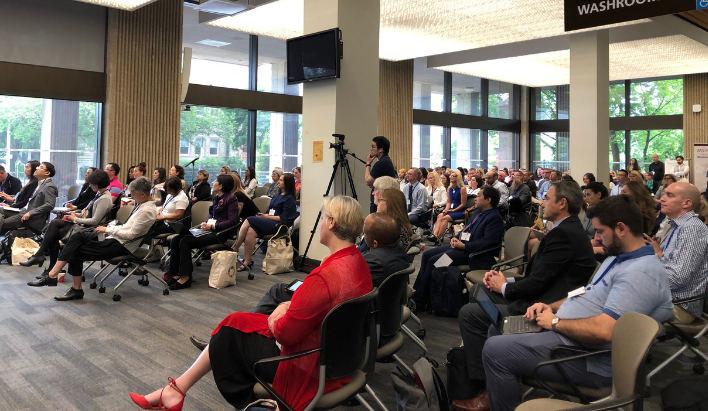 The closing panel provided an overview of some of the most pressing topics and issues in higher education today, including Canada's place in global education, trends in international student recruitment, geo-political realities, and the need for outbound student mobility in Canada.
"For geo-political and trade realities to improve, our students need to have open minds and global competencies, including intercultural understanding and skills to support this," said Knight in her call to action to students and higher education leaders. "And it must come as a coordinated action across sectors," she added, highlighting the need for continued collaboration across institutions.
Planning a dynamic and inclusive learning experience
The conference was organized by a team of five PhD students—with support from OISE's departments, Humber College and sponsors—who approached the conference with a clear vision and goal in mind.
"From the very beginning, we wanted to have the best possible diversity of opinions, arguments, and practices by gathering professionals, academics, students, policy makers, consultants working in the area of internationalization in the one inclusive space," said co-organizer Nadiia Kachynska, a PhD candidate and research assistant at OISE's Centre for the Study of Canadian and International Higher Education (CIHE).
"We strongly believe that our conference has built a solid foundation to the future growth of new ideas and collaborative projects and has connected diverse people around so much important issues of higher education internationalization as inclusivity, quality and reciprocity," she said.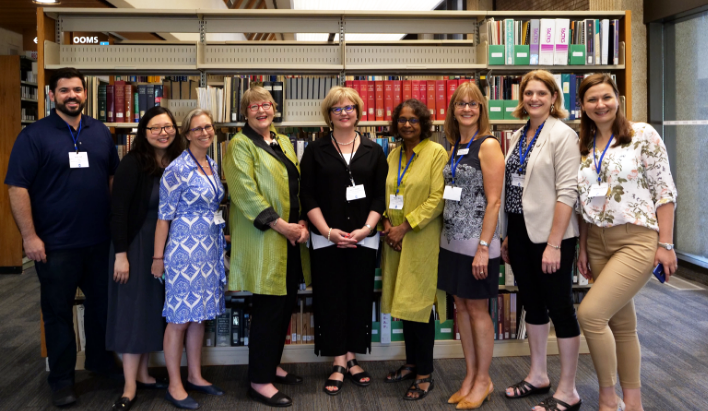 Conference organizers and closing panel speakers from left to right: Scott Clerk, Clara Kim, Diane Simpson, Jane Knight, Karen Dalkie, Kumari Beck, Michele Peterson-Badali, Emma Sabzalieva and Nadiia Kachynska
From the onset, the organizers wanted the conference to standout in its ability to generate meaningful discussion, said Sabzalieva. "We called for proposals that seriously engaged in a wide range of ways of sharing knowledge, from talking circles to workshops. We also set the conference up in such a way as to make it feel welcoming and inclusive for people with quite different backgrounds and experience. We were delighted that people responded really positively to these two aims."  
To help create an accessible and inclusive space, especially since travel to Canada was not possible for everyone, the organizers accommodated a number of presentations and workshops by video technology.
"During one session, we had presentations on internationalization and research in China, Kazakhstan and across a range of African countries delivered by presenters in the room and in Kenya, while next door a workshop on interculturality and internationalization was being facilitated by one person with us in Toronto and one joining remotely from Brazil," said Sabzalieva.
"After all, the conference is about shaping sustainable futures for higher education internationalization, and we hope that we can contribute to that future by creating networks, knowledge and ideas."
---
Thank you to SSFIHE organizers, Clara Kim, Diane Simpson, Emma Sabzalieva, Nadiia Kachynska and Scott Clerk for their hard work in creating a rich and thought-provoking experience for this year's participants.
Follow #SSFIHE2019 for more conference highlights.