'Selfless service': Meet our 2021 Arbor Award winners
December 9, 2021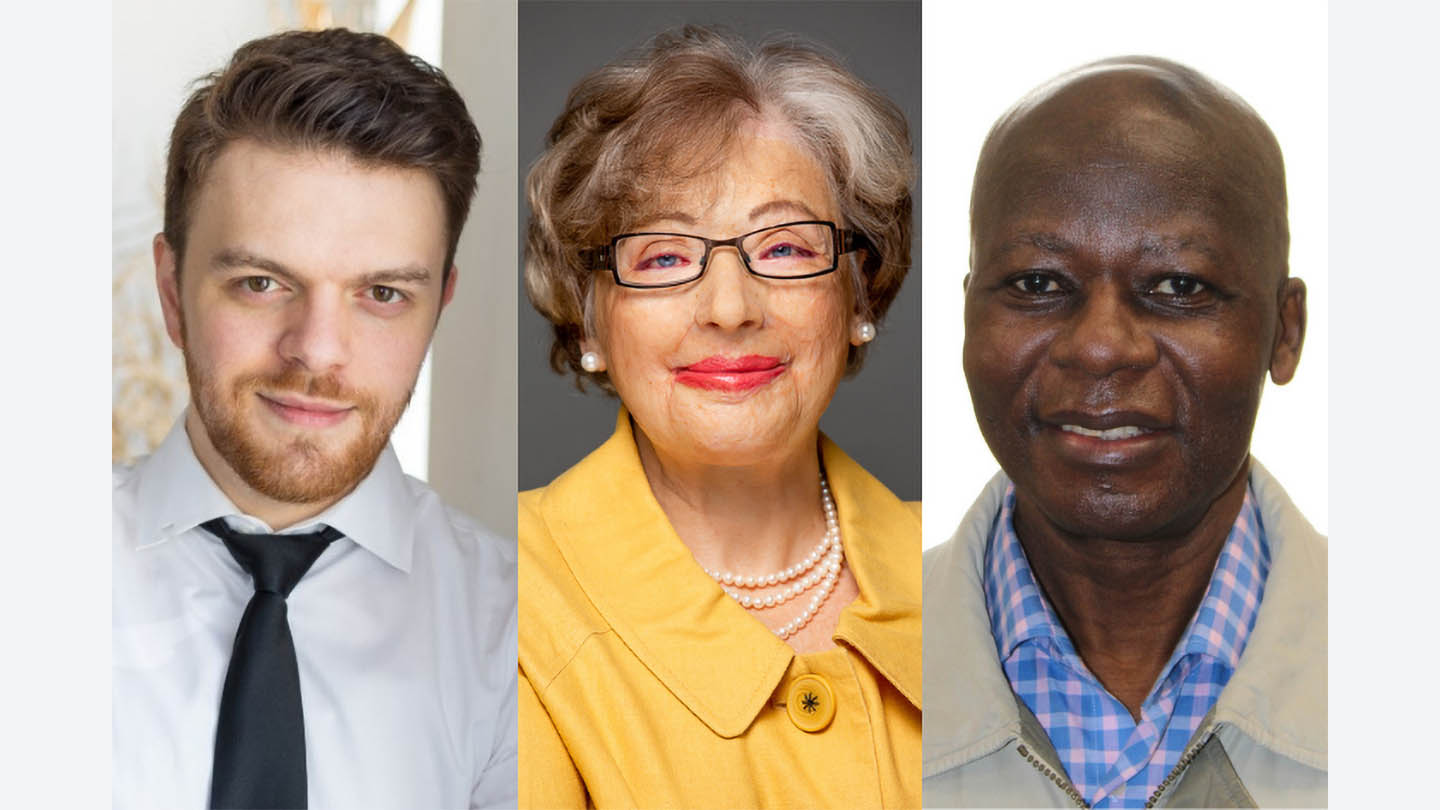 Volunteerism is the backbone of OISE's ongoing efforts to connect with its global community of students, staff, faculty, alumni, and friends. As such, three of OISE's community members – Dana Sheikh, Matthew Stodolak and Joel Mukwedeya – have been recognized for their volunteer service with the University of Toronto's Arbor Award.
The Arbor Award is the University's highest honour recognizing volunteer excellence given for sustained contributions to specific academic units or broader contributions to the University at large.
"Volunteers have been crucial in connecting members of our community together during this difficult pandemic," said Professor Normand Labrie, Interim Dean of OISE. "Their selfless work undergirds our Institute's mission to support students as they solve the world's challenges and we are grateful for the service they provide."
"On behalf of the OISE community, I would like to congratulate our winners of this year's Arbor Award – Dana Sheikh, Matthew Stodolak and Joel Mukwedeya. Thank you for your time and effort."
Sheikh, Stodolak and Mukwedeya, each a current or former member of the OISE Alumni Association, have been crucial to the organization's effectiveness during the pandemic, says Sim Kapoor, director of OISE's Office of Advancement, Communications and External Relations.
"Their selfless service has seen the OISE Alumni Association continue to deliver key programming and services to our robust global community," says Kapoor. "We are extremely grateful to be working with some incredible people to grow participation in many of our mentorship and volunteer programs."
"I send my heartfelt congratulations to Dana, Joel and Matt for being bestowed an Arbor Award. It is quite the honour."
To learn more about our winners, OISE News spoke with each of them, asking three questions:
What does it mean to be named a winner of an Arbor Award?
How has volunteering changed how you approach your personal and professional lives?
Share one piece of advice about volunteering.
This is what they have shared with us.
---
Joel Mukwedeya
A former member of the OISE Alumni Association, Joel regularly contributes his time to support the success of OISE events—including three Convocations and OISE Reunion. He served on the 2019 Leaders and Legends Awards Committee and promoted the alumni association's OISE Stay At Home Club web series to help connect the community during the pandemic.
What does it mean to be named a winner of an Arbor Award?
I am thrilled and, at the same time, humbled to be awarded this prestigious Arbor Award! I love volunteering and giving back to the community. I feel deeply honoured, and I'm very grateful for the recognition. So often in life, one's efforts may or may not be appreciated, but today it is a formal recognition for my commitment to the University of Toronto. It is also heart-warming to work with other people and observe others as they achieve success through something I have done. It's a great feeling to be part of a caring community as I realize that I'm not the only one who has had a wonderful experience at the University and wants to give back. This public recognition will forever stay close to my heart because I can never repay the support I also get here, but I can and will always pay it forward.
How has volunteering changed how you approach your personal and professional lives?
Volunteering helps me connect with the larger OISE community in real-time while building valuable relationships by creating social networks, weaving braids of trust, teamwork, and practicing profound respect for diversity, equity, and inclusion.
Share one piece of advice about volunteering.
One can never go wrong with volunteering to help others, because in the end, what goes around comes around.
---
Matthew Stodolak
Matt Stodolak is the current president of the OISE Alumni Association and has created a collegial atmosphere since joining the association in 2018. He is also a valued member of the College of Electors. Matt has led various successful virtual initiatives for alumni and has brokered three OISE alumni workshops with the University's Ten Thousand Coffees career networking platform.
What does it mean to be named a winner of an Arbor Award?
Being acknowledged by this community and presented with this prestigious award is one of the great honours of my life thus far. The best part of my job as President of the OISEAA is the conversations with our members, regardless of whether they are seasoned leaders or emerging ones. If being the steward of this group is considered an act of service worth acknowledgement, then I am honoured to join the ranks of past Arbor Award winners. 
How has volunteering changed how you approach your personal and professional lives?
When it comes to volunteering, my advice is to always adopt a mindset of "service before self." When I truly began giving more of my time to volunteering, it was incredibly surprising to me how this shift in thinking opened new doors in my career that I never would have thought possible. Beyond that, the challenges and personal growth that volunteering gave me have made me the person I am today. Here's an example: one of our alumni, Nadia Bedok, is the Academic Program Manager at Seneca College in the School of Marketing & Media. We met through the OISEAA and she encouraged me to apply for a professor position at Seneca College. I am currently a proud faculty member in the School of Marketing & Media. The opportunity would not have been possible for me without our alumni community.
Share one piece of advice about volunteering.
In my experience, what I have given has always been given back to me tenfold.  Now, there are limits on how much time you have so here is my general advice to begin your journey as a volunteer. The most important thing you can do: pick something that you are very passionate about and try to contribute the most there. Your volunteering work should leave you energized and inspired. For me, it was learning more about governance and how to bring together people from diverse backgrounds and experiences to do great work. This began my journey as the Vice-President, External and eventually the President of the OISEAA. 
---
Bogdana (Dana) Maria Sheikh
A double graduate from OISE (a Master of Arts in 1982, and a PhD in 1987), Dana has been an OISE Alumni Association member since 2018. In this role, she sits in on all of the association's regular meetings and has become a dedicated mentor to many OISE graduate students. She is also a generous donor to OISE initiatives.
What does it mean to be named a winner of an Arbor Award?
The award gives me a sense of humility and reminds me of the importance of passing on the torch of volunteerism, especially in these difficult times. It also reinforces how grateful I am to be part of a community where we choose to make humanity a core value. Along with heartfelt pleasure and surprise, I am grateful to have joined a community of individuals – past, present and future – who share a real passion and serious dedication to the purposes, vision, and aspirations of the University of Toronto.
How has volunteering changed how you approach your personal and professional lives?
I am more conscious of the human, person-to-person element; you really do touch the lives of others, and that makes me humble and more aware of the responsibility I – and we all – can choose to have towards others. In my home, we grew up to understand that the more you receive in life, the more you are expected to give back. As a mother, and as someone who has experienced very personal tragedies in life, I try to pass this on to the next generation.
I strive to give the best of myself; to help others and to understand them, and for us to open our eyes to different points of view, other horizons with the hope that good comes out of our exchanges.
I am increasingly aware of how short life is and how difficult and sad these times are for many. I, therefore, try harder to help, especially the most vulnerable and needy individuals, in an unassuming and discreet manner.
When I am with students, I aim to get them to recognize the University of Toronto as more than simply a place to obtain a degree and move on from there. A university is a community of learners and scholars with a distinguished heritage to bring together traditions and visions to pave a way forward that can be honourable and kind – growing like a tree through the ages; "Velut arbor aevo".
Share one piece of advice about volunteering.
There are plenty of volunteer opportunities. Know yourself, be true to yourself. Research carefully and honestly. Find your niche and passion, then go for it wholeheartedly. Expect no rewards. They will come in the most unexpected ways.