OISE Graduate Students Host 2nd Annual Nina Bascia Symposium: Navigating Educational Policy Landscapes: Challenges, Innovations & Perspectives
November 10, 2023
On November 4, a thrilling academic spectacle unfolded at OISE as the 2nd Annual Nina Bascia Education Policy Symposium (NBEPS) came to life, meticulously curated by the passionate Student Association of the Department of Leadership, Higher & Adult Education (LHAE DSA) and led by the dynamic Academic Affairs team. This electrifying event brought together 60 eager minds – students and faculty alike – igniting an atmosphere pulsating with academic excellence and boundless collaboration. The symposium's theme, "Navigating Educational Policy Landscapes: Challenges, Innovations, and Perspectives," perfectly captured the dynamic and ever-evolving educational frontier, offering a vibrant platform for students to connect on personal and academic levels, fostering a community where exceptional research shone brilliantly.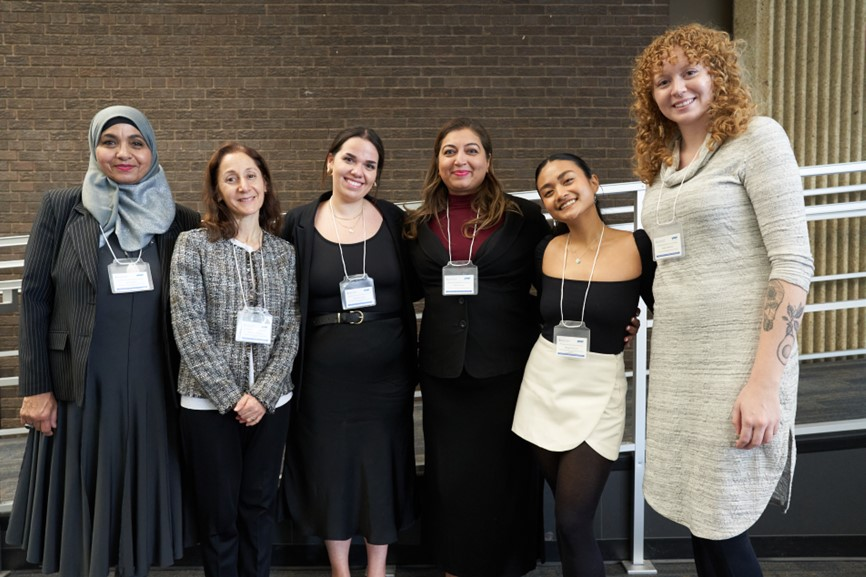 2023 NBEPS organizing committee team (left to right): Samia Mursi, Mahassen Ramadan, Samantha Clarizio, Shelly Khushal, Margaret de Leon and Steph Chartrand. All photos courtesy Hongge Zhen
The NBEPS received unwavering support from the Dean's Office and other OISE faculty and staff members. The symposium was graced by a stellar lineup of distinguished speakers, adding a touch of prestige to the event. It included OISE Dean Erica N. Walker, Associate Vice President of Research Barbara Fallon, Associate Dean of Programs Joseph Flessa, and Guest of Honor, Dr. Nina Bascia, the event's namesake, joined in person all the way from her Boston residence in the USA, making the event a truly remarkable and memorable experience.
Highlighting Research Excellence
OISE students seized the opportunity to present their research to their peers and faculty, engaging in stimulating discussions about their future research plans. The students showcased their research through visual presentations in the form of research papers, conceptual papers, theoretical work, and case studies in poster format. In total, eleven research projects were presented, each addressing critical issues in education:
Margaret de Leon: "The impact of student employment on first-year student persistence in higher education."
Shreeja Mukherjee: "Does Higher Education provide higher rates of return on Human Capital?"
Elwin Varughese: "Understanding the impact of Indigenous teacher education programs and Educators Working at On-Reserve Schools in Ontario, Canada?"
Maria Mahmoudian: "Identity Navigation in Early Development: An Investigation into Children's Pronoun Choices."
Ifhtia Haque: "Implementing Mandatory Service-Learning Course in Post-Secondary Programs in Ontario."
Amanda Paul: "Resiliency in e-learning for Adults."
Sara Zoghbi: "Adult Education for Immigration and Intercultural Relations."
Victoria Parlatore: "Students' Perceptions on How Teachers and Peers Treat Special Educational Needs Students in General Education Classrooms."
Vennese Croasdaile: "Missed Information: Young Black Male Street Vendors."
Dareen Fatimah: "Racialized Women Educational Leaders."; and
Alice Romo: "Effects of Police in Schools on Exclusionary School Discipline."
Faculty Highlights
The symposium showcased four distinguished speakers who offered invaluable insights; Dean Erica Walker commended students as graduate leadership and research role models; Associate Dean Joseph Flessa delved into educational policy complexities, urging a multi-perspective approach; Associate Vice President of Research Barbara Fallon emphasized the significance of University of Toronto's training and experiences; and Dr. Nina Bascia challenged attendees to embrace empathy in research and grasp the intricacies of policy work.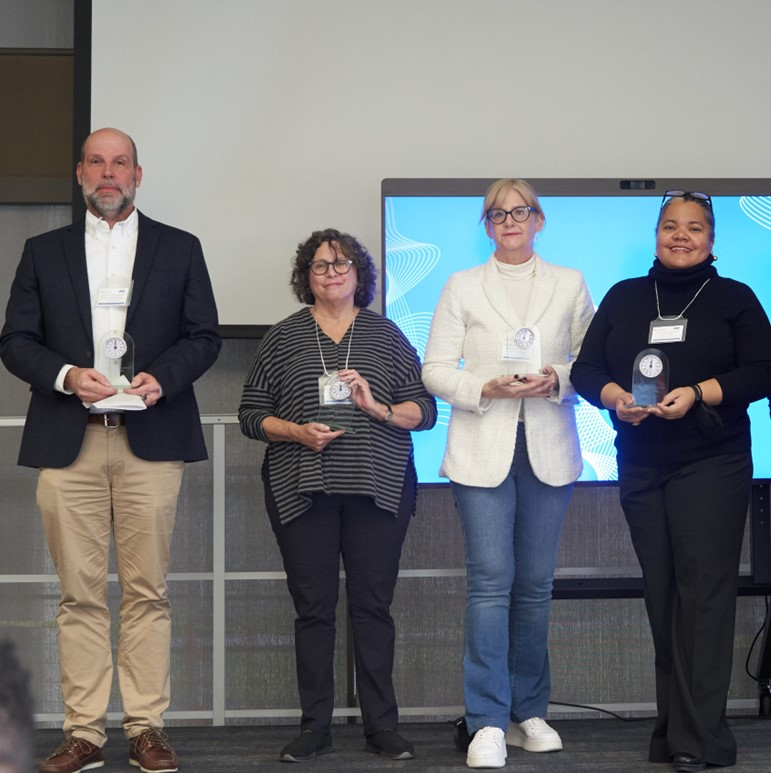 Left to right: Associate Dean, Programs, Joseph Flessa, Professor and Former Chair, Nina Bascia, Associate Vice-President, Barbara Fallon, OISE Dean, Erica Walker accepts a token of appreciation.
Sharing Circle
In a closing sharing circle, students shared their experiences and gratitude for the safe and comfortable environment provided by the organizing team. The event left attendees inspired and reassured about their research journeys. Key themes that emerged from the discussions included the importance of empathy in research, interdisciplinary approaches, understanding one's positionality, and gratitude for inclusive spaces and platforms like this event.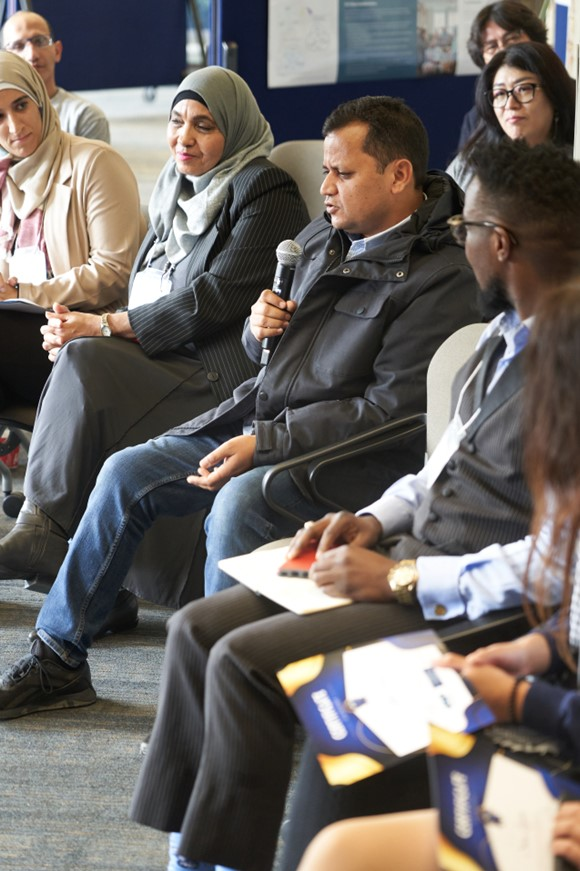 Students engaging in deeper learning and reflection.
Acknowledgment and Appreciation
The success of the symposium hinged on the dedicated efforts of the 2023 NBEPS Organizing Committee, led by Shelly Khushal, Vice President (Academic Affairs) of LHAE-DSA, and supported by an exceptional team including Steph Chartrand, Vice President (Internal) of LHAE-DSA, and Academic Associates Samantha Clarizio, Margaret de Leon, Samia Mursi, and Mahassen Ramadan. Special recognition is also extended to the LHAE DSA Executives, with Henry Ssali as President, Alice Romo as Vice President (Finance), and Jasmine Biloki as Vice President (Communications) for their support throughout the planning process. The unwavering support from the OISE Library Team, Caretaking, Education Commons, OISE Building Security, and the Dean's Office played an instrumental role in making this event a triumph. Furthermore, the organizing team expressed their heartfelt appreciation to the Department of Leadership, Higher & Adult Education, particularly Chair Creso Sá, and Recruitment Officer and Communications Specialist, Gary Cronin, for their incredible support of this remarkable initiative.
The Power of Open Communication
Asked how she felt about the event, Shelly Khushal, Project Lead for the Symposium expressed that, she was most humbled by the dedication and passion of the team, who worked tirelessly and meticulously on every detail to make this year's Symposium a success. Her sentiments underscore the power of collaboration and community, where open communication and the exchange of ideas were the cornerstones of the event's triumph. She further praised the LHAE DSA Executive for their unwavering commitment in bringing this remarkable symposium to life. The 2nd Annual Nina Bascia Education Policy Symposium was not just an academic gathering; it was a symphony of dedication and a celebration of the boundless possibilities that can be achieved when minds unite for a common cause.
Student Poster Presentation Photo Gallery
 Eleven research projects were presented at the November poster conference.
---
Aakriti Mahajan is a second-year M.Ed. student at OISE in the Department of Curriculum, Teaching and Learning (CTL). She is passionate about critical thinking and digital innovation in education. If you're interested in collaborating or learning more about her work, please feel free to contact her at aakriti.mahajan@mail.utoronto.ca.