Dr. Beyhan Farhadi Joins the LHAE Faculty
July 17, 2023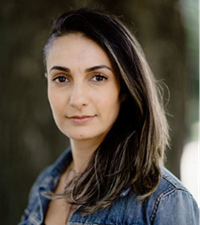 The Department of Leadership, Higher, and Adult Education are delighted to welcome Dr. Beyhan Farhadi to our faculty. Beyhan begins a tenure-stream appointment at the rank of Assistant Professor effective July 15, 2023.
Dr. Farhadi received a PhD in Geography and Planning from the University of Toronto in 2019, and recently completed a postdoctoral fellowship at York University's Faculty of Education. While at York, she also served as research cluster lead for projects on Community Engagement and Public Scholarship and Digital Learning, Technology, and New Pedagogies at the Institute for Research on Digital Literacies. Dr. Farhadi is also a Research Associate with the Canadian Centre for Policy Alternatives. Her interdisciplinary, critically-oriented scholarship uses qualitative methods, including ethnography and case studies, to evaluate the impact of online education and public policy on social inequity in schooling. Dr. Farhadi's publication record includes 6 refereed journal articles and dozens of contributions to policy and media outlets. She is currently working on a book manuscript, under contract with the University of Toronto Press, entitled Online Learning and the Politics of Access in Public Education. Her public scholarship has extended to numerous media appearances, community panels, webinars and podcasts, and she has extensive teaching experience both at the secondary and post-secondary levels.
Welcome Dr. Beyhan Farhadi to LHAE!